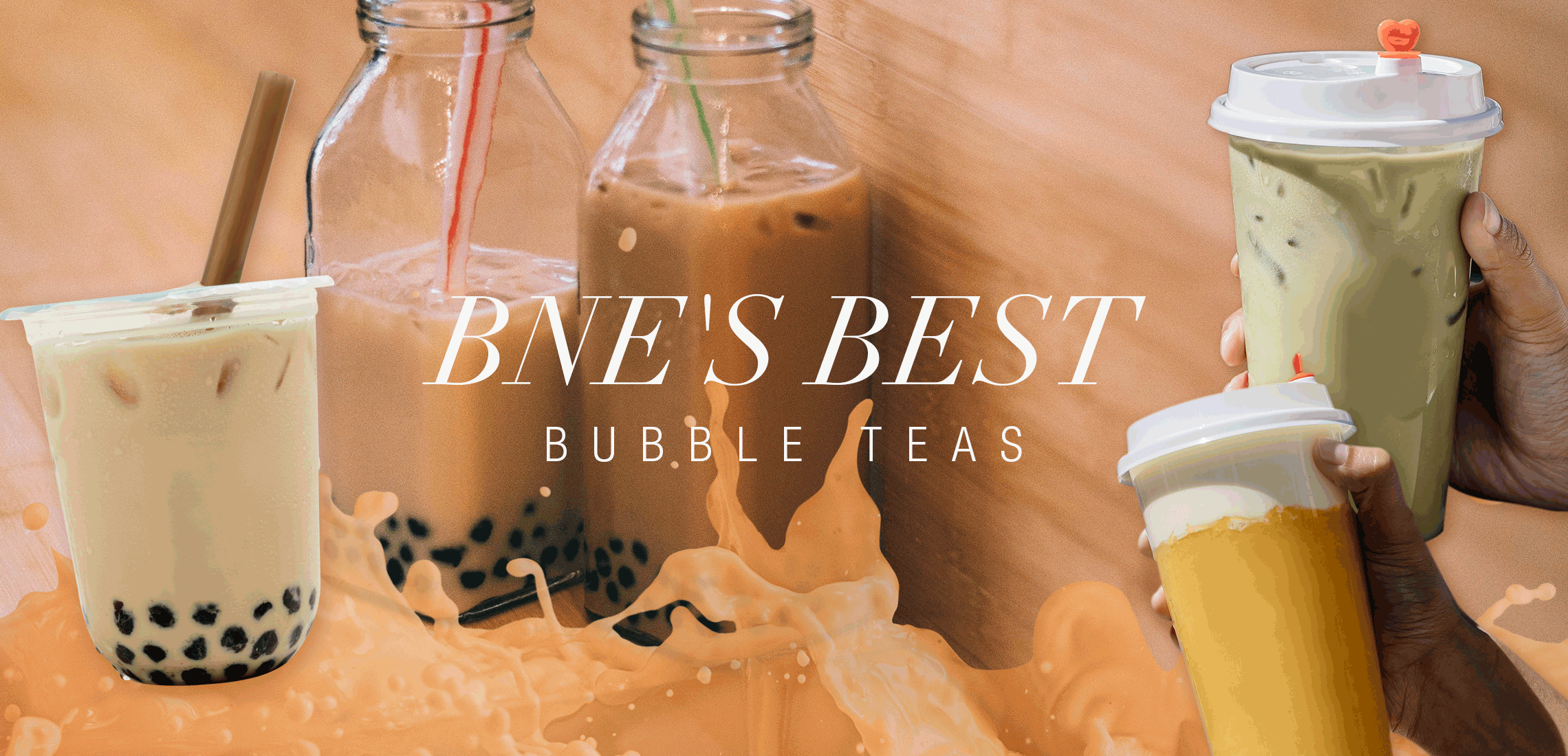 Boba Coma! These Are Brisbane's Best Bubble Tea Spots  
Get sippin', cu-teas!
By Guest Styler | 18th October 2021

Perhaps the greatest drink to quench the thirst of Brisbanites across the city: bubble tea! Or 'boba'. This Taiwanese, milky (and fruity), sugary goodness, filled with fruit jelly or those adored chewy tapioca balls – 'pearls' – continues to live up to its title as the most viral drink of the decade.

With its flavoursome taste and aesthetic colours, bubble tea has become a social phenomenon that everyone wants to be a part of. And as I like to say to anyone I meet who tells me they "don't like" bubble tea – I will convert you. Don't fight it, sweetie. And what better way to bring you over to the right side than with nine of the best places to get your fix in Brisbane!

By the way, we consider everyone in this list the best of the best! To make finding your next favourite that much easier, we've ordered the list alphabetically by suburb and also have filtering tabs for your convenience. Did we miss someone from the list? Let us know here! Hide the form

FILTER BY

All
All
Brisbane CBD
North Brisbane
East Brisbane
South Brisbane
West Brisbane
Gold Coast
Noosa
Sunshine Coast
Gong Cha
Multiple locations
The OG that needs no introduction. Gong Cha was one of the first bubble tea outlets to set up shop in Brisbane, introducing us to delicious, new flavours and mixes from Taiwan. With an extensive menu of flavours to choose from, including milk tea, fruit tea, smoothies, and other creative mixes, you can expect a line up here in the afternoons.
View this post on Instagram
LuCHA Kitchen + Bar
Brisbane City
This modern-day Chinese teahouse takes the tea game to entirely new heights. Not only does LuCHA serve up a killer dedicated food menu, they also boast a fabulous range of bubble tea flavours – including virgin and spiked teas. Think classic pearl milk teas, jasmine tea with tropical fruits, and creamy fruity teas.
View this post on Instagram
Chatime
Multiple locations
With over 120 breweries opening across Brisbane in just 12 years, Chatime skyrocketed to the top, earning its title as the fastest growing iced tea franchise in Australia. With their quality ingredients and mix-ins, Chatime has a flare for innovative flavour combos. So, whether you like your bubble tea milky, fruity, frozen, sparkled, or hot, Chatime quite literally has something for everyone.
View this post on Instagram
Botanical Lab
West End
My absolute favourite bubble tea destination. Seriously… I'm here way too much. Inside the pastel flower-covered dream that is Botanical Lab, you'll find dreamy and creamy soft serves, sweet bubble teas, and gorgeous interiors. With flavours ranging from chai, matcha, and earl grey milk teas to lychee, rose, passionfruit and mango fruit teas, Botanical Lab is renowned for tailoring your bubble tea to not only your flavour, but also sweetness percentage, tea base, and ice level.
View this post on Instagram
Tea Fusion T
Sunnybank
Those hidden, hole-in-the-wall places really do turn out to be absolute gems. This is exactly how I would describe Tea Fusion. Nestled deep inside Sunnybank's bustling Market Square – aka my second home for Asian delicacies – Tea Fusion is where sweet tooths unite over a perfected bubble tea menu. They've got a range of deliciously sweet milk, fruit, and icy bubbles, so you know you're going to be spoilt for choice.
View this post on Instagram
B. Lucky & Sons
Fortitude Valley
Inside this retro-styled, gaming cocktail den for the 18+ crowd is where you'll find spiked bubble teas with assorted spirits. But not to worry, they have plenty of non-alcoholic options too! If you're looking to satisfy those late-night bubble tea cravings, or simply want to combine a tasty drink with the nostalgia of arcade games, B. Lucky & Sons is a paradise for gamers and bubble tea addicts alike.
View this post on Instagram
HiHi
West End
Let me just say, the brown sugar milk tea here – no words. At HiHi, you can guarantee the assignment is always understood. With so many addictive flavours and an array of other desserts to choose from, you can bet you'll be standing at the counter for a while. And for the bubble tea lovers with a dairy intolerance (our condolences), HiHi offers a light and frothy vegan nut cream as an alternative – rejoice!
View this post on Instagram
Café Artease
Kelvin Grove
She's a UQ girl through and through but look, I've got to hand it to QUT Kelvin Grove for housing Café Artease – a cosy spot that serves bangin' bubble teas. With their charming interiors, relaxed atmosphere, and board games (which they provide), I always feel like I'm the 'Lofi Girl' whenever I take a seat in here, drinking one mango green tea after another.
View this post on Instagram
Heeretea
Multiple locations
Decked out with booths, bar seating, and a menu boasting unique flavours and concoctions, Heeretea is the place to be if you're a true bubble tea lover. Famous for their layer of frothy, foamed cheese on top of their teas, Heeretea effortlessly brings the trends we are seeing in Asia to the very 'burbs of Bris, welcoming all curious customers and enticing them to try something new.
View this post on Instagram
Industry Beans
Newstead
Iced coffee addiction, meet bubble tea addiction. When you want your bubble tea fix but have places to be and things to do, get your caffeine hit at the same time with Industry Bean's bubble coffee. It's all about the brew with this bad boy, which combines coffee soaked tapioca pearls with cold brew to create an it-girl approved beverage masterpiece.
View this post on Instagram