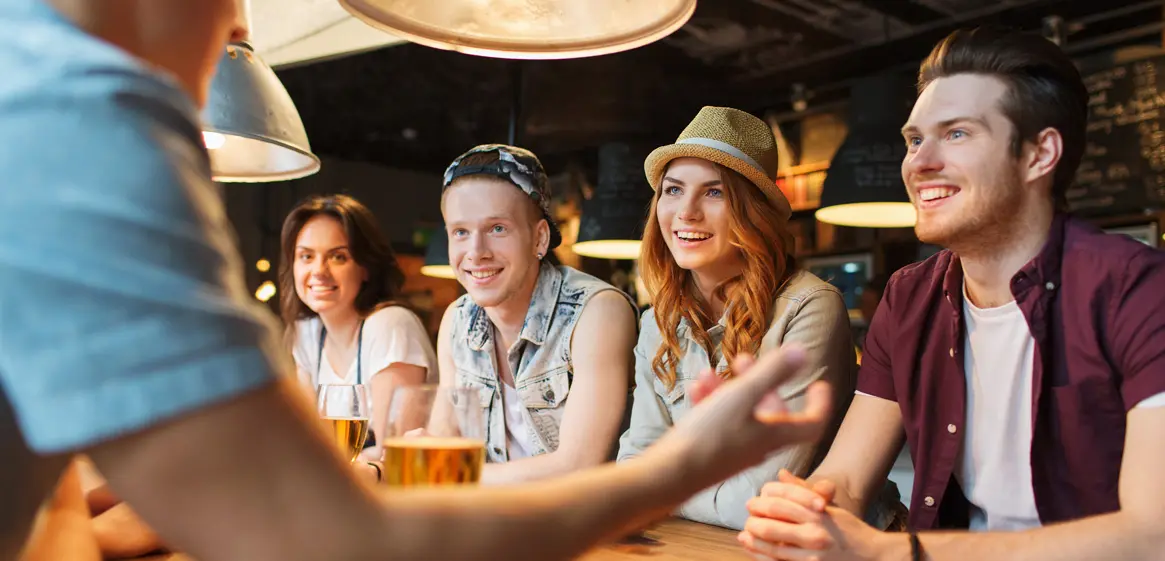 Best Bars for Trivia in Brisbane
'Cause everyone loves being rewarded for the useless information we've retained over our lifetime.
By Guest Styler | 16th July 2015

Have you got the wisdom of a wizard, more geographical knowledge than a GPS and an inbuilt Shazam hardwired in to your brain? Firstly; are you free to join my trivia team on Wednesdays, and secondly; you NEED to try some of these best bars for trivia, because you're likely to totally own it!

There is really no shortage of a good round of trivia in Brisbane, but we've put together some of the best bars to go for trivia in Brisbane, so you can spend more time working on your team name. Because, let's be honest, your friends probably aren't as smart as you, (right?) and this way you at least have a good chance of winning a prize for best team name. #winning

So, whether it's for the themes, the feeds, the jackpots or the good times and bragging rights, here are some of the best bars to get your smarty-pants on with trivia in Brisbane:
Black Bear Lodge | Fortitude Valley
If your useless knowledge is more focused than general, themed trivia nights are your best bet for the win! Keep an eye out for Black Bear Lodge's unique themed trivia nights. They have had a Seinfield, Simpsons, Harry Potter and Tarantino night, with a Kath and Kim trivia night set for Thursday, July 30. Depending on the night, they usually have prizes for best dressed, best team name, as well as overall trivia winners.
Kettle and Tin | Paddington
You're guaranteed a laugh at this trivia night, either at your friend's embarrassingly quick response to Justin Bieber related question or from the commentary by host and local comedian Sebastian Burns. Join the intelligentsia every Tuesday night from 7pm at Kettle and Tin for a night of general trivia, great prizes and a weekly cash jackpot.
www.kettleandtin.com.au
Communal Bar and Eat House | Brisbane CBD
In the heart of the Brisbane City, there's a new weeknight trivia session for city slickers (and slackers) to release some tension and bond with (or crush) their colleagues. Teams of two to eight contenders are welcome at Communal and we suggest you get the special trivia burger and beverage deal for $15.
Plum Tucker | Red Hill
Tacos and trivia; what a terrific combo. This trivia night at Plum Tucker offers general knowledge, music trivia and a printout to name the celebrity, album cover or travel location, etc.
HOT TOP: They always give you a heads-up of one of the three questions in the jackpot round on their Facebook during the week.
Heya Bar | Fortitude Valley
This trivia night may not be regular or well publicised, but it's definitely worth checking out, much like the venue really. You need to check back with Heya Bar's Facebook page every now and then for their trivia night announcement and book in early, because the prizes are pretty amazing! About two months ago they hosted a trivia night with Splendour in the Grass tickets for first prize, and more recently gave away Mumford and Sons tickets at a The Simpsons themed trivia night.
Beach Burrito | Fortitude Valley
Love tacos? Love beer? Love trivia? You'll love Beach Burrito on Wednesdays. They offer themed trivia nights (past themes include Sex and the City, The Simpsons, Friends and Harry Potter), as well as a meal deal of two tacos and a beer or sangria for $10. Everyone's a winner there.
Victoria Park Golf Complex | Herston
If trivia really gets your competitive side going, why stop there? Victoria Park Golf Complex offer trivia on Thursday nights at their bar and bistro, which sits beside their putt putt course.  Their 18-hole mini Putt Putt course is open until late most nights; 11pm Friday and Saturday and 10pm all other nights.
Wandering Cooks | South Brisbane
Foodies of Brisbane will soon be able to get recognition for their pretentious food knowledge outside of their blog and Instagram accounts at a new foodie trivia night starting in August. Wandering Cooks have partnered with James Streets' cookbook specialists, Scrumptious Reads, to bring this tasty trivia night to their licensed bar on the last Monday of every month.
While most of these venues hold their trivia nights regularly, it is always advised to book ahead or you may be severely disappointed.
Other quizzical mentions:
Flying Cock | Fortitude Valley The Fox | South Brisbane Escobar | New Farm Newmarket Hotel | Newmarket