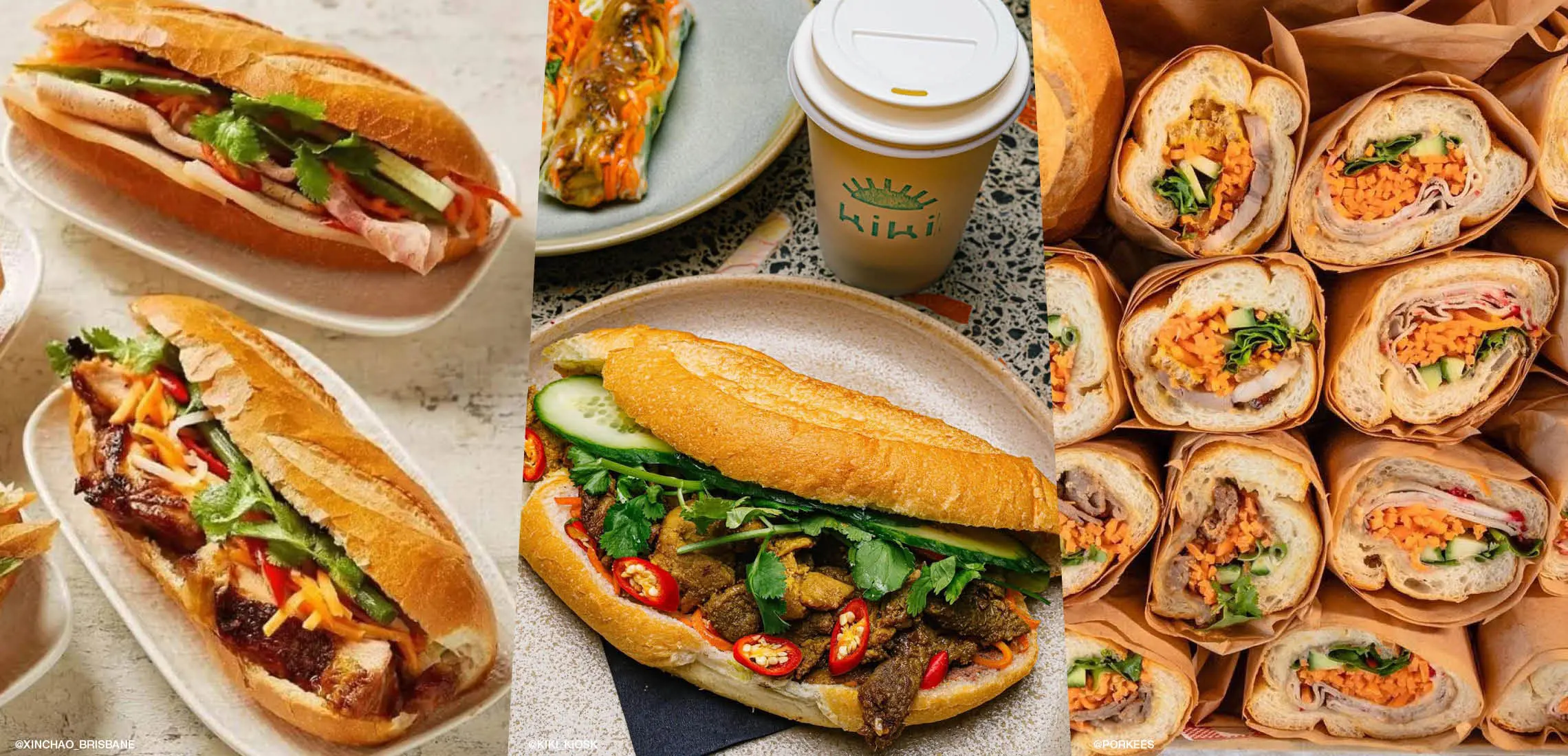 Roll Call! Here Are The 14 Best Places To Grab A Banh Mi In Brisbane
Banh everyone
By Natalie McGowan | 5th September 2023

Beautiful, magnificent banh mi. An iconic Vietnamese street food staple, these sandwiches pack flavour into every delicious bite while being light on the wallet. A crusty yet fluffy baguette, a medley of pickled vegetables, fresh cucumber, a slather of páté, and creamy mayonnaise, plus a delectable protein element, often roast pork – what's not to love? 

Pack your passport away, Brisbanites, because luckily for us, there's an abundance of establishments dishing up authentic (and cheap) banh mis right here in our backyard. Check out our favourite places to grab a roll!

By the way, we consider everyone in this list the best of the best! To make finding your next favourite that much easier, we've ordered the list alphabetically by suburb and also have filtering tabs for your convenience. Did we miss someone from the list? Let us know here! Hide the form

FILTER BY

All
All
Brisbane CBD
North Brisbane
East Brisbane
South Brisbane
West Brisbane
Gold Coast
Noosa
Sunshine Coast
Mrs Luu's Vietnamese Canteen
Multiple Locations
From the city to the suburbs, Mrs Luu's Vietnamese Canteen has locations in every neck of Brisbane's woods. With filling options like omelette with sauteed onions and grilled flank steak, it's no wonder it's solidified itself as a renowned and reputable dealer of banh mi goodness. 
View this post on Instagram
Mr Bui Banh Mi & More
Nundah
Hear us out: banh mi for breakfast. Yep, this northside haunt has a range of brekkie rolls on offer – think bacon, eggs, pickled carrots, and that iconic fluffy baguette roll. Along with their more traditional banh mi options, Mr Bui Banh Mi & More is a must-try if you're ever in the area. 
View this post on Instagram
Scotts Road Takeaway
Darra
A tiny, unassuming Vietnamese takeaway spot in Brissy's southside, Scotts Road Takeaway knows how to make a flavourful, delicious roll. Known by many as Brisbane's best banh mi, try it for yourself next time you're in the area – just remember to bring cash!
Darra Takeaway
Darra
Despite its lack of an online presence, Darra Takeaway is a hot fave. A well-loved hole-in-the-wall establishment, it's located a few stores down from Scotts Road Takeaway (also on the list!) and local banh mi enthusiasts have been known to passionately debate about which is better. Much like choosing a favourite child, I'm staying impartial. 
Sips O'Clock
South
A hidden gem in the bustling streets of South Brisbane, there's no denying Sips O'Clock does a mean banh mi. They also specialise in Vietnamese iced coffees that are equally as delicious and pair beautifully with these sandwiches – *chef's kiss*.
Kiki
South Brisbane
The little sibling of acclaimed pan-Asian restaurant Southside, Kiki is a kiosk tucked away in the leafy oasis of Fish Lane. Sit under the lush fronds, relax, and dig into a fresh, delectable Vietnamese roll during your lunchtime break!
View this post on Instagram
Xin Chào
Bowen Hills
Nestled in the heart of King St, Xin Chào offers an ambient setting for you and your fellow banh mi fiends to sit down and savour the flavours together. With four drool-worthy types to choose from, plus a whole menu filled with tasty Vietnamese dishes, you'll have a hard time deciding on one meal.
View this post on Instagram
Ming Ming's Kitchen
Wilston
Endorsed by the Style office, Ming Ming's Kitchen was our old stomping ground and will forever hold a special place in our hearts. But the proximity to our old office isn't the only thing it has going for it – their banh mi is oh-so fresh and always delicious. Long live Ming Ming's!
View this post on Instagram
Banh Mi Factory
Newstead, Zillmere
Serving up delightful Vietnamese flavours from two locations in Brisbane, Banh Mi Factory has perfected the art of banh mi making. Whether you're craving something traditional or in the mood for a modern twist, one thing's for sure: these sandwiches pack an unforgettable punch.
View this post on Instagram
The Fat Carrot
West End
Stroll along the lively Boundary Street and you'll stumble upon this colourful juice bar and cafe smack-bang in the heart of West End. Offering a variety of vegan and vegetarian options, this is one spot you won't want to miss if you're meat-free or just want to try it out! I recommend the vegan satay chicken for a gloriously mouth-watering grab and go.
View this post on Instagram
Kim Thanh Hot Bread
West End
On the corner of Vulture Street in West End is where you'll find Kim Thanh Hot Bread and likely a lineup of people waiting for their turn to order – this place gets busy and for good reason! An institution, banh mi lovers know this is one of the tastiest and freshest rolls in Brisbane. 
Saigon Alley Cafe
Brisbane City
Attention, city slickers! Seeking a quick banh mi fix? We've got you covered! Tucked along Adelaide Street is where you'll find this no-frills Vietnamese eatery offering authentic and traditional flavours wrapped up in a soft, warm baguette. Pop into Saigon Alley Cafe during your next lunch break to take your tastebuds around the world.
Porkees Vietnamese Deli
Perfectly-balanced pâté, delightfully-tangy daikon, beautifully-cooked protein – Porkees Vietnamese Deli does not disappoint. With three locations throughout Brisbane, whether you're on the southside, westside, or in the CBD, a delicious roll awaits you.
View this post on Instagram
My Street Food
Woolloongabba
With authentic flavours and fresh ingredients, My Street Food is a worthy contender for the crown of Brisbane's best banh mi. Situated on Logan Road in Woolloongabba, this little shop gets busy, but we promise it's worth it!