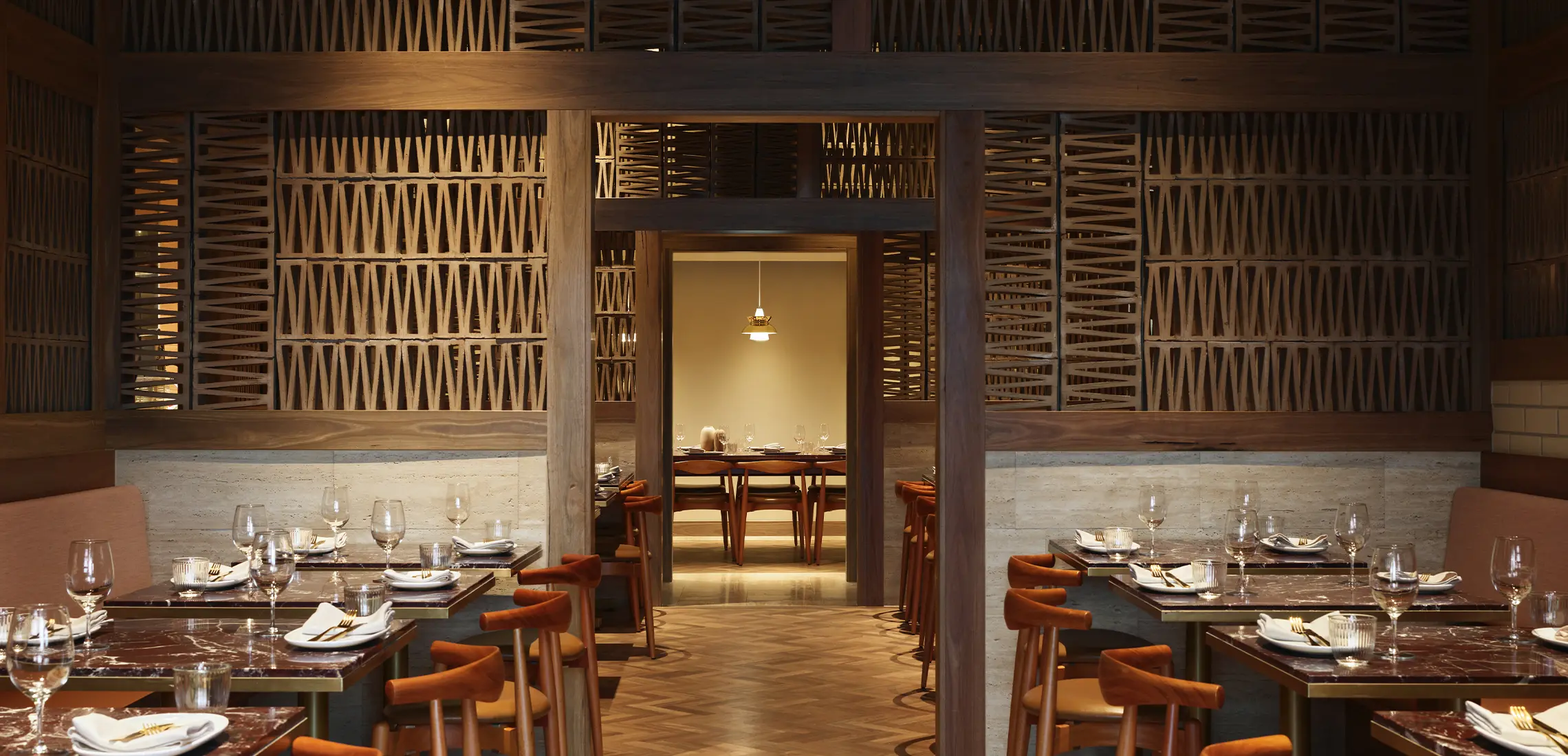 A Huge Babylonian Restaurant Opens On Eagle Street With Boldly Rustic Cuisine
What's old is new again
By Dinushka Gunasekara | 20th December 2022

The city of Babylon was known to be sprawling, decadent, and quite a bit iconic, which is exactly what you can expect from Eagle Street's new 120-seater restaurant paying homage to the metropolis. 

Babylon Brisbane is an urban dining and drinking haven, which has officially opened its doors to stage one of what is set to be a multi-levelled waterside destination. The expansive venue is inspired by the rich and flavourful Levantine cuisine, with a menu developed by Head Chef Ferdinand Sari in collaboration with sister venue Babylon Sydney's Head Chef Robert Taylor. 

Split into an offering of flora, fauna, and ocean, many of the dishes are cooked over wood and charcoal on a custom-built three-metre-long Turkish grill and two rotisseries. The flora section offers the likes of wood-fired pumpkin kebab with coriander, lime, Aleppo chilli, and muhammara, spiced fried cauliflower with Ras el Hanout, lemon, black tahini, almond, and parsley, or wood-roasted broccolini with harissa tarator, walnuts, and pomegranate molasses – showcasing the rustic, bold cuisine of the Middle East.

Meanwhile, from ocean and fauna, you'll have 12 dishes to choose from, such as locally sourced King prawns with harissa, raki, lemon, and soft herbs, wood-grilled Fraser Coast squid with muhammara, yoghurt, dill, and lime, or Shish Tawook, aka wood-fired chicken skewers with kisir, tomato, and yoghurt. As for dessert, a handful of sweets will wrap up your meal, including chocolate tahini with Turkish coffee ice cream or assorted house-made baklava with walnut pistachio and chocolate. 

Babylonians certainly knew their way around a beverage, and at Babylon Brisbane, you'll be sipping on a handful of spritzes and signature cocktails, as well as a wine list of predominantly Australian producers. Served amongst screens of terracotta bricks that separate the restaurant into four vibrant dining areas, you'll find red marble tabletops, a 10-metre sleek green marble bar, and rich mahogany chairs to complete the ancient opulence.

Babylon Brisbane is now open at 145 Eagle Street, Brisbane City. Book here.