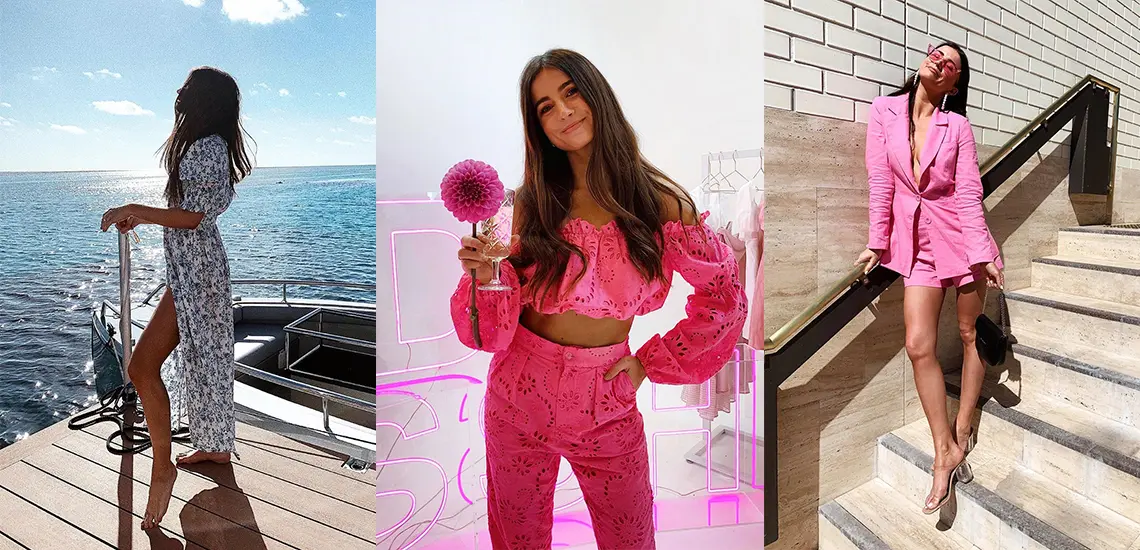 The Dish On DISSH With Prue Richardson: Upcoming Trends + What To Wear This Season
Started at Style, now she here.
By Guest Styler | 17th December 2019


DISSH boutiques has become a fashion force to be reckoned with and part of the team is Brisbane's own, Prue Richardson. Prue is the Brand and PR Manager (and former Style Magazines intern) of the fashion powerhouse alongside her own personal blog.

We thought we'd get straight to the goods and get the dish on DISSH – what's hot, what's not and how to style for the upcoming party season as well as what it's really like working for DISSH HQ. Forget the guessing game because here dear friends, lies your styling rules and some insider lessons on how to navigate the fashion industry as a career. Tried, tested and achieved.

Our one on one with Prue begins now. Please place your phones on airplane mode, ensure your tray table is up and seat belts fastened.

As the Brand and PR Manager of DISSH, what exactly does your role entail?
 Branding and marketing! Lots of social media, photoshoots and events – and we call this "work".

How did you start out in the industry? I studied Journalism and Marketing and started my OG blog (A Broke Girl's Blog) in 2014. This is when I really noticed my love for fashion and marketing and knew it was definitely the industry I saw myself working in. PLEASE NOTE: One of my internships was actually at Style Magazines!

And then you landed at DISSH, what a dream. Tell us about working there – what're your favourite aspects? 1. THE TEAM! It's like working with friends. Everyone is super supportive and creative and we all have a serious 3pm treat-problem.

2. Of course, the CLOTHES (although my bank could disagree). It's so much fun working on a brand with product you love and believe in – it makes marketing it so much easier.

3. Our office – it's pretty amazing, with a killer view and I live in walking distance.

And what about outside of DISSH HQ? You have quite the online presence! 
 If I'm not cuddling my puppy, eating Japanese, drinking a spritz or binge-watching Netflix, I'm working on my personal blog. Apparently, I'm not all social media-ed out just yet! I use it as an outlet to share my personal style and love of travel – it's lots of fun, very rewarding and goes hand-in-hand with my nine to five.

What has been your DISSH 2019 highlight? 
 We worked on the super exciting new direction for the brand this year, which launched earlier in spring. It was so rewarding seeing this come to life and our customers loving the new product and brand look and feel. VERY excited to bring the new DISSH into the new year and see what's next.

What're some of your top styling tips for the party season? 
 Go big with accessories like earrings but keep it small with micro bags. Short heels are in, which is a win because comfort is key for long lunches that turn into night. For more feminine looks, play with matching sets and mini dresses in bold colours and prints. Don't be afraid to up-style denim! Nothing is cooler than a pair of boyfriend shorts (HINT: the Old School Denim) paired with a nice top and strappy heels.

How do you suggest people can nail 'glam' in the QLD heat? 
 Opt for a linen dress (light and breathable!) and use accessories to up your look. If your hair isn't one to survive the heat, slick it back in a high pony or low bun with some statement pearl hair clips.

For New Year's Eve and the party season, what will be your go-to looks? If you're coastal, the Tilly Lemon Crop + Prue Lemon Skirt is the look – lemon is HUGE right now and it's 100% linen, so it will keep you cool in our QLD heat. For the city NYE – go the Sahara Mini Dress paired with pearl hoops, a white micro bag and white strappy heels.

On that not, what will you be wearing for Christmas this year?! 
 An effortless linen dress with plenty of room to expand post-Christmas lunch. Obsessed with the Stassi Linen Dress in Morange.

What do you expect to see in 2020, fashion-wise for DISSH? Dresses and looks with lots of volume (hallelujah – we aren't done with the exaggerated sleeves yet!). Lots of bold colours and prints, lots of sets and in particular, suit sets. Bold colour contrasting and pairings. I'm excited! Get excited!
FASHION FIRE:
How do you start your day? With a coffee in hand.
And finish the day? With a wine in hand.
What do you believe was the worst fashion trend in 2019? 
 Butt-less chaps (WHY DID THIS HAPPEN?)
Favourite fashion trend of all-time? 
 All puffy sleeves – short, long, sheer, embroidered – I don't discriminate.
Go-to wardrobe staple? 
 Boyfriend jeans.
When you were young you wanted to be…
 Fashion Journalist.
Hidden talent? 
Justifying an unnecessary purchase.
Artists on repeat… 
 Everything Lizzo, Drake + Hayden James.
Sneaks or heels? 
 Heels.
Dress or pants? 
 Pants.
Hair up or hair down? Down.