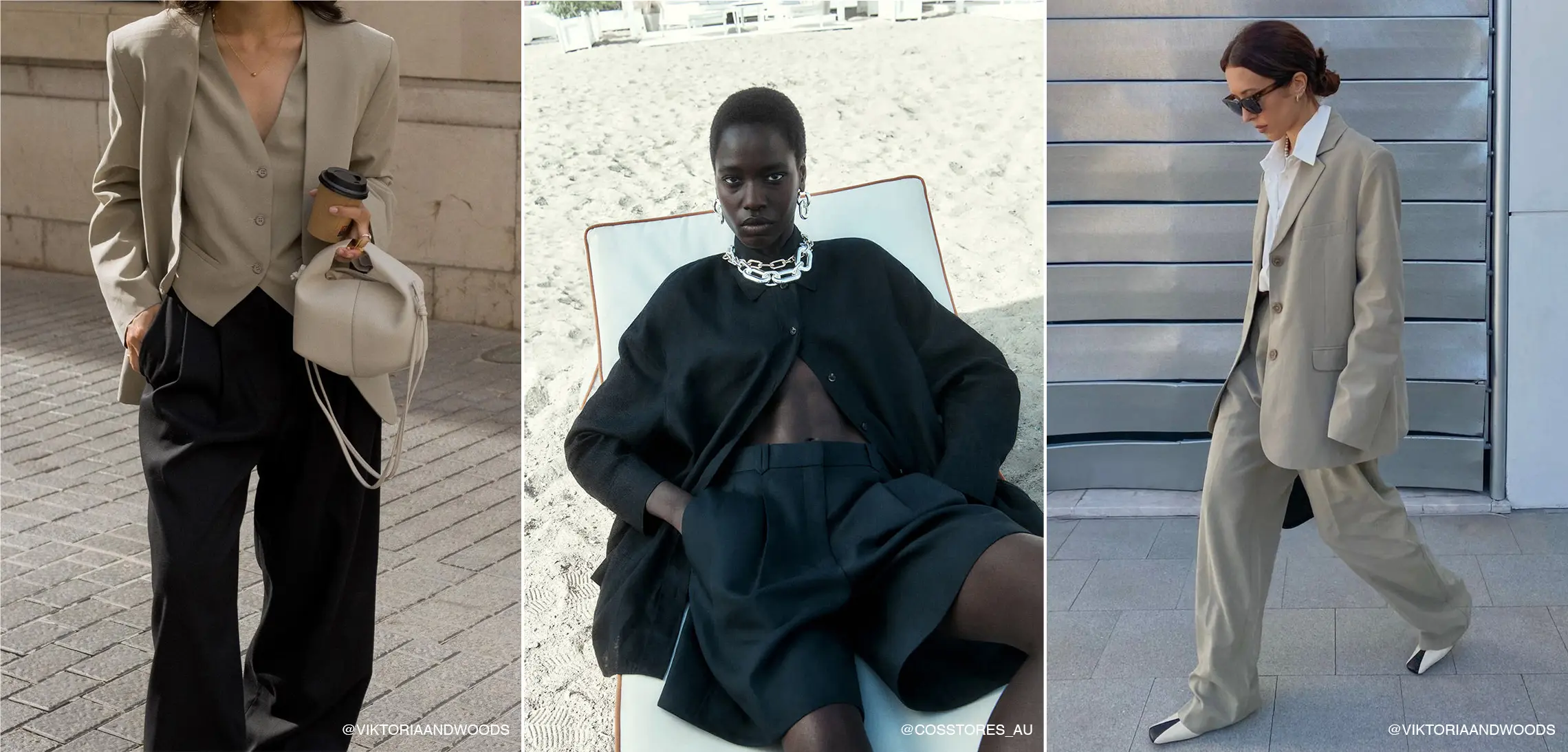 What To Wear To The Office In 2023 According To A BNE Fashion Stylist
Dress for success
By Astrid Taemets | 17th January 2023

Whether you work in the corporate world or have a little more liberty when it comes to your office attire, there's often an adjustment period returning to work after a summer holiday spent barefoot and makeup-free in sarongs and swimmers. 

A professional context requires you to put together an outfit that takes both the season and setting into account: polished but effortless, appropriate but not stuffy. Yes, the art of what to wear to work is a delicate one to master. And yet, you can never underestimate the power of a killer 'fit to give you the confidence you need to slay that client meeting. 

This year, workwear takes on a new meaning: power and play, and Queen Street Mall's fashion ambassador, Annabel Falco, knows just how to balance the two. Below, she's sharing her winning workwear tips, so you can look fabulous while kicking those KPIs out of the park. 
Hey Annabel! What are your non-negotiable workwear staples for 2023?
I am a strong believer in canning wardrobe labels such as 'workwear', 'weekend/casual attire', and 'dinner/dressy' because I think it only seems to confuse people and limit your styling options. With a wardrobe full of well cut, quality basics, our accessories and transform an outfit from desk to dinner and beyond. With that being said, I would recommend every wardrobe include the following:
A black blazer
A little black dress (LBD)
A printed dress
Tailored trousers
Dark denim jeans
A white button-down shirt
Basic tees
Basic singlets
Mid-length skirt
Trench coat
These essential fashion items can be layered, mix-and-matched, and accessories for both the office and weekend activities. 
In terms of retailers for quality staples, I love COS, Camilla & Marc and Country Road (both via David Jones in QueensPlaza), Viktoria & Woods (QueensPlaza), Saba (QueensPlaza), and Cue (Wintergarden). Brands like Dissh (Wintergarden), Novo Shoes (The Myer Centre), Lovisa (The Myer Centre), and Oroton (via Myer in The Myer Centre) are great go-tos to find fun accessories and accent pieces that can add interest and turn a basic outfit into your own unique look. 
Ok, we're ready to shop for some fresh new pieces. Where do we save and where do we splurge?
Pending budget, I would say spend your money on luxe accessories such as a Louis Vuitton bag (QueensPlaza) or Christian Louboutin heels (via David Jones in QueensPlaza) as these will last for years and dress up your high-street staples. Once you've nailed your accessory wardrobe, you can then start to build on your basics and swap out cheaper purchases for quality items.
Taking into consideration our tropical Queensland climate, what are the best fabrics to incorporate into our wardrobe?
Linen and cottons are the most comfortable and cool fabrics, and there are plenty of ways to incorporate them into your wardrobe. In terms of blazers, and layering pieces, you will want good quality and lightweight fabrics that will breathe, and Dissh (Wintergarden) is the perfect place to source it all!
Ok, let's talk colour. What is your take on introducing colour at work, and which ones are most suitable in the office?
Forget what is suitable – wear whatever suits you and makes you happy! A coloured scarf wrapped around a tote, a statement heel, a stack of bangles from Dinosaur Designs (Wintergarden), or even a bold red lip will elevate the most basic outfit. The key is to start small and, once your confidence grows, invest in bold fashion pieces that buck trends but suit your body shape and lifestyle. 
Five ways to take your office look from the desk to dinner:
Swap flats for heels
Add a statement earring
Swap your oversized tote for a clutch
Swipe on a red lip and slick your hair back for a glamorous touch
Cuff your sleeves, lengthen your neckline, and ruffle your collar
What equally stylish options are these for those who want to look polished in the office without wearing heels?
If heels aren't your thing, ditch them! There are so many fabulous flats on the market. A pointed toe can immediately dress up a casual fit. From chunky brogues at Jo Mercer to demure kitten heels at Scanlan Theodore (QueensPlaza)through to classic Chanel ballet flats and strappy Wittner sandals, there is a flat for every office occasion. 
What are your top five must-have pieces from Queen Street Mall to see you through 2023:
Viktoria & Woods (QueensPlaza) Bramwell Pant – buy every colour! They are the most flattering tailored pants I have come across. 
Hermès Mini Kelly or Birkin bag. This year is all about the investment bag. Buy brand new (but you'll have to wait!) from the Hermès boutique, or purchase exceptional quality second hand from Designer Archives 
Optiko statement glasses. You can look but you'll fail, no one does specs better!
A Camilla & Marc (via David Jones in QueensPlaza) blazer
Country Road (via David Jones in QueensPlaza) basic tees and singlets