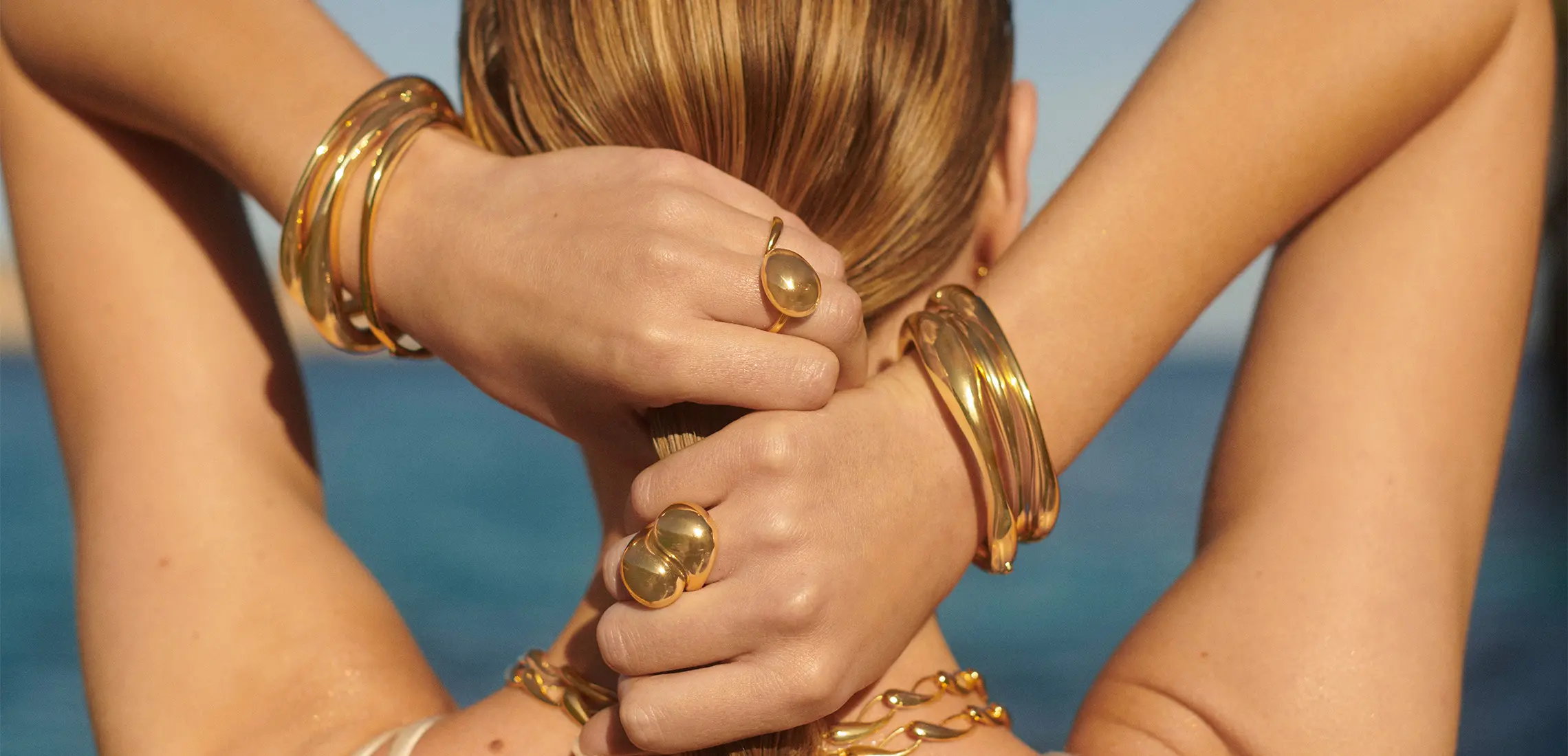 Inside The Sustainable Jewellery Label Adorning Gigi Hadid, Jennifer Lawrence And Selena Gomez
Luxury that lasts 
By Dinushka Gunasekara | 10th November 2023

We all know what glitters isn't always gold, but when it's crafted with a dedication to responsibility, sustainability, and enduring beauty, you know you're onto a winner. That's the Monica Vinader effect.

Beloved by celebrities and conscious shoppers alike, the Monica Vinader wearer includes Gigi Hadid, Selena Gomez, Nina Dobrev, Jennifer Lawrence, Michelle Williams, and more. And as if the star power wasn't enough to have you diving into their lookbook, Monica Vinader's pursuit of complete transparency means you know exactly what makes up the gorgeous pieces you frost yourself in. 

Below, we spoke to the inspiring woman behind the eponymous label about how she's making a difference in the world of jewellery without compromising luxury or legitimacy: 
What inspired Monica Vinader?
My mother inspired me to become who and what I wanted. My earliest and fondest memories of jewellery come from exploring her vast collection. She encouraged me to see, touch and enjoy and this generous attitude towards jewellery had a profound effect on shaping my brand vision. I also credit her with instilling my sister and I with our entrepreneurial spirit –  her strong work ethic, passion for her business as well as her treatment of others is what inspired me to start my own company.
Why is sustainability at the heart of Monica Vinader? 
My parents owned and ran an antiques business so I grew up in an environment that demonstrated the long life a well crafted piece can have, and promoted shopping pre-loved, restored and reclaimed items. These values were something I was not willing to compromise on with the business. Laying out clear intentions and strong foundations to be a brand built on the pursuit of environmental endeavours was always going to be one of our non-negotiable pillars.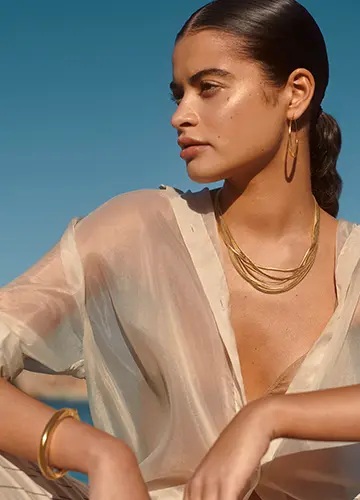 What has been a milestone moment for Monica Vinader? 
There's so many to choose from, but I'd have to say when we first made the shift to switching all collections over to 100% recycled sterling silver and 100% recycled 18ct gold vermeil in 2019. This was the first in a series of steps we've taken over the years to become a leader in sustainable jewellery, and to set a strong standard in order to drive a much needed shift in industry practices. 
Tell us more about your sustainable practices…
We've been able to make some real progress in avoiding and reducing our carbon emissions by transitioning to fully recyclable packaging and we cover all our pieces with a five year warranty, meaning we will repair or replace it at no cost within that period. This encourages our customers to rewear, repair, recycle their pieces, giving them longevity and ensuring we are minimising waste whilst maximising on use. 
Our latest achievement in our sustainability efforts has been our recent launch of lab grown diamonds this month. Our mission has always been to keep sustainability at the heart of this launch and was not something we were willing to compromise on. After a four year long journey, we finally found a diamond creator who uses 100% renewable energy from their own solar power plant, creating diamonds that produce 95% less carbon emissions than mined diamonds. All our lab grown diamond pieces are 100% traceable with full product transparency.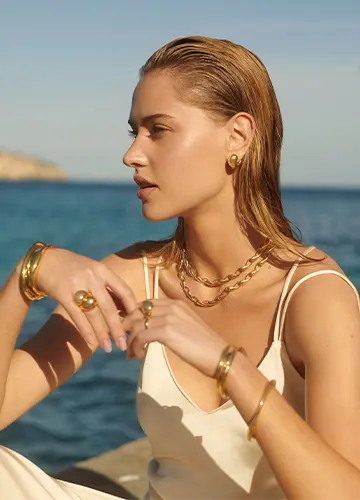 How does your traceability programme work? 
Our traceability programme allows customers to trace the origin of their jewellery; from design, materials sourcing, the craftsman, all the way to arrival at their doorstep. Our programme is an industry-leading supply chain transparency initiative, powered by blockchain technology and in partnership with the world's first net zero jewellery manufacturer, Ennovie. It's important that our customers feel they're investing in a brand that is actually walking the walk when it comes to caring about the environment and are giving them the transparency they need to make informed decisions which put the planet first. 
Who are some of your fave A-listers styled in your pieces? 
It is always exciting when any celebrity wears  our pieces, but a couple of recent favourites have to be Selena Gomez and Gigi Hadid, who have both worn us multiple times now!
What are three pieces every woman needs to start their Monica Vinader collection? 
A coin necklace, like the Marie Pendant, a pair of Deia Hoops and a chunky gemstone ring like our Kate Young Tigers Eye Gemstone Ring.