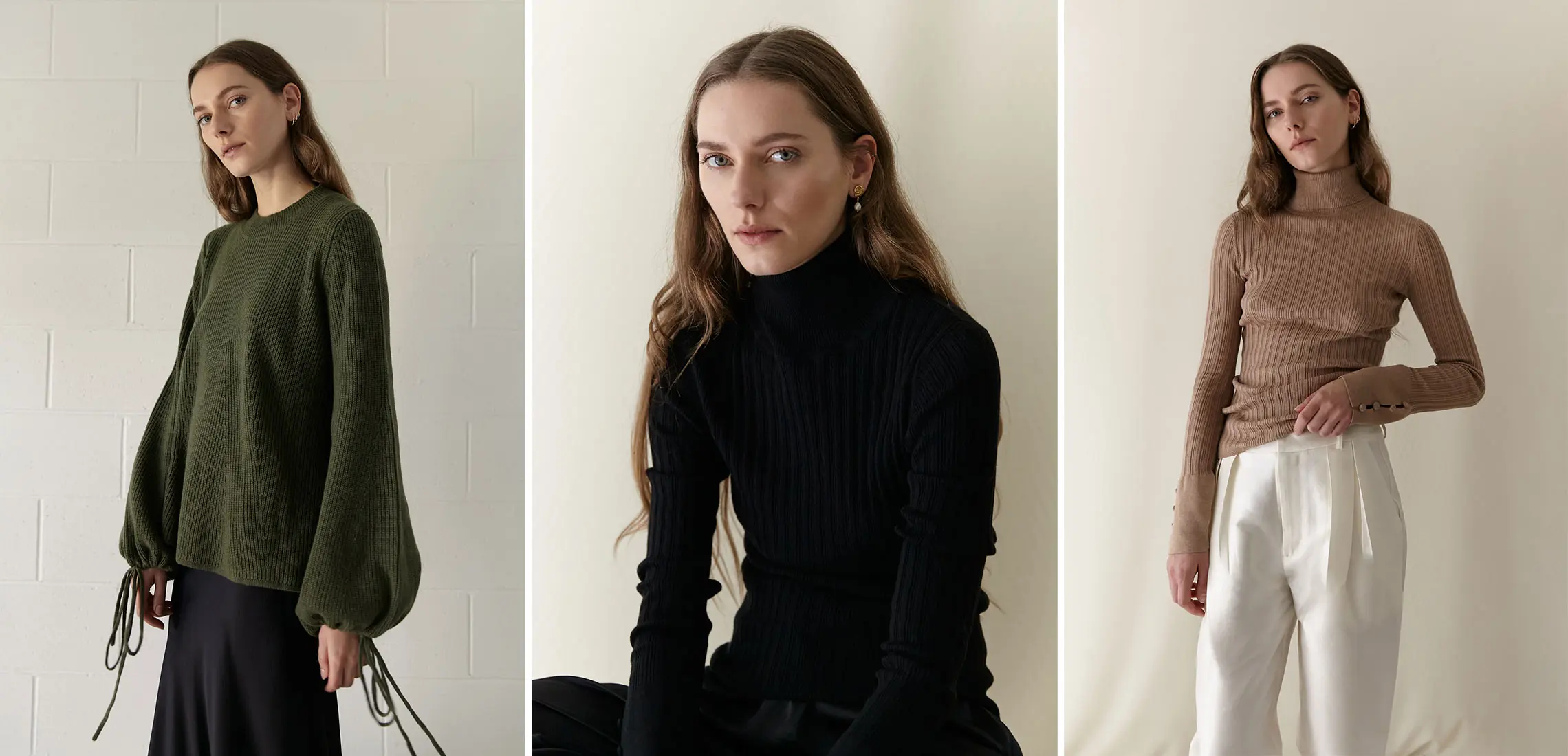 Get Cosy With The Founder Of Marle
Oh, so snug
By Dinushka Gunasekara | 3rd June 2020

Cosy meets classic in the consciously created, premium womenswear label, Marle. Feminine, thoughtful and always soft to the touch, we spoke to co-founder and creative director, Juliet Souter, to knit together the philosophy behind the brand and its latest collection.

Where did the inspiration behind Marle originate?

From as early as I can remember, I knew I would work in the fashion industry. I adore clothing because of how it can make you feel a certain way and help to tell a story of who you are as a person. I studied fashion design and majored in knitwear for my final year, then gained experience in a number of different areas in the industry before the timing was right to start my own label with my husband, Justin. We saw a space in the market for a modern, simple take on knitwear which is how Marle was born.

What is the ethos of the latest collection?

Every collection is built from the perspective of texture; I pull out all our yarn and fabric swatches and let them lead the design. When designing a collection, I like to refer to historical references for subtle design details. This season has a strong focus on silhouettes, subtle design details such as gathering and tie fastenings, as well as a fusion of lustrous silks with traditional knit stitches.

What does the perfect winter wardrobe look like to you?

The perfect winter wardrobe for me comprises of different variations on knitwear that can be layered and paired back with silk pants and skirts. Elegant and comfortable pieces are what make up my outfits in winter. I love having a mixture of fitted layering pieces, slouchy oversized knits, and a nice weighty coat.

Beautifully crafted knitwear is part of your brand identity. Talk us through your knitwear offering and how it is different from others in the market…

We have quite a broad collection of knitwear each season, which ranges from superfine layering pieces to more voluminous and chunky silhouettes. We make knitwear the core focus for each autumn and winter collection so we have a number of variations and can explore different silhouettes, yarns and stitches. Knitwear is often a smaller element to collections in our industry, which is a point of difference in itself. Each piece also has its own subtle design element to bring it into a modern space. Knitwear offers a relaxed elegance, which I love. Our pieces cover a broad age range and due to their simple nature, can be worn in such individual ways depending on the wearer.

What should people consider before investing in quality knitwear?

I think people should invest in pieces that are timeless in design and are made using natural fibres. Knitwear is made to be worn close to the skin so natural fibres are second to none and a simple and timeless design will help you return to your favourite knit time and time again.

What is your stance on sustainability within the industry and how does this transcend into your own business operations?

I feel that having a conscience within our industry is paramount. I also believe that having a purely sustainable business is impossible. It's important to take a stance on what is important to you personally and as a business, nurture that and evolve with it. For Marle and myself, this is exemplified through the use of 100% natural fibres and we have eliminated plastic from our business – a decision that stems from the abundance of synthetic fibres getting into our environment and food chain.