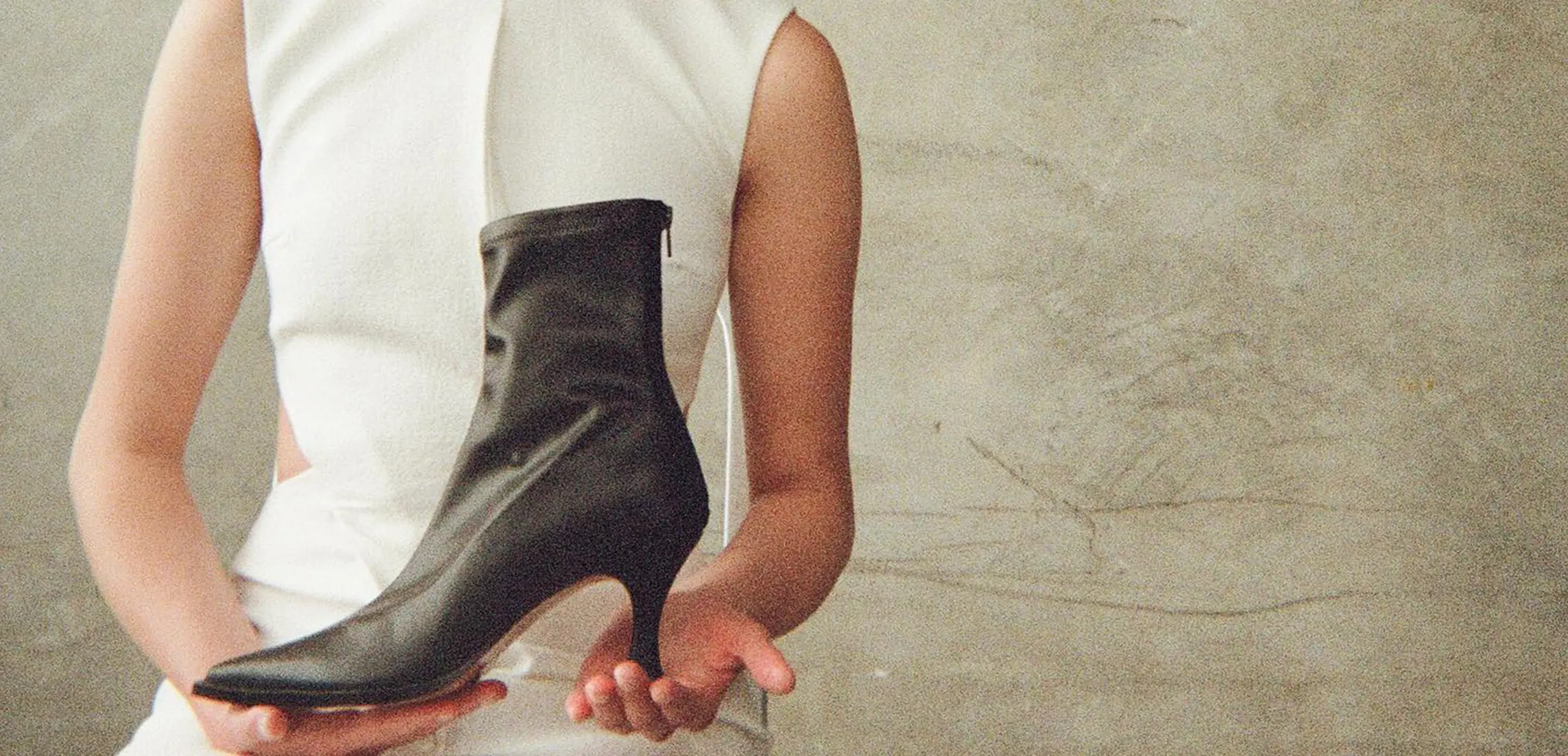 Walk This Way With Sustainable And Luxe New Footwear Label, Edie
Conscious footing
By Astrid Taemets | 15th June 2023

Fashion and sustainability haven't always been friends. In fact, it's an industry responsible for around 92 million tonnes of waste each year, meaning our guilty pleasures are costing us more than just a house deposit. 

But in recent times, the focus has shifted, and more brands are doing their bit to ease the impact, including edie – a vegan leather shoe brand you'll likely find on the heels of fashion's elite. 

Founded in 2020 by equal parts fashion lover and animal rights advocate, Ebanny Dwyer, edie is all about two things: investment and longevity. A brand steeped in ensuring its impact on the planet is minimal, picking up the slack where others have discarded waste, edie is stepping up in the conversation, and making a case for conscious footing. 

Here, we talk to Ebanny about why she's taking another man's trash and turning it into multiple treasures… 

View this post on Instagram
Hi Ebanny! Tell us, what was the catalyst for starting edie?
I made the decision in 2013 to stop purchasing or wearing anything made from animal leathers, back when it was a challenge to find vegan options beyond high street or fast fashion brands. You'd be faced with so many ethical questions: how were these produced? What materials did they use? Were the workers treated and paid correctly? Will these end up in landfill? Like many during lockdown, I had a lot of time to reevaluate my career and things that were important to me. I'm a huge animal lover and although my career didn't take me down a path that specifically works with animals, edie is a way I can cross-pollinate both worlds and hopefully make a larger impact. Two and a half years and a lot of learning later, edie was born!
Where do you come up with the designs?
We want to ensure our designs are timeless and those who wear them will enjoy and love them for years to come. Essentially, each style is what I would see as a wardrobe essential, and having a very limited shoedrobe for many years, I'm building my dream collection. We are also very lucky to have had some incredible women who we work with on the designs and technical elements of each shoe. 
What or who are you inspired by?
I can't explain my love and admiration for all the incredible animal activists in the world. It's such a dark place and they have to see the worst of the world everyday. It's such a selfless act, and often very thankless, but each day these people fight for the lives of others. They are true heroes. 
View this post on Instagram
What are three brands you admire and why:
From a local perspective, Bassike is my biggest hero. Their recent campaign saw them partner with the incredible Monika's Dog Rescue in Sydney. Each shot featured one of their beautiful dogs looking for a forever home, and I really admire that they chose breeds that are often overlooked or misunderstood. Their true authenticity in sustainability and ethics is really inspiring.
The OG: Stella McCartney. She is the ultimate leader in ethical fashion.
I was privileged enough to work on the Tiffany & Co. account and I was in awe of how such a global company has such a strong authentic sustainability focus. Their initiatives such as Save The Wild – raising funds to protect lions, elephants, and rhinos in Africa, Save The Reef – a focus on our very own Great Barrier Reef which saw a breakthrough in coral conservation, and Save The Koala – koala rehabilitation following the 2019/20 bushfires. I hope they continue to champion these incredible initiatives moving forward.
Talk us through the process of launching a brand and what your experience has been like:
Our experience has been challenging. There are so many things that go into starting a business, and when you put product production into the mix, it really takes it to a new level. My co-founder and partner Ed had no idea what it meant to be a footwear designer – there's so many technical elements that go into crafting a shoe. It's like a jigsaw puzzle. Not to mention the challenges we faced being a start-up brand working with international factories. We definitely made some mistakes and, at times it felt like we would never launch or even get a wearable sample, but we kept moving forward, and eventually found our feet! Overall, we could have had worse challenges but we could have had less, but I believe we wouldn't be where we are today without the experience we've gained. 
View this post on Instagram
At the moment we're using microfiber vegan leather which is the highest grade vegan leather on the market, as well as materials made from pre and post consumer waste that's destined for landfill. There are so many amazing plant based and recycled materials on the market, however not all materials are right for certain products, and footwear as we have learnt can be extremely tricky. Shoes need to bare the weight and temperature of the human body as well as moisture and wear. We've tried to work with as many sustainable elements across our designs and packaging as we can, as well as materials advised by professionals that will give edie shoes longevity and will stand the test of time. We're really excited to see so many plant based alternatives coming onto the market, and cannot wait to be able to implement these into our designs when the time comes. 
You just launched your latest collection as part of the Bianca Spender show at AAFW. What was that like?
Honestly such a dream! I work in the industry and have done many fashion week shows, but watching this, I'm embarrassed to say I cried. We feel unbelievably blessed that BIanca and her team trusted and believed in us to be part of not only her show but an incredible 15-year milestone. We had so much support from Michaela Watson, the brand and PR manager, Tulia Wilson, their design consultant, as well as Karla Clark and Emma Kalfus who styled the show. They all had invaluable advice, and together we produced a really beautiful show with two Bianca Spender exclusive colours that I'm obsessed with. 
Who is the edie woman?
I feel like the edie woman is someone who wants to know more and do better. They may not be vegan or a big animal lover, but they want to be educated and make choices that help the earth and those around them.
What are your favourite pieces?
I'm really proud of all our styles, however this season I was able to make my dream shoe, the Dominique Kitten Heel. My friend had the Balenciaga Knife Mules years ago and I've dreamt about them ever since. I've had this design in mind for so many years, I am so proud of how they turned out and the feedback I've received so far has been incredible. I can't wait for them to drop later in the year!
Shop all the edie pieces online here.