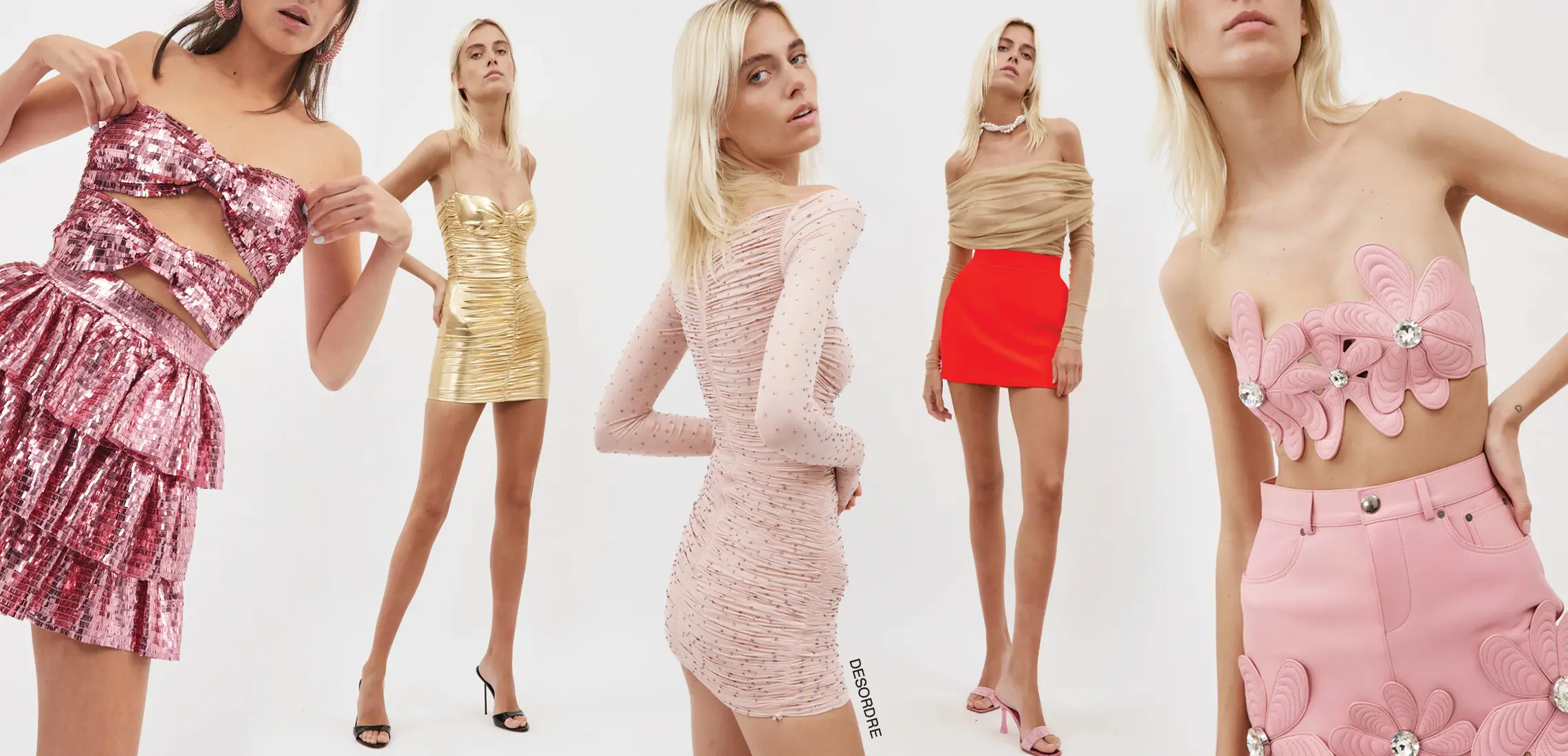 Rhinestones, Fishnets, And Fur: Meet James Street's Latest High End Fashion Boutique
Risqué business
By Style Journo | 14th March 2023

Just when you thought Brissy was headed towards becoming another monochrome, minimalist city, along comes Désordre in a neon flash. 

Founded in 2009 by Shannon Thomas, the go-to party boutique first began as a roving pop up before opening shop in Darlinghurst in 2010. Since then, Shannon has built an empire – a very pink one – with the addition of three more stores, the latest of which consumes a whopping 120sq m space directly opposite The Calile Hotel.

Cementing itself among the high end boutiques on James Street (right where it belongs) at the end of 2022, Désordre is the place to shop for those with a penchant for fun fashion and big bank accounts.

View this post on Instagram

Only one of two stores in Australia to stock brand-of-the-moment Magda Butrym (the other being shopping empire Harrolds) alongside Christopher Esber, KHAITE, Santa Brands, Michael Lo Sordo, and many other rhinestone-clad brands we've never had access to in the flesh before, Désordre is truly in a league of its own…
Hi Shannon! What's the story behind the name?
It's French for 'mess'. The concept of Désordre is that it's like a really beautiful mess. 
How was Désordre born?
There were so many beautiful designers around, but every single store had the same offering, and it would never feel that special. I was also motivated by editorials and all their beautiful imagery. I was just so hungry for it. I was only 21 and friends with lots of designers, so I started by doing pop-ups all over the place. 
Tell us about the James St fit-out. What were your non-negotiables?
Our signature pink, lots of mirrors, light, and handmade timber finishings. It's become our DNA across the boutiques.
Describe your style:
A little bit fierce and sexy … tough pretty.
What's your fave fashion era?
I'm actually kind of loving what we're in now – there's no rules.
What fashion pieces are you loving?
Denim, OMG, it's not going anywhere! It's denim overload at the moment. Wide-leg denim, long denim skirts, short denim skirts – everything you can imagine that's usually done in a black silk is denim.
Who is the Désordre girl?
I have no rules for our Désordre girl! I love to see it ever changing. One of my favourite parts is seeing us tagged on Instagram all over the world. Seeing the way clients style and wear the pieces is always so inspiring for me.
You're heading out for a long lunch with your best girlfriends. What are you wearing?
Depends on the day, my mood, and the weather, but tomorrow I am wearing a Blumarine skirt and top with my Magda Butrym crochet wedges and some big Bottega sunglasses. Trans-Seasonal work to workin'-it vibes.
View this post on Instagram
How does it feel to be considered the best party-wear boutique?
It's surreal. I don't take it for granted at all. Every single experience and every client is really important to me. We are still self-funded and a small business, so it's very difficult to do everything all the time, and be everywhere, so I'm trying to keep the standard as high as possible with the clothes. It is slow fashion and really special standout pieces. I just keep setting the bar higher and higher for myself. I didn't realise I was such a perfectionist – I certainly don't think I was this way in high school!
Trend vs timeless… which way do you sway?
We are trendless. When I buy, I buy for forever. For me, the trend pieces tend to be the less expensive, one-wear-wonder pieces, which I consciously steer away from as they tend to be less exclusive. 
Most-loved items in your wardrobe…
I actually just got the Magda Butrym flower heels, I'm obsessed. They are pretty much art. I don't even know where I'm going to wear them! I have a beautiful vintage blazer of my Mother's that I still take to fashion weeks with me. I feel like it's really on brand now. And I'm a big denim girl. All the denim with some comfy sneakers. 
Why James St?
A lot of Brissy clients have asked the question, 'where to next?'. I just love Brisbane, I love Queensland. You can show skin and have fun with it. It's just really on brand for us.