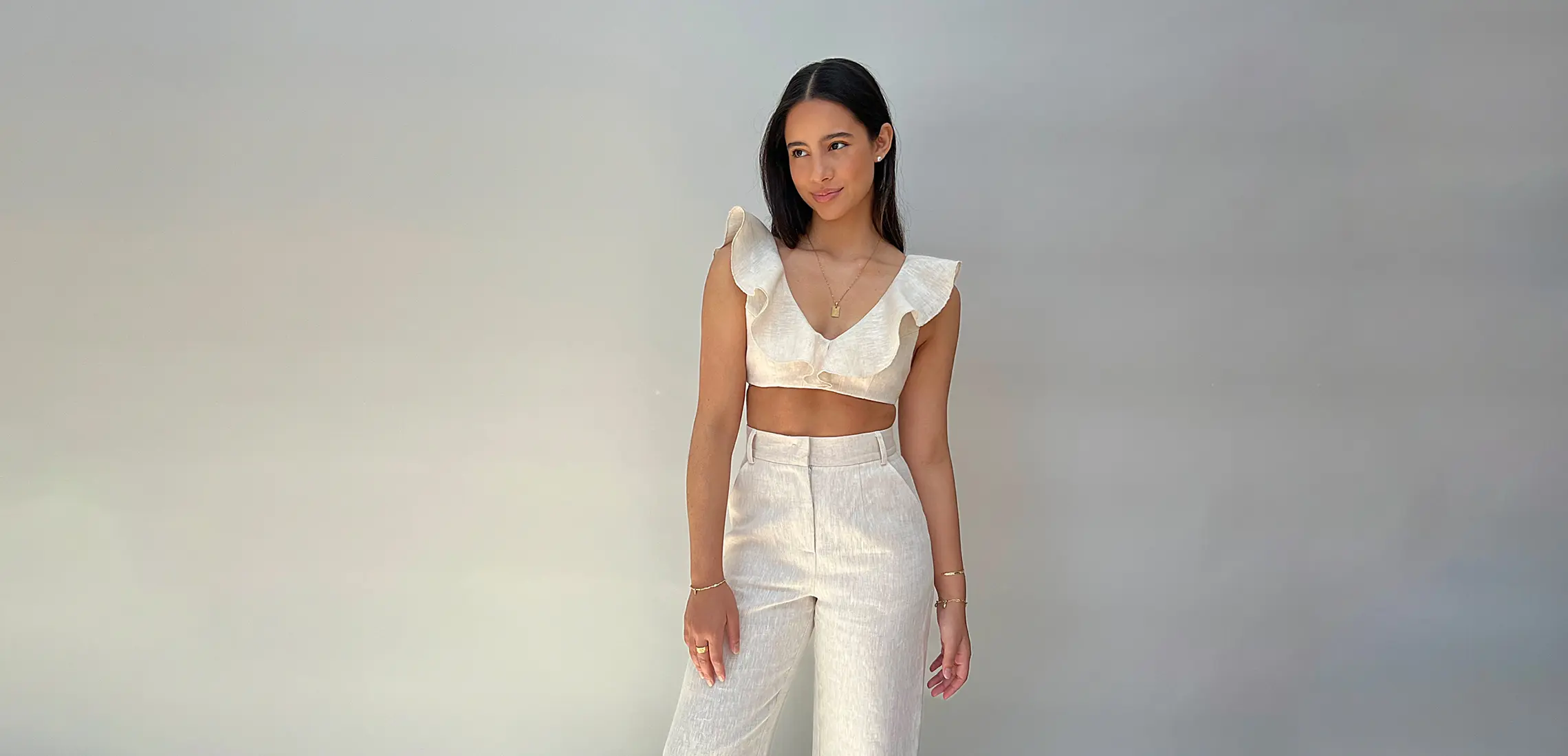 Young Girl, Big Dreams: 5 Minutes With The Founder Of Cienti The Label
The feminine touch 
By Bianca Licina | 23rd October 2023

While Year 12 was a time when many of us were navigating the turbulent waters of late adolescence, caught in a whirlwind of formal dresses, love interests, and academic grades, Sofia Abel had already charted her course towards her dream career.

Wave maker and trail blazer, from an early age Sofia Abel's entrepreneurial spirit was palpable. By the tender age of 15, she set her sights on a career in fashion and by the time she reached Year 12, Sofia's first fashion label had grown legs. Her brainchild, Cienti the Label, stands as a testament to her commitment to ethical fashion, embodying the youthful spirit of the modern woman. 

The use of high quality, ethically sourced fabrics, with a particular liking to linen, Cienti The Label's pieces are designed to be timeless wardrobe staples, whose versatility and wearability make them a no-brainer when it comes to wardrobe decisions.

We sat down with young entrepreneur and winner of the Carla Zampatti Scholarship to pick her brain about her personal and professional journey into the fashion world. 
Hi Sofia! What inspired you to start Cienti The Label?
Ever since I was little, I've always had (I guess you could say) an 'entrepreneurial spirit'. In one way or another, I was always getting myself into different side hustles and enjoyed having a fast-paced routine, so for me starting a business came about quite naturally. 
One factor that led me to start Cienti especially, was my passion for hand-making my clothes and for the craft of sewing itself. Focusing on handmade garments that promote refined skills and preserve their exclusivity is really important to me. This, combined with a vision to make a positive impact on the planet, inspired me to create a sustainable and ethical fashion brand and led me to share my journey online.
Tell us a little about your fashion journey, and how your love of fashion developed?
I've always had an interest in fashion, but it wasn't until I was 15 years old, on a holiday to my hometown in Bolivia, that I knew I wanted a career in it. My grandma took me to a workplace where the atmosphere in the workroom was beautiful, creative and full of passion. They had a mix of designers, pattern makers, and sewers developing collections. I learnt some basic techniques, how to take measurements, thread a machine, and I made my first top there.
In grade 12, Cienti the Label emerged from my bedroom and I started selling lounge wear to my friends. After school, I put my university business degree on hold to follow my passion and focus on my brand. I decided it was time to reinvent Cienti whilst I was learning more about the fashion and business industries through specialised courses with Fashion360. This was a really influential time for me because it taught me a lot about the craft and inspired me to build a brand beyond the current trends, while focusing on quality, elevated garments. Essentially, I gained a huge appreciation for fashion and knew that I wanted to continue exploring this path.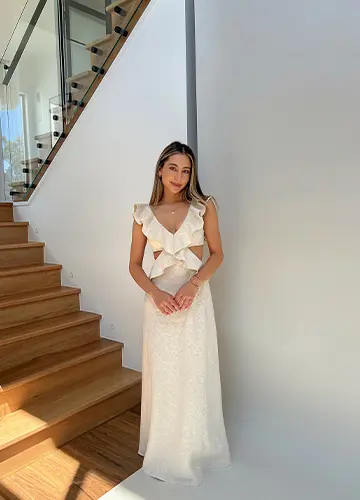 How would you describe the Cienti The Label wearer?
The Cienti girl echoes youth, spirit, and modernity. She's cool and sophisticated.
The ultimate purpose of each piece is to celebrate the wearer and make her feel confident and comfortable. Our garments also satisfy consumers who look beyond the price tag and for quality garments that are made to last.
Tell us a little about your current collection. Why have you decided to use linen as your hero fabric? 
Created with passion and intention, the current range features tailoring techniques and feminine silhouettes including cutaways and ruffles to accentuate, flatter, and fit the figure of the wearer. 
Using linen was a no-brainer for me because it's my favourite fabric to wear and work with for a few different reasons: its comfort and breathability, durability, versatility and timeless aesthetic, and for its natural and sustainable qualities – it's made from flax fibres which are a renewable resource and require less water. Our signature fabric is 100% heavyweight linen sourced from Australia.
We love the conscious ethics behind your brand. Can you explain a little more about your sustainability mission? What does 'slow fashion' mean to you and your brand? 
The fashion industry is one of the world's biggest polluters. 100 billion garments are produced every year and 33% of this goes into landfill within the first year of purchase. That is crazy. 
In a world of fast fashion, Cienti strives to strike a balance between maintaining ethical and environmental integrity whilst producing quality garments that will become seasonless in your wardrobe. Currently, our most popular items are on a made-to-order system which allows for strategic and limited production quantities, resulting in a waste-free, conscious business. Cienti also maintains capsule collections to conserve exclusivity and again, to adopt sustainability and align with both my personal and business values. For me, it's also important to respect the art of the industry and those who produce our clothes so I ensure to support appropriate workplaces and fair wages to our makers.
You were recognised as the inaugural winner of the Australian Multicultural Foundation Carla Zampatti Scholarship for Young Women in 2022 – congratulations, what an achievement! What does winning this award mean for you? 
I feel extremely grateful for the investment that the AMF chose to make in myself and my business. Being the recipient of the scholarship was not only exciting and hugely rewarding, but also a real opportunity to launch my vision for Cienti, push myself, and aspire to demonstrate what young women in business can do.
Alex Schuman – the son of the late Carla Zampatti who was pivotal in the creation of this award – said that you embody the same 'vibrant entrepreneurial spirit and unwavering determination' that Zampatti possessed. How does this feel to be likened to such an iconic designer? What about Carla's legacy inspires you the most?
Through speaking to Alex about Carla's upbringing and her amazing business ventures, I have felt so inspired by her stories and in special ways feel like I can relate to her. So, hearing Alex say that was really powerful and a truly cherished comment.
Carla's legacy of championing women and making them feel empowered through fashion is what inspires me the most. This is clearly reflected through her elegant and modern designs that can be easily recognised. I hope to carry and embody similar values in my brand by uplifting and celebrating women. 
How has winning this award helped your development and changed the trajectory of your label?
The scholarship has primarily increased my self-confidence to pursue my dreams and goals. I have learned so much about the industry and how to run a business, gained new skills in developing a range – from design to patternmaking, sampling, adjustments, and technical sewing skills – as well as marketing and social media skills. Aside from this, the grant was a huge financial help to start up my business and develop my latest range.
Additionally, the networking opportunities have been great as I build connections in the industry and increase brand exposure. I also had an amazing opportunity to intern at Carla Zampatti HQ which was extremely eye opening and beneficial.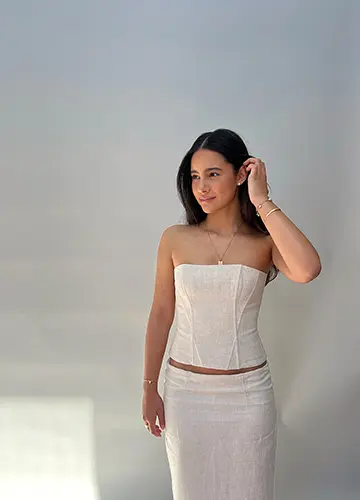 Who are some of your favourite designers? 
I often look up to Simon Porte Jacquemus who launched his brand at 19 and has been developing it ever since. He says, "I don't do clothes; I do stories." His designs have a sense of youth and femininity, and are classic yet innovative – I love this, and their marketing! 
I also enjoy Venroy's prints as they add a fun twist and elevate conventional fabrics. 
What inspires you when designing and creating pieces? 
I find that inspiration can be anything and anywhere. From nature and architecture to sewing techniques and 'accidents', and even bed sheets and tablecloths (where the majority of my garments came from when I first started, and even now).
Fabric movement and textures are also really important to consider to imagine how the garment can change with varying fabric properties. I think it's key to stay open-minded, curious, and allow inspiration to come from unexpected places.
What's one piece of advice you received when starting your label?
Creativity and business acumen are like two wings that lift a successful business, you can't soar without the other. It's important to have passion driving your brand and balance this with a business strategy to grow.
Also, be prepared for setbacks but ultimately set yourself up to do what makes you fulfilled. Starting a fashion brand requires planning, dedication, and hard work, so when it gets hard, learn to rest, not give up. And of course, be ambitious!
What's next for Cienti The Label?
Keep growing and keep building a team to power and scale the vision!
I want to be delivering capsule collections that represent both my brand and my journey through life. For me, it's important to slow down the fashion industry and produce responsibly whilst creating inspiring fashion statements, some exclusively for hire. I also envision partnering with print artists to develop unique fabrics while maintaining limited production quantities to conserve exclusivity and support sustainability. Our collections will arrive with the seasons but become seasonless in your wardrobe.
I also hope to participate in more fashion runways and work with high-profile creators and media spaces. Lastly, of course, continue to grow Cienti's social media presence and keep expanding into international markets.