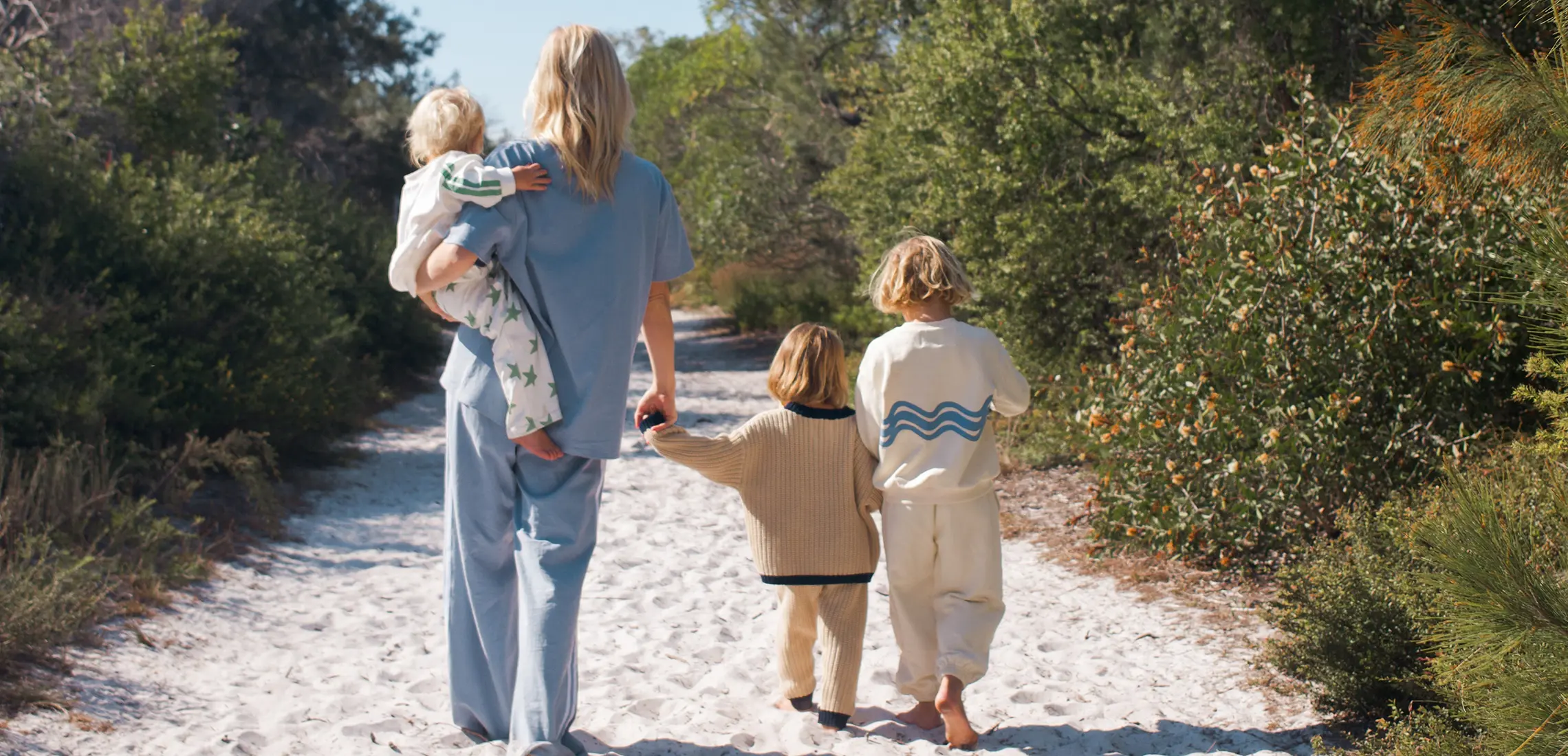 Small Fit: Get To Know Adorable Kidswear Label, By Billie
Little muse, big dreams
By Kathyrn Edmonds | 2nd August 2023

Whether you're a big person to a little small or spend time around cute kids on the reg, chances are you've noticed how trendy their threads are. 

From cool kicks to oversized printed tees, racer pants, and smock dresses, stylish kids clothes is a booming business, and no one nails the cool kid look quite like By Billie founder, Charlotte Brodie. 

What started as a creative outlet and personal endeavour in the early stages of motherhood, By Billie quickly became a flourishing business with a devoted following of parents eager to kit their minis out in fashionable 'fits. 

And it is a fusion of minimal styles, organise fabrications, and comfort at the forefront of this east coast label that sets them apart in the crowded landscape of baby, kids, and women's apparel. 

We sat down with Charlotte Brodie, founder and creative director, to learn more about her label and its latest collection, Bisou Bisou. 

View this post on Instagram
Hi Charlotte! Tell us, what was the driving force behind By Billie?
I launched By Billie in early 2018, just a few months after my daughter Billie was born. My husband and I had just packed up our lives in Brisbane and made the move six hours south to his hometown of Crescent Head.
I was in the throes of motherhood and felt a little lost. I had a knack for entrepreneurship and absolutely loved fashion, so it was as easy as putting the two together (plus, I had a gorgeous little muse in Billie!). There were only a few Australian childrenswear brands floating around on Instagram, so I saw an opening in the market to launch a minimalist and unisex brand of my own.
What inspired your latest collection?
I thought about how I wanted to feel during winter – cosy and warm. For the Bisou Bisou collection, we focused on the fabrication – soft knits, ribbed cotton, and warm fleece sets. We also included a lot more neutral colour.
What are three key design components you consider when putting together a new range?
Fabrication, wearability, and uniqueness.
How far in advance do you pre-plan each collection and its themes?
The planning process can start up to a year in advance. The first step is to gather inspiration, mood boards, and meet with our print designers. We have been in business for over five years now, so we know the shapes and styles that work, so sometimes it's just a case of adding the prints to these.
You've created quite the cult following, what do you think sets you label apart from your competitors?
About a year after we first launched, we saw a huge influx of childrenswear brands. Most of them focused on neutral and unisex styles and we thought that if we didn't pivot, we would lose our identity. This is when we started getting prints onto our pieces and that's what really catapulted our brand.
We love the conscious ethics behind your brand, can you share a little more on the way By Billie gives back?
At the forefront of our brand is to produce clothing that is of high-quality. We want our customers to buy these pieces with longevity in mind. Our pieces are at a higher price point as opposed to fast fashion brands which don't support conscious consumerism. We are also part of the i=change initiative where we donate a percentage of each sale to an organisation which the customer chooses.
What is one piece of advice you wish you had when you started?
To find your niche early! In the beginning you almost feel like you need to be selling to everyone but focusing on this will take away from your brand's identity.
What's next for By Billie? 
We would love to open a concept store! It's a dream of mine to have a place where we can showcase our pieces.