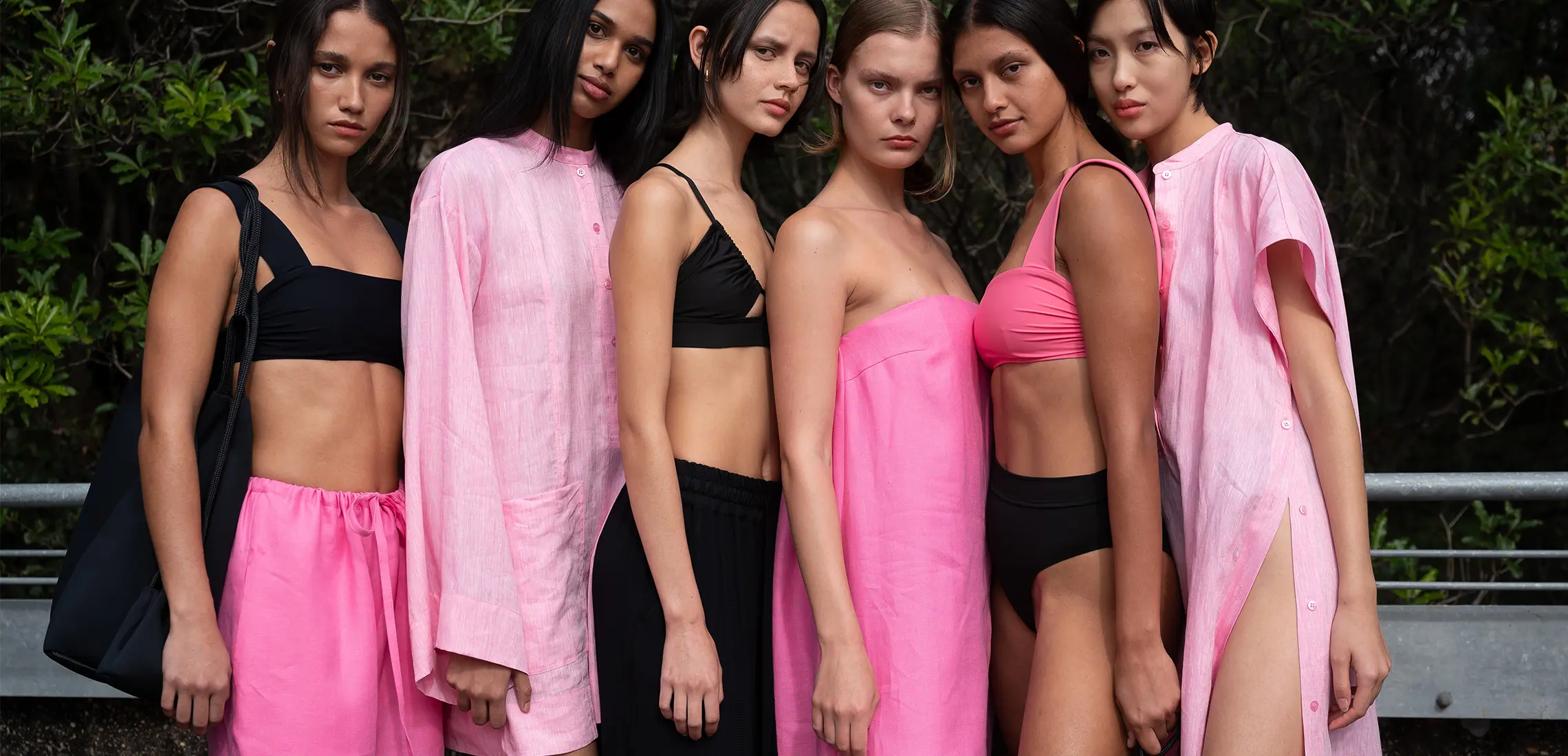 Bondi Born's Afterpay Australian Fashion Week Show Is Island Dressing Encapsulated
The ultimate beach girl's wardrobe
By Astrid Taemets | 8th June 2023

If there's one takeaway from Bondi Born's Afterpay Australian Fashion Week show, it's that I wish I lived on a deserted island. Sun-kissed skin, barefoot, and carefree, draped in only the billowing silhouettes of this breezy collection. 

Championing a simple but pleasing colour palette of pinks, blues, warm browns, and neutral creams, each piece evoked interest and intrigue while also maintaining a minimalist essence. It's the ultimate beach girl's wardrobe, and we want to live an eternal summer. 

View this post on Instagram

With looks that could take you from a salty dip to dresses that you could swan into a wedding, the balmy, breezy label's founder, Dale McCarthy, made sure the relaxed elegance of every piece permeated the Aussie style set. Here, Dale lets us into her world…
What was the inspiration behind the Leveque collection?
The world is complicated, economies are tough, but the one thing women are still doing is having holidays with families and friends, so the inspiration for this collection was to ensure she experiences joy on that holiday by feeling confident, relaxed, and stylish in her swim and apparel. 
The colour palette was inspired by the northern tip of Western Australia; a place called Cape Leveque, where bright blue and green waters meet pink sand and copper cliffs. 
Who is the Bondi Born woman?
She is stylish, intelligent, and considered. She cares about the world and she wants to look elegant, but she doesn't want to try too hard. She doesn't need logos splashed across her chest. She wants to feel confident and relaxed knowing she is wearing designer garments that don't harm the earth, and are made from the best quality fabrics available. 
Where do you see our pieces being worn?
All collections are designed to cover the gamut of warm weather occasions for women. Going for an early morning swim, lounging by the pool at a luxury resort, going for an alfresco lunch with your girlfriends, dressing up for a special dinner at a beachside restaurant, dancing on the table in Mykonos, or simply going shopping and feeling relaxed yet elegant. 
View this post on Instagram
Talk us through the creative process of this collection:
It takes around six months from inception to runway. We start with giant moodboards to capture the spirit and colour palette of the collection. Next comes fabric selection. Each collection contains our signature swim fabrics – structured organic linen, and organic cotton – then we add variety and newness – a light, flowy fabric for mood, something dry and light for cover ups, something sleek or with sheen for evenings. Then, we start designing and drawing until we feel we have a strong base to grow from, which starts the iterative process of sampling, fitting, refining, re-sampling, re-fitting, culling, etc, until we have something coherent and broad to cover all the various needs of our customers around the world. 
What do you love most about creating clothing for women?
I love creating clothing for women as I know how much joy a flattering swimsuit or a gorgeous outfit to wear out to dinner can bring to their lives. In summer, they feel more open and less confined, experimenting more with colour and shape and fabric, so designing for Bondi Born is a very open, highly creative process. It's a lot of fun! 
What is your favourite piece from the collection?
So many to choose from! I think my favourite is the Andrea Draped Dress in pearl eco seersucker. It's a new fabric for us and I love its fluidity and movement on the body. This piece is simple, yet elegant, relaxed yet sophisticated. You could wear it to lunch with a pair of flats or to a wedding with heels, and almost every body shape and size can wear it. 
This collection evokes a sense of an endless summer. What is it you love so much about this season?
On the first day of spring I always feel like a weight is lifting off my shoulders and I begin looking forward to every warm day. Summer in Sydney is such a magical time. I just love the way the world comes alive – the Jacaranda trees, the Agapanthus, bodies flocking to the beach. I can't wait for sun-kissed skin and to get back into short dresses and sandals. Summer days for me mean the beach or sea kayaking in the morning, the doors and windows open wide in my house all day, and lots of alfresco dinners with friends that go late into the night.