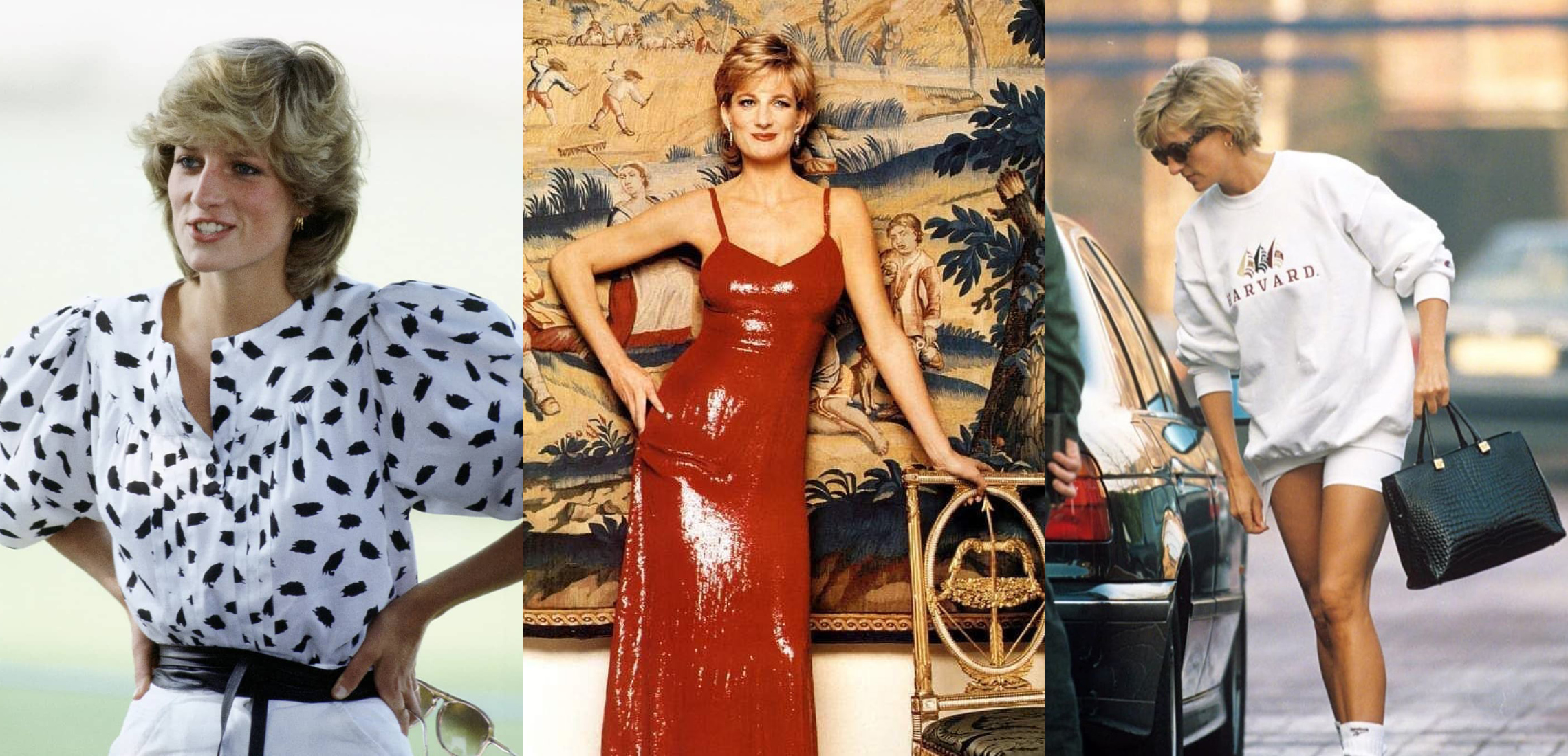 Princess Diana: A Fashion Review
Her best style moments of all time
---
With the announcement today that her much anticipated depiction in Netflix's The Crown is only a mere few weeks away, our minds are once again on the revolutionary royal that was Princess Diana. Known as the people's princess, the beloved icon of the English royal family become renowned not only for her controversial views on monarchy, but her charity work, wicked sense of humour and of course, her fashion! As one of the world's most enduring style icons, Diana's fashion defined a generation. The confidence of 80s and 90s fashion trends paired perfectly with her effervescent personality. As we excitedly await the return of one of our favourite binge-worthy shows, we look back in time and tip our proverbial hats to one of the late, great fashion icons of our time. Check out our favourite Princess Di fashion moments below!
Off duty:
Bike shorts and an oversized sweatshirt paired with some chunky sneaks and socks = literally every off-duty look on insta right now! Turns out Diana was onto it first.
Cinderella chic:
Seen here as the fairy tale princess she was to so many, this Cinderella-esque gown captured the hearts of little girls everywhere.
The 90s mini:
As a royal fashion rule-breaker, it's no surprise that Diana could rock a mini like no other.
Lilac dreams:
The queen of colour blocking, we love seeing Diana in one of 2020's hottest colours – dreamy lilac. Proof that trends really do come back around!
Head-turning tux:
One of Diana's most head-turning looks, this glamorous navy tuxedo suit marked her as the first female royal to wear trousers to an evening function. With the large silk lapels and ornate silver buttons, she looks just as boujee as she would in any ball gown (in our humble, biased opinion).
Check to check:
A classic royal pattern, a tweed check set is the epitome of Windsor Castle couture.
Lemon loungewear:
It seems a matching linen set is a popular now as it was back in the 80s! Particularly in a delicious lemon hue, it was perfect for days running around after William and Harry!
Statement jumper:
No one could pull off a bright knit and still look elegant quite like Diana. Even when it's covered in tiny sheep, she still looks baaaahh-rillant!
The LBD with a big backstory:
When your husband's infidelity gets announced to the world, most of us would want the ground to swallow us whole. Not Diana. In one of the world's most iconic displays of girl power, Diana chose to attend a last-minute gallery opening in this now iconic, off the shoulder, velvet, little black dress. Power to ya girlfriend.
Neutral power suit:
Yet another example of fashion trends making their way back around. A double-breasted power suit in a casual neutral linen is a staple for us this spring. We'll be channelling Dianna's effortless styling when we don it this season.
Slinky in sequins:
This show-stopping, asymmetric sequin gown worn by Diana during her tour of Melbourne in 1983 saw the start of her fashion shift from frills and floaty to sleek and sultry. Talk about iconic.    
The boxy boyfriend blazer:
Diana's more casual looks soon became just as adored as her glamourous gowns. This 'I got it from my boyfriend' look is the perfect example as to why!
Ahoy there:
Pinstripes, power shoulders and a sailor's cap, Diana perfectly captures the meaning of nautical style.
https://www.instagram.com/p/Br8NYxCF2sJ/
Metallic moment:
One of the first shows of the metallic trend, Diana becomes a global trendsetter in this gorgeous silver, perfectly-pleated gown back in 1985.
Pretty Woman polkas:
Seen here in this 'Pretty Woman' polka, it's clear to see that Diana had a handle on one of the hottest prints of the 80s.