I Tried Hair Extensions For The First Time And Here's My Review
No more bad hair days
---
There are a few things a girl wants to hear in life such as, "you're right", "cute shoes", and "your hair looks amazing!". Stepping out with a fresh 'do or full body blow out – you're ready to take on the world! Being blessed with thin hair all my life, I'll admit I've tried a lot of different things to achieve a thicker, fuller look. I've swallowed supplements, ate more coconut oil, and used better quality shampoo and conditioner (which definitely helps), but it's never really tamed my tendrils to how I truly wanted.
Furthermore, when it came to extensions, I can confess that I've always been one to steer away from them. From late nights in The Valley spotting the bevy of brunettes with mismatched light colours or the girl with the obvious tape sticking out – I have found myself on many occasions thinking, "I'll never do that". But I did. I committed the ultimate act of hypocrisy. And, you know what, I love it!
When Epic Hair Designs came to me with their new range of Wildé Beauty Hair Extensions, my everyday thicker hair was actually a lot easier to achieve, and not as expensive as I imagined. The tapes (that are fitted with real hair) are treated beautifully and colour matched to suit your mane perfectly.
A little about Wildé Beauty Hair Extensions:
100% human Remy hair, which means the hair is from one source and very high quality (no processing and silicone dipping like others).
The hair strands are completely aligned in the natural direction as it grew and the cuticles are intact.
Remy hair is super soft, contains some shorter hairs, and will have a natural taper at the end that gives a very natural look once they are placed in the hair.
The hair is silky soft and treated just like your own hair, meaning you can cut, style, curl, and straighten.
The tapes are revolutionary in the way that they can be taped (a full head which is four packets) in around 30 minutes.
They currently come in 10 colours at 20 inches in lengths. Epic Hair Designs have 2 colours (Ice Queen Blonde and Cher, The New Black) in 24inch clip-ins. As the popularity grows, they have plans to order more colours.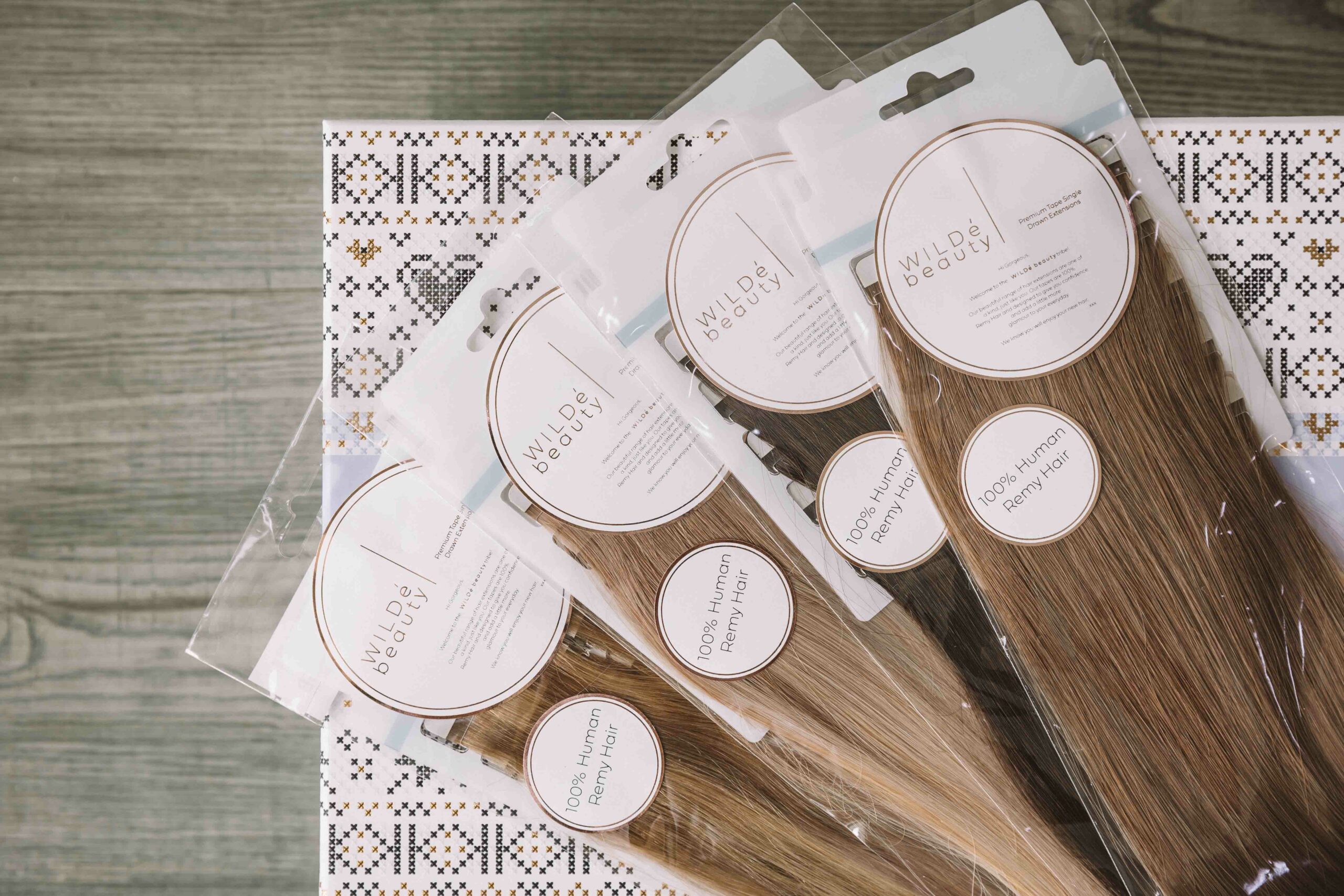 It looks natural
My favourite part of the extensions is that they're 'single-drawn', meaning they contain multiple lengths of hair mixed into the extensions, resulting in hair that's thickest at the top, tapers in the middle, and thinner on the ends. It's a beautifully seamless blend into your natural hair.
Choose your look
Of course, having extensions means it's not your real hair, but the great thing is that you can create your own elevated look. If you're after a thick blunt look, this can simply be achieved by trimming the ends up a few centimetres to give an overall thickness. Epic Hair Designs have multiple tape extension specialists located throughout all 16 salons that can achieve your very own tailored look, whether it's longer, shorter, thicker or fuller.
The appointment
Your initial consultation is the most important! With your extension specialist, this is where Epic Hair Designs colour match to ensure the extensions will be fitted as naturally as possible. Extensions aren't put on the same day, and for good reason. Colouring can have a coating and encourage extensions to slip.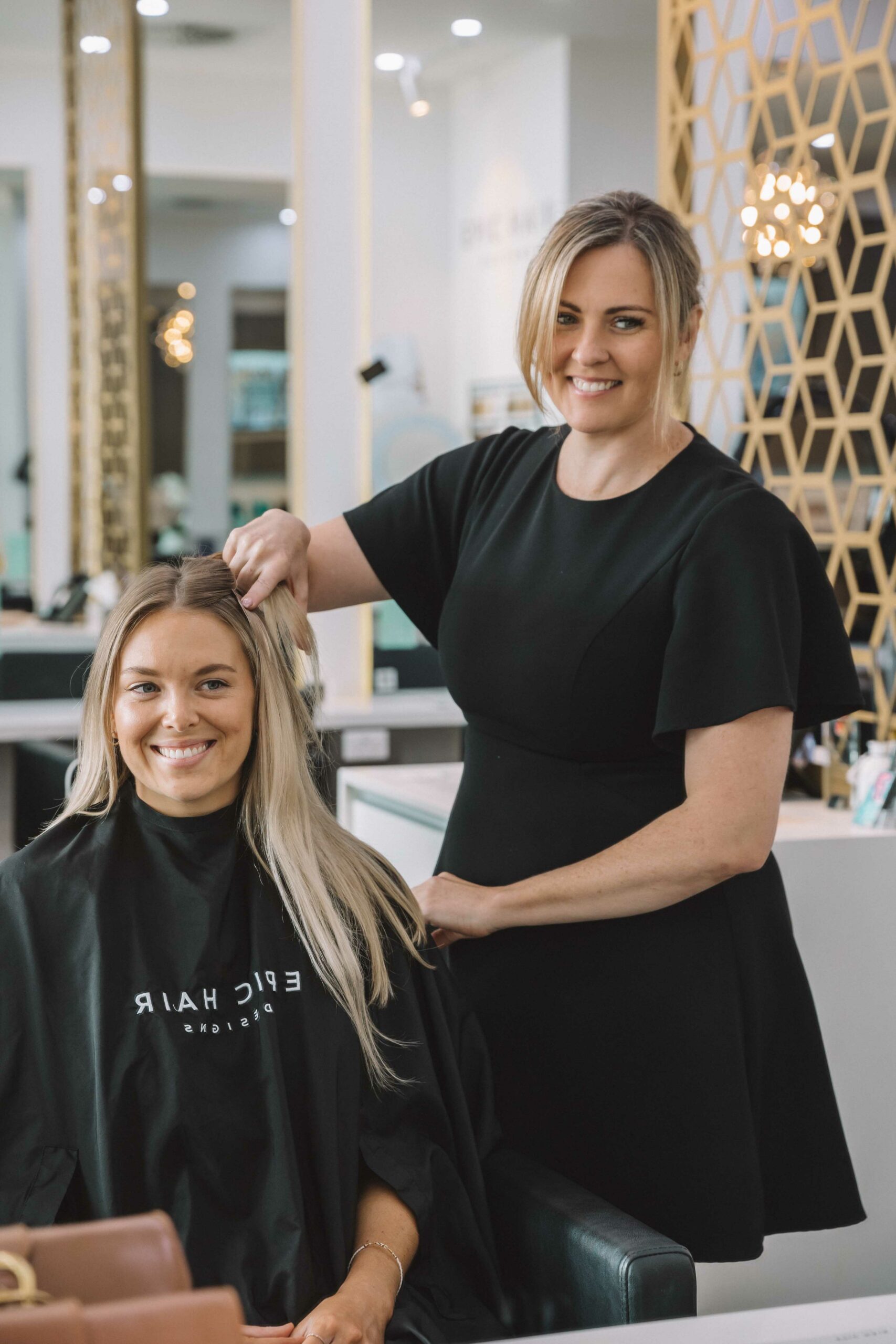 Once you have scheduled your next appointment for your new hair to go in (wee!) this is where the magic happens. Allow me to step you through it…
First up is a deep cleanse to remove any natural oils that could encourage slippage, with a delightful head massage to really get in there.
Step 1: your specialist will blow dry your hair straight with a Superbrush – a wet-to-dry styling brush which effortlessly detangles and protects hair with rubber bristles.
Step 2: your hair will be perfectly sectioned out by measuring the width of the neck and where the placement of the tape will go. Each row is sectioned with precision (for example two fingers away from the hairline so that it's as natural as possible).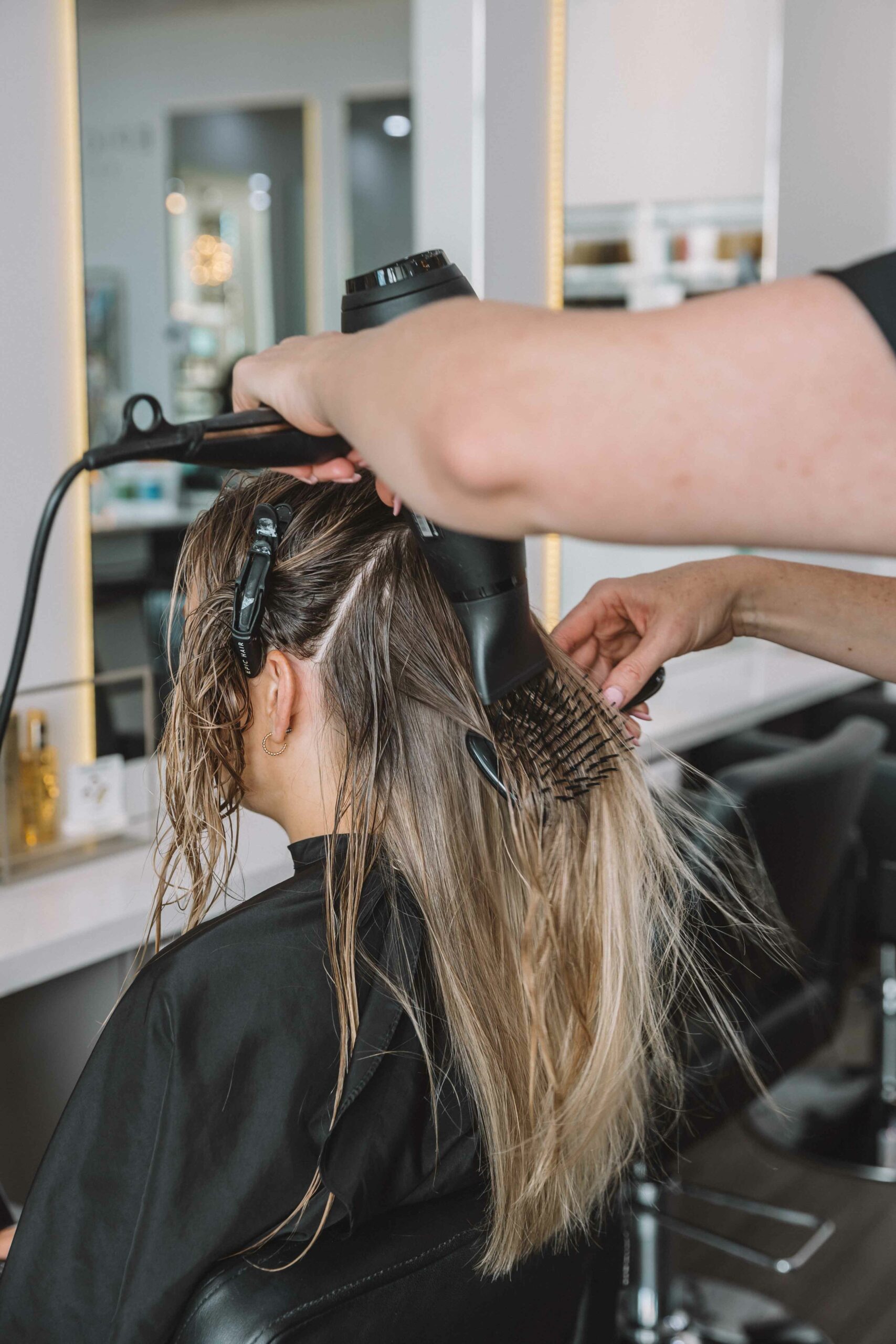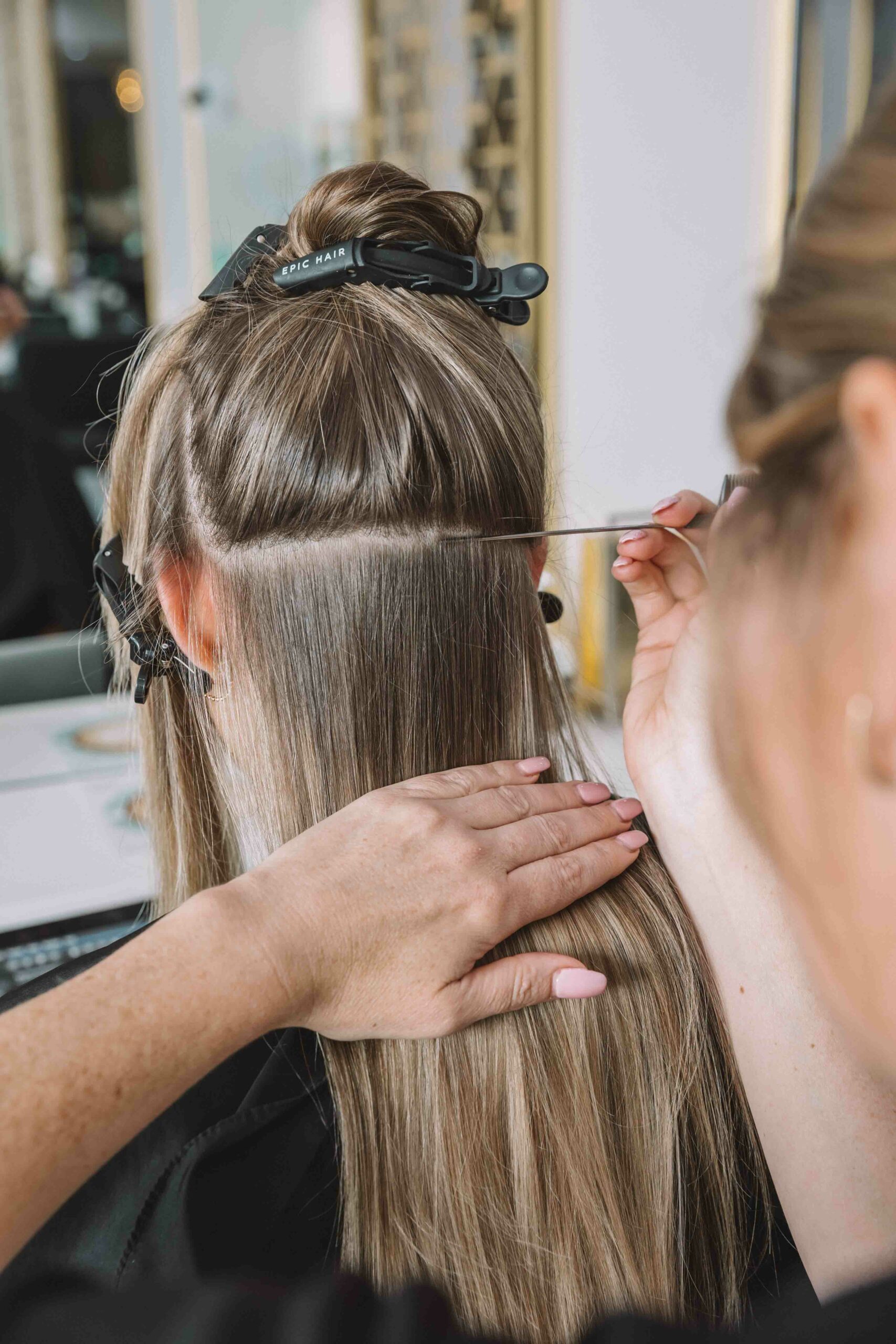 Step 3: your specialist will lay in the lighter colour first and sandwich two colours together to get a natural effect.
Step 4: you will feel the full effects of what a thick mane feels like and this is where you can talk through with your stylist how you would like it cut.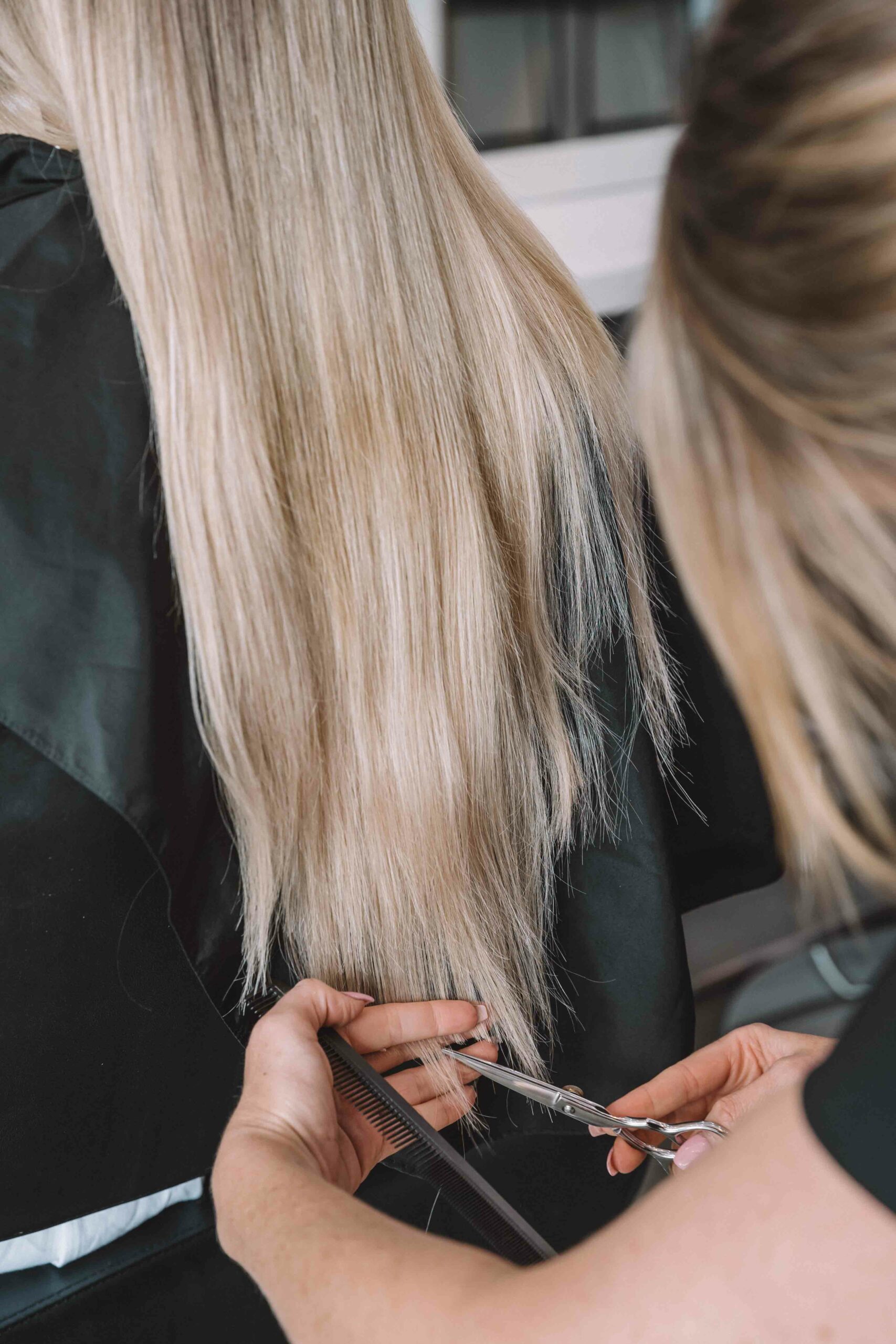 We love them because…
The extensions are 'single-drawn', which means they are lightweight on the hair strands when applied, meaning there is minimal pulling and damage to the hair on the scalp. While double-drawn yields a very thick and full result, it often looks fake and heavy, causing breakage.
Pricing
Starts from $232 for a quarter head and up to $649 for a full head depending on length ranging from 14"-24". Maintenance (which includes shampoo, blow dry and retape) starts at $127 for 10 tapes to $248 for 40-50 tapes.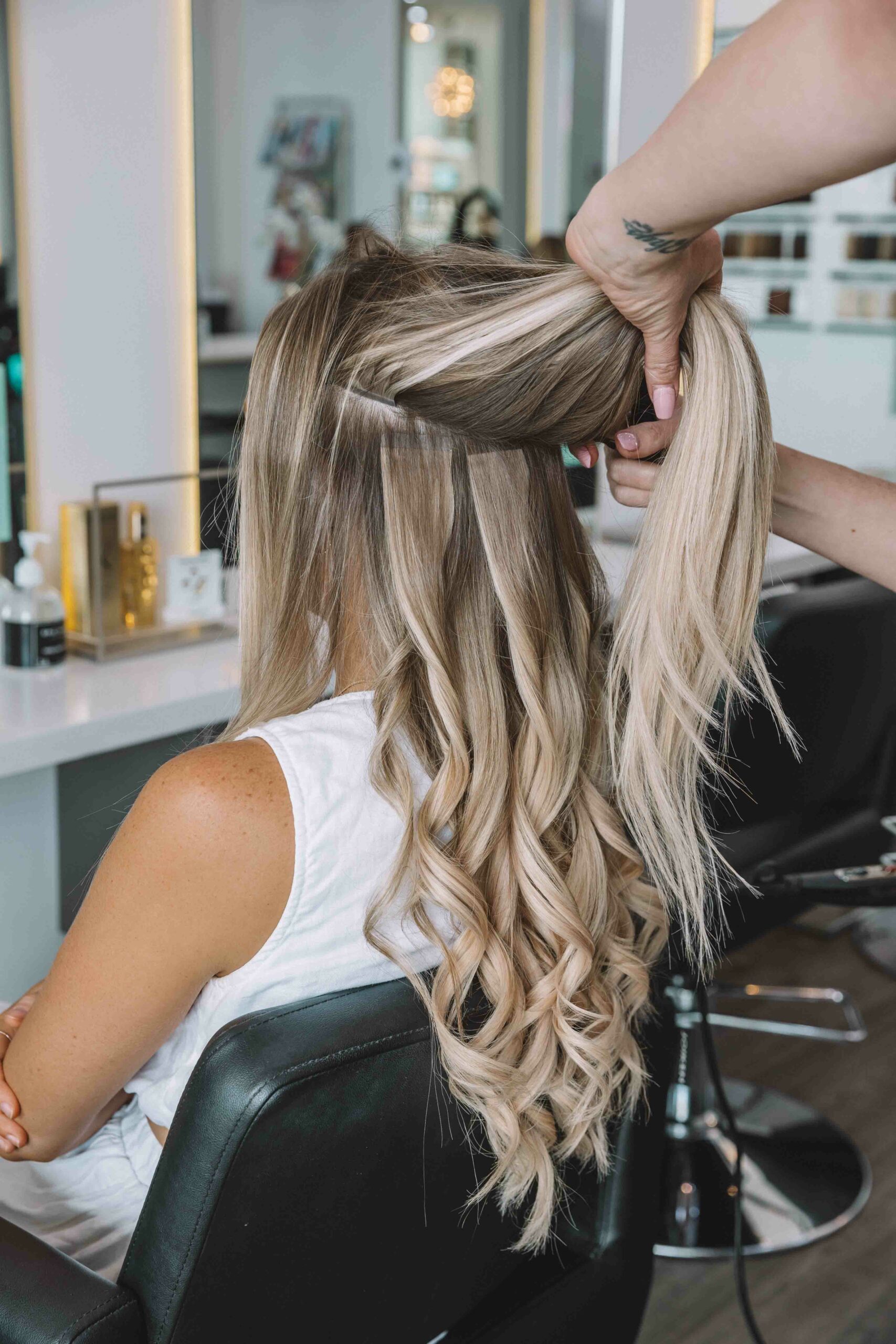 For those who are not ready for tapes…
Epic Hair Designs have clip-ins! The most popular are the 24inch Wildé Beauty Hair Extensions Clip Ins for $400. These are seamless and higher quality than many regular clip-ins in the market. They're easy to apply, sit completely flat on the scalp, and come in a pack of nine for a full head.
Style tips:
Pool days (or getting your hair wet) will have to be put on hold for 48-72 hours to ensure there is no slippage for the tapes.
When you do wash your new extensions, blow dry at home on a medium heat and use your fingers to dry the area near the tapes before drying the rest of the hair with the brush.
Shampoo twice to take out oils and give them a deep cleanse of any dirt or dry shampoo build up.
Try not to use conditioner on the roots where the extensions are taped in as they may slip.
Purple shampoo will grab to the extensions quickly – it's recommended to use normal shampoo plus purple shampoo together if you will be using it.
The best heat tool temperature is 175ºC and no more than 180ºC for straighteners or curling tongs.
Finally, do not take the extensions out yourself! Epic use a specific tape remover that softens the tape, pulls the sandwiches apart, and removes residue. Retaping happening every 6-8 weeks.