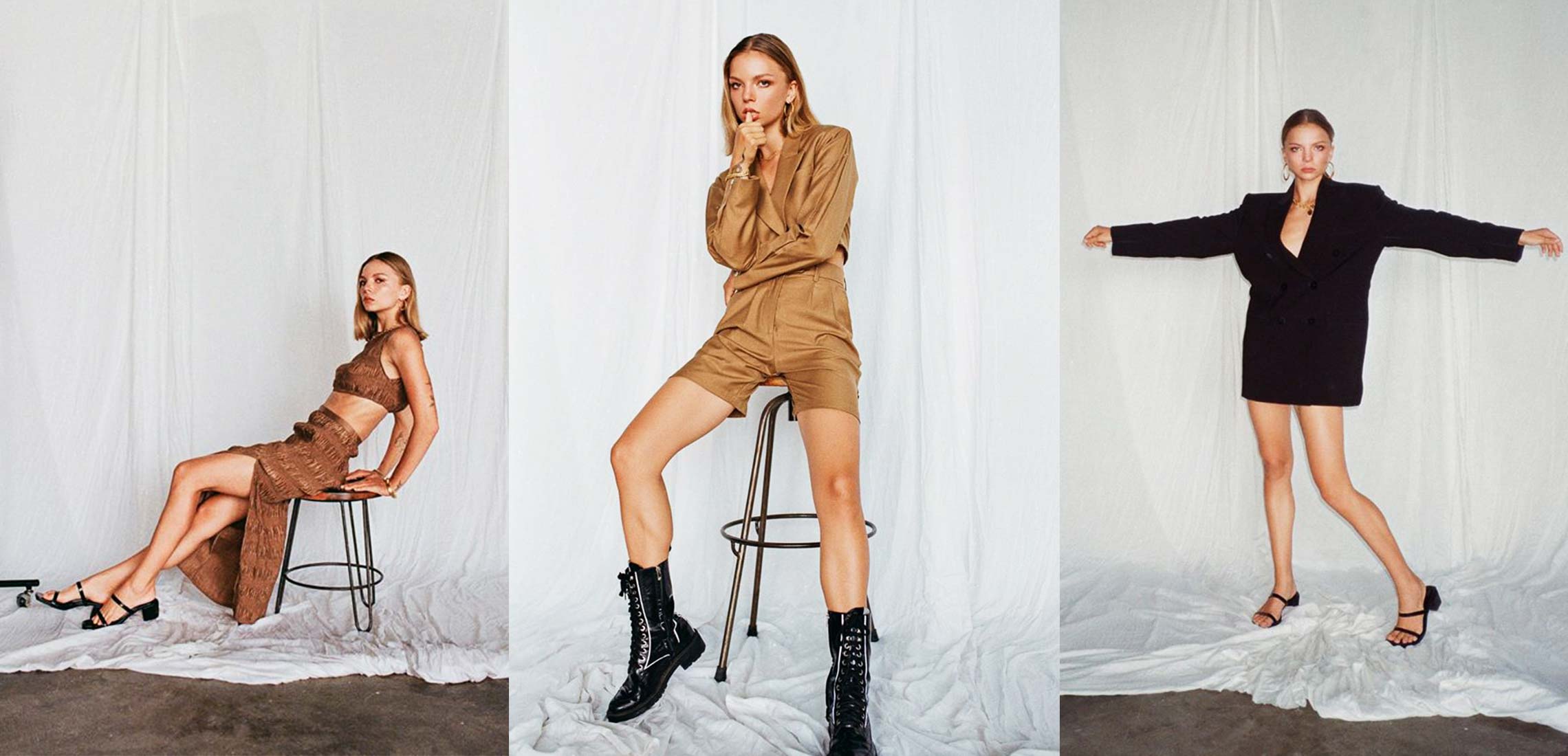 The Woman Redefining Fashion Design
Fall in love with this Aussie designer and her brand-new label
---
As a designer, stylist and model, Emily Gurr is a fashion force to watch as she takes on the next big thing. With the launch of her label JACKLYN, Emily has set a new standard for fashion design that sees for ethical and responsible fashion production – looking after both the people and the environment.
We snapped an inside look into Emily's fashion design endeavour and the launch of JACKLYN and spoke all things responsible fashion, productions and in the ins and outs of being a triple threat in the industry.
At the heart of the JACKLYN community is timelessness and quality, where value is placed less on the trends of everyday fast-fashion, and more on creating unique garments that take you from season to season. JACKLYN recognises worth in the personal connections we can make with our clothes (sometimes without even realising, especially when we buy in abundance). This sees the JACKLYN community creating garments that stand the test of time, allowing us to personalise and make meaningful memories in each piece. In a world where the temptations of fast-fashion flood our social medias, I'd call that rare.
As a busy woman herself, Emily has kept the modern-day woman in mind to create a brand that caters to the demands of today's multitasking woman. JACKLYN garments are tailored to mould effortlessly to the body, complimenting the female form and functioning for a busy lifestyle. In her designs, Emily takes inspiration from her mother and grandmother to merge classic and modern approaches to dress. With this, Emily has built a label that embodies strength and vulnerability, and unique pieces that serve a larger purpose.
Read below to see my chat with Emily and get to know all about her venture into fashion design and her new label JACKLYN.
You had described JACKLYN as a big passion project of yours. What motivated you to start your own label?
I think a huge motivation behind investing so much time, blood, sweat and tears into my own line was being able to embed my own values into a brand that I can tangibly communicate with people. I've always had big ideas but struggled with communicating them until I made them into something relatable for others. I was, and still am, extremely passionate about being part of the change within the fashion industry. I wanted to be able to lead by example and create pieces that made people feel special, empowered or whatever evoked an extra sense of quality in people's lives.
How has your experience in the fashion industry so far, from modelling to styling, and designing, shaped or influenced your label?
Modelling for multiple fashion labels during the intense rise of them always left me feeling slightly unsettled and out of balance. I dreamed to cohesively curate a space that involved things I liked along with removing things I didn't like from what I had seen. I had grown up with a mother that took such great care of everything she owned and highly valued pieces. My favourite garments to wear were the ones she had held onto for years – they were timeless and high quality. Seeing images and hearing of the memories she had made in them made me feel extra special when I was able to wear them. I have always been around fashion; I would fixate on different fashions in old films, the way garments were described in old books. For a young creative mind, this made me think outside of the box and find ways garments could work together and still have a purpose. I used to sit down as a young teenager and draw little families and co-ordinate their outfits. Mum has pages of these. Not necessarily because I always knew I wanted to be a designer but because I love creating and relating it back to a real-life scenario. I was and always have been a big dreamer.
JACKLYN describes itself as a classic, modern approach to dress, so what would you say makes a look timeless?
The timeless component comes from basic shapes and silhouettes that mould and compliment a woman's physic, with variations that still make it relevant (i.e. darting, shoulder pads, gathering, sleeve details, etc.). Mum used to teach sewing and had an old book from the 80s that explained all the different techniques – that contributed to a lot of the design elements in terms of the pattern making and fabric selection process.
Where would you say most of your design inspiration comes from?
My mother and grandmothers' closet. As I mentioned, I've always loved old films. Growing up I loved Pretty Woman, When Harry Met Sally and old Audrey Hepburn films. I have always had an infatuation with the disco era, so it was enjoyable to nod to these eras and trends by adding different aspects of these into my designs.
What does fashion for the modern-day woman look like to you?
My answers for this and the below question definitely tie in with each other. Having pieces that are made well, make you feel good and attain elements of elegance, they become multipurpose and allow the modern-age multitasking woman to get through jam packed days and leave a good impression not only on themselves but on the people around them.
An interesting part of JACKLYN's core values is "enriching their sense of self," can you touch more on this idea in terms of fashion?
Being able to wear high quality items that will last so you have the time to embed meaning and create positive personal associations with clothing. I love the concept behind psychological value and dress. I think dress plays a huge role in becoming an armour for people in regard to self-expression, development and growth. When you feel confident and aligned with what you're wearing and develop a personal style, it is a huge source of empowerment.
JACKLYN emphasises the value of ethical and sustainable fashion production, why do you believe this to be so important?
As humans we have a responsibility to tread with care and lack selfishness by being considerate and trying to enhance everyone's life – not just to our own. The trickle effect when we don't do this can be detrimental.
You must get asked for styling tips all the time, but do you have an all-time favourite piece of styling advice?
Blazers go with everything
Marry masculinity with femininity
Always have a quality pair of jeans
A nice white shirt
A pair of gold earrings paired with a nice necklace chain tends to just complete a look
Are there particular changes you are hoping to inspire in the fashion industry with the launch of your own label?
Slowing down consumerism comes to mind first. I'd like to encourage people to hold what they purchase close to them and build relationships to tackle the 'consume then discard' mentality. On top of that is reducing the use of plastic and synthetic fibres, reducing packaging and getting rid of the facades so we can focus on what is actually needed and endures time.
Are there any tips you could give our readers for making more sustainable based changes in their own wardrobes?
Get on resale apps like Depop and Vestiaire and allow pieces you haven't touched in at least a month to be reused and proceed onto their second life. Buy good quality staples: singlets, t-shirt, white shirt, slacks, blazer and coat, and continue to pair these with other items. There are so many variations you can create with a few simple pieces. Look for organic or natural fibres and recycled/repurposed synthetics.
What're you hoping to see more of in the fashion industry this year?
Responsible designs, anti-trend design. I love the action of layering; you can still produce innovative designs but ensure they are easily paired with other designs to increase the variations people can make with them. Easy wearability, planet over profit – responsibility in terms of environmental impact including reduced packaging, reduced use of paper and plastics. Less synthetic fabrics, more innovation in terms of recycling old plastics into new fibres and fabrics, higher wages and empowerment to manufacturers along with more care in terms of their working environment and facilities and not pushing for large quantities, fair working times and less over production.
What's your advice for aspiring designers when it comes to starting their own label?
Take your time, there's no rush! Be sure to do it properly from the start. Work on it every day and ask yourself 'what are my intentions in doing this' – if it's just to make money or gain praise, stop. You need to be passionate about conveying a message and have a love or sincere desire to make a change, or you will fall stagnant. When you have a true intention – write it down, and always refer back to your purpose when you're feeling stuck. Educate yourself! Listen to podcasts (The Business of Fashion is a great one, Fashion No Filter is another good one). READ, READ, READ. Research old collections and artists motivations to see what went well, what wasn't communicated well and continue to develop your knowledge and skills.
QUICKFIRE
Wardrobe must-haves?
Blazer, white shirt, and a good pair of vintage jeans.
Three words to describe your style?
Chic, rock, exaggerated.
Least favourite trend?
Thongs.
Most favourite trend?
Shoulder pads, bike shorts and grandpa pants.
Favourite accessory?
Gold rings.
Go-to festival look?
Cowboy boots, denim, lace and leather.