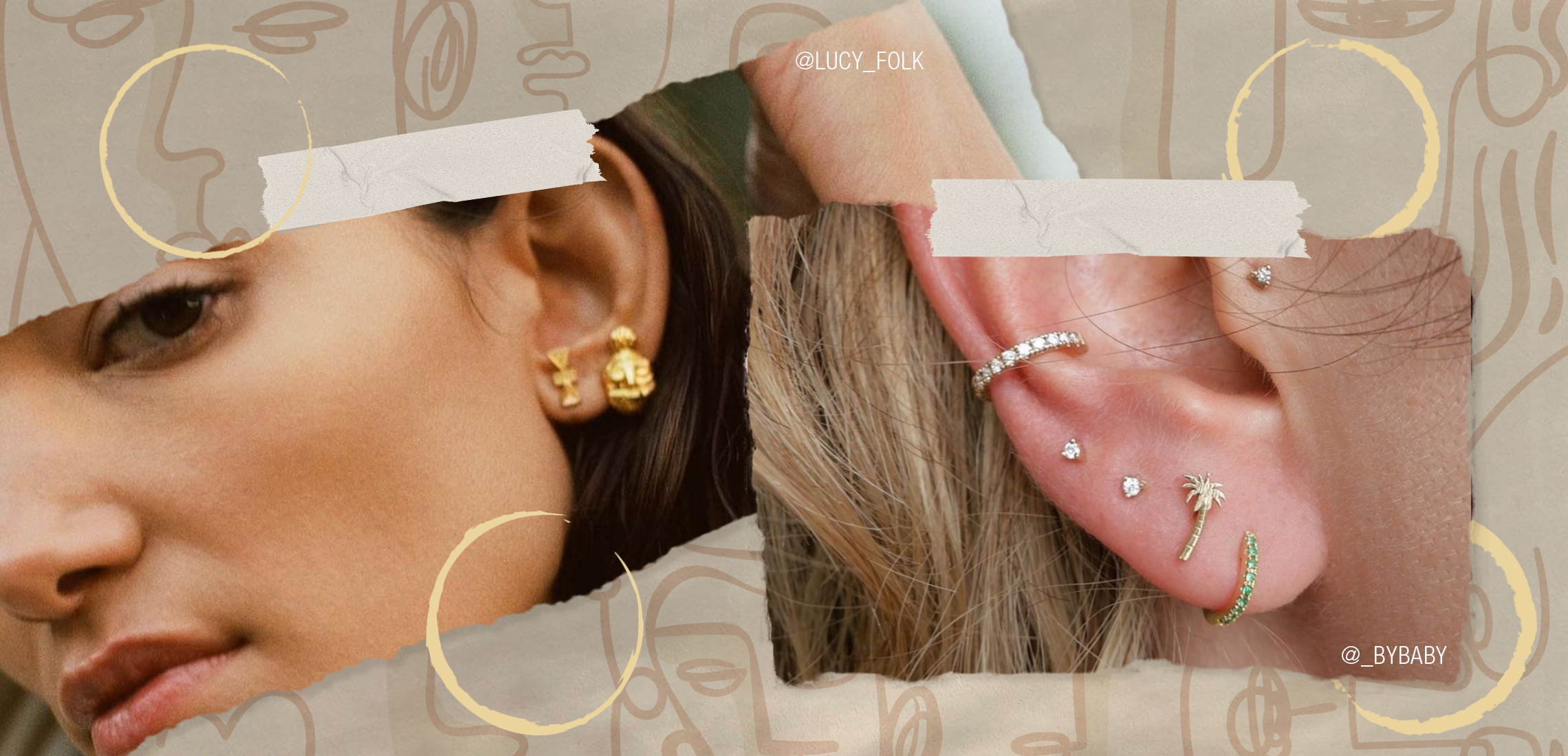 Stack It: Consider This Your Masterclass In The Art Of Ear Styling
Love your lobes #CuratedEar
---
While we all love to flaunt a statement earring for special events, one new accessory trend is pulling away from that traditional view in lieu of a more personalised touch: ear stacking.
Today, asymmetry scores highly when it comes to jewellery styling, and when it comes to your ears, you've got plenty of freedom to explore your individuality. After all, it's the littlest touches that make the biggest statement.
Break away from matching earrings in lieu of stacking your lobes with a pick-and-mix mantra. Opt for single styles – be they hoops, huggies, studs, or pins in a variety of materials, shapes, sizes, and metals.
From big-hitting jewellery brands like Mejuri, Lucy Folk, Arms Of Eve, and Reliquia Jewellery, to some of our fave local Brissy brands, Medley and By Baby, there are a plethora of possibilities to explore.
So, to help you jump on the oh-so-cool bandwagon, we enlisted the expertise of Angelique Andronis, owner and designer of fine jewellery label By Baby, to give us her tips on how to make your ears work wonders for your fashion cred.
Hey Angelique! Tell us your best tips on how to get the look:
Our ears are as unique as the piercings on them, so experiment with different shapes and styles. We're creating a statement with lots of earrings, so dainty pieces will make a really big impact, and you don't necessarily need a larger earring in your first piercing, either. Consider the whole lobe when styling, not just that first hole!
Mix your huggies and hoops with studs as well as solid gold pieces mixed with diamond and gemstone options. Consider the shape and space between your piercings, and try it all out! There are so many combinations that are possible, so often it's best to start with one to two earrings that you really like as a base and then add from there.
My go-to look is starting with small to medium-sized huggies in the first two lobe piercings, and then I'll graduate smaller in size as I move up the ear. Add a dainty stud in the upper lobes (usually your third or fourth piercing), and a huggie or dainty diamond stud in the helix and tragus. Finally, add some ear cuffs! Sitting around the lower helix, it's a non-pierced option that lets you add a little more to your ear when you feel like it.
What are some key By Baby pieces that work perfectly for this look?
Diamond huggies are always a great starting point, and I love to add colour with emerald and rainbow huggies. The tiniest diamond stud and larger neo diamond studs we have are perfect for adding some sparkle to areas like your tragus or upper helix. Our new atom diamond stud is my new favourite for a third or fourth lobe piercing.
Do you have a process with your clients on how to build the perfect look?
It really all depends on your piercings. We take into consideration how new or healed they are, how many you have, and just how much you want to decorate your ears at the time. For most clients of By Baby, we add one to three earrings at a time and build the look gradually so they can feel comfortable in them first, and have some time to think about what they'd like to add next.
We have many clients with lots of well-healed ear piercings who are ready to commit to a whole new ear party, so we take our time and map out all the possible options with them until we have something really amazing.
See more of our favourite Aussie jewellery brands you need to know, here.