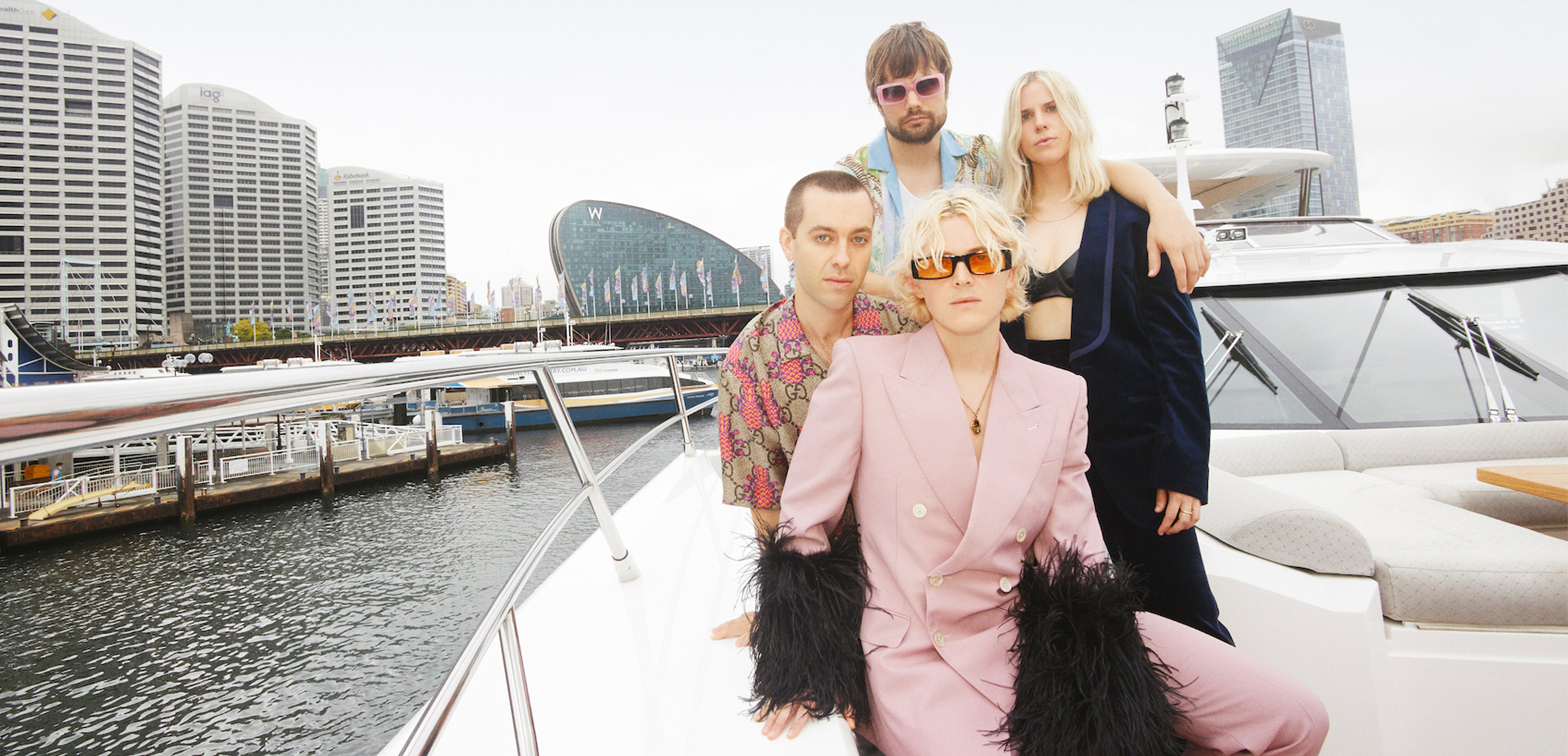 We Talk Pride And Brisbane Sunsets With Cub Sport
Come on mess us up
---
With Mardi Gras leaving its glittery trail behind for another year, who better to spill on the rainbow pride than Brisbane's very own Cub Sport? The renowned band and self-acclaimed pioneers of 'trans-dimensional genre-queer pop' have been going from strength to strength with plenty of love and smitten PDA along the way. They've also partnered with W Hotels and the Sydney Gay & Lesbian Mardi Gras, wowing the SCG crowds on the Waves Of Love float.
Deep in recovery mode, we chatted to Tim Nelson of Cub Sport about all things Mardi Gras and what's in store for the band in 2022.
It's been a wild 12 years for you – what's on your highlight reel?
There have been a lot of dreams come true over the past 12 years – things that I never imagined could happen! To sum it up into a highlight reel: coming out and marrying my best friend/band mate;  releasing four albums, with multiple platinum and gold selling singles; selling out shows all around Australia and in the US and UK.
How did you celebrate Mardi Gras?
We celebrated on the W Hotels' Waves of Love float in the parade in Sydney! We're excited to be partnering with W Hotels, who are a major partner for the Sydney Gay & Lesbian Mardi Gras and share our passion for inclusivity. After the parade we hung out with friends and enjoyed the show.
What is trans-dimensional genre-queer pop?
I've described our music like that half-jokingly, but I'm kind of serious too. I guess what I mean is that our music isn't confined to a specific genre, and its expansiveness can transport listeners to a deeper reality. I think there's something in art and music that's inspired from a higher place, and connecting with it can take us there.
Which of your songs makes the perfect Mardi Gras anthem?
Sometimes – the original cub-banger!
What is pride to you? How do you show your pride?
Pride is the celebration and empowerment of the LGBTQIA+ community – it's a chance for people at all different stages of their own journey to come together and feel loved for who they are. I show my pride by being myself, which I think is a bigger deal than we sometimes realise. It's been said a lot, but when you live as your authentic self, it empowers other people to do the same, and that can be life-changing.
How would you describe your love?
My love with Sam? It's deep, it's easy, fun, special, and beautiful – it's the best.
Where in Brisbane do you love the most?
There's a park we used to live next to called Downey Park and it has the most beautiful sunsets. There's a creek lined with mangroves just next to it, which is home to a big colony of bats. At around sunset, the bats all wake up and fill the sky – it's magical.
Splendour is practically around the corner – can you spill what your set will look like?
We can't say too much yet but it's going to be beautiful and well-worth the two year wait!
What music do you listen to when you're not making your own?
My favourite artist is Frank Ocean – I still listen to Blonde pretty often. Recently I've been listening to new Kaytranada, Bladee, FKA twigs, Fred Again.., Wet, Mallrat, Kim Petras, Dijon, and 1tbsp. One of my fave songs at the moment is the Tame Impala 'Breathe Deeper' remix with Lil Yachty.
What's in the works for Cub Sport in 2022?
There's a fair bit we can't mention just yet! But we'll be doing a DJ set at W Melbourne later in the year around Pride Month, we'll be playing at Splendour in the Grass, joining Gang of Youths at their festival in Hobart in August, and we've got a few other surprises in store.
The pride party is never over! On Sunday 13 March, W Brisbane is hosting a Mardi Gras Recovery Party on the WET Deck, with DJ ENN, DJ Nate, and more laying down pride house beats from 2pm – 7pm. On the menu will be delicious bites like lobster chipotle tacos and crispy char sui pork baos, while cocktails by Absolut Vodka will keep you quenched, including the Stay Golden with Absolut citron, finger lime, kaffir soda, and edible gold paint.
Plus, party goers won't need to travel far to get home, with a special accommodation rate of $240 at W Brisbane. To find out more and book your tickets, head here.