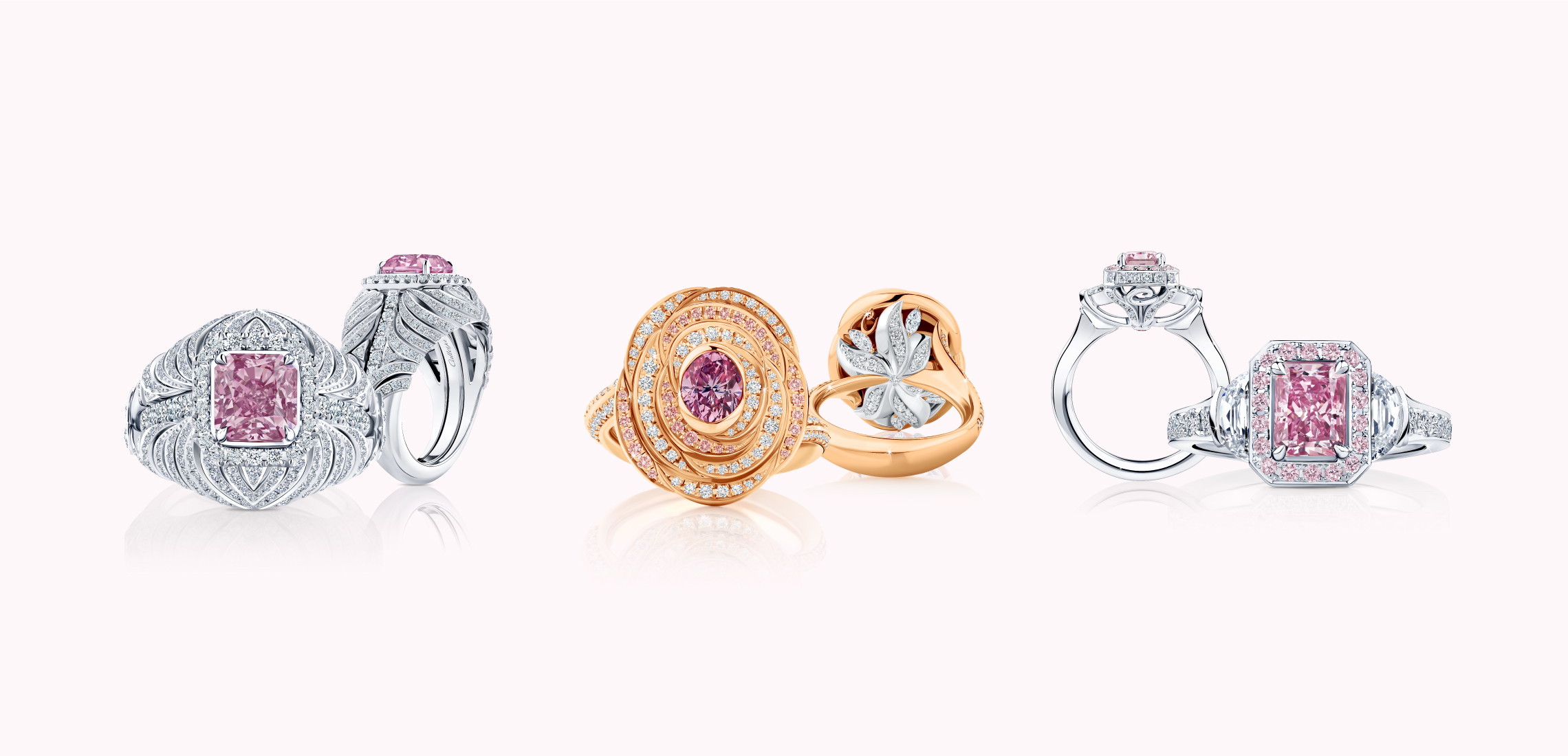 Discover The Secret Behind One Of Australia's Rarest Diamonds
Meet the master behind this ancient treasure
---
What makes a piece of jewellery so special to its owner? Is it the beauty of the stone or the sentimentality behind receiving it as a gift? Perhaps it's the history of the jewel and its story? We'd argue that every one of these elements contributes to its value. But owning something extraordinarily unique – a natural piece of history – well, that's just priceless.
Pink diamonds are one of the world's rarest stones. Formed more than 1.6 billion years ago, they're considered ancient treasures. Sought after by collectors, investors, and connoisseurs across the globe, these exquisite diamonds range from soft to vivid pinks – and in some cases, the occasional red. Because of their unique rarity, it's no surprise they're value is many times more than that of a white diamond.
And with the closure of the Argyle Mine in late 2020, owning a pink diamond is rarer than ever before.
One man known around the world for elevating their magnificence is award-winning jewellery designer and Callejia Jewellers founder, John Calleija. As one of the few authorised Argyle Pink Diamond Select Ateliers™ in the world, John is renowned for creating inimitable designs. We spoke to him more to find out just how exceptional these jewels truly are…
What makes Argyle pink diamonds so rare?
They are extremely limited in supply. The Argyle Mine in Western Australia produced 90% of the world's pink diamonds. However, only 0.1% of the mine's production was pink, making each pink diamond incredibly rare. They are so rare that the palm of one's hand could hold an entire year's collection of polished Argyle pink diamonds over one carat.
With the closure of the Argyle Mine in November 2020, pink diamonds are now rarer than they have ever been before. It's highly unlikely we will experience a discovery like the Argyle Mine again.
From time to time, light-coloured pink diamonds surface from different mines around the world, but no mine has produced the rich vibrant colours and consistent quantities as the Argyle Mine – and those quantities were small!
What is the history behind Argyle pink diamonds?
For 38 years, the Argyle Mine produced incredible pink diamonds. The conditions required to create a natural pink diamond, unlike other diamonds, is still considered a mystery to some. Some experts suggest their captivating colours arise as a result of extreme heat and pressure over thousands of years, and it is still very unique to their Australian origins. This is why when you have a pink diamond, you have something more than a cherished piece of jewellery. You have a natural piece of rare Australian history you can pass on to generations to come.
How does Calleija source their diamonds?
We are incredibly proud to be an Argyle Pink Diamonds Select Atelier™ as only a small number of talented artisans, expert diamond cutters, and master jewellers are trusted to work with Argly Pink Diamonds. It is actually one of the reasons Calleija was awarded with the Butterfly Mark by Positive Luxury. It's the only international trust mark that recognises luxury brands for their commitment to creating a positive impact on people and the planet.
Why is it important to own a pink diamond sooner rather than later?
As the Argyle Mine is no longer unearthing pink diamonds, their rarity and popularity have increased. And with such a small finite supply and strong demand, the value of pink diamonds continues to rise. Naturally, many people are attracted to them as an investment. However, it's their beauty that is really captivating. Their colour, their fire, their Australian origins – all of these things make it so really to fall in love with them. I still remember seeing my first pink diamond more than thirty years ago. I still have her today because she is priceless.
As they range in colour, do they differ in rarity and price?
Yes, the more intense and vivid the colour of an Argyle diamond, the more valuable it will be.
Red is the most revered colour for an Argyle diamond and only 35 Fancy Red diamonds have been presented over the entire history of the Argyle Pink Diamond Signature Tender.
Our Master Jewellers are experts in bespoke design, which is why we love creating pieces that cater to all different price preferences. Whether or not you are in the market for one, we strongly encourage everyone to come and visit our collection. It's a chance to see rare and natural Australian history. It's an unrepeatable collection of natural beauty.
Don't wait to own a rare piece of Australia. Explore the gorgeous collection at Calleija Jewellers here.