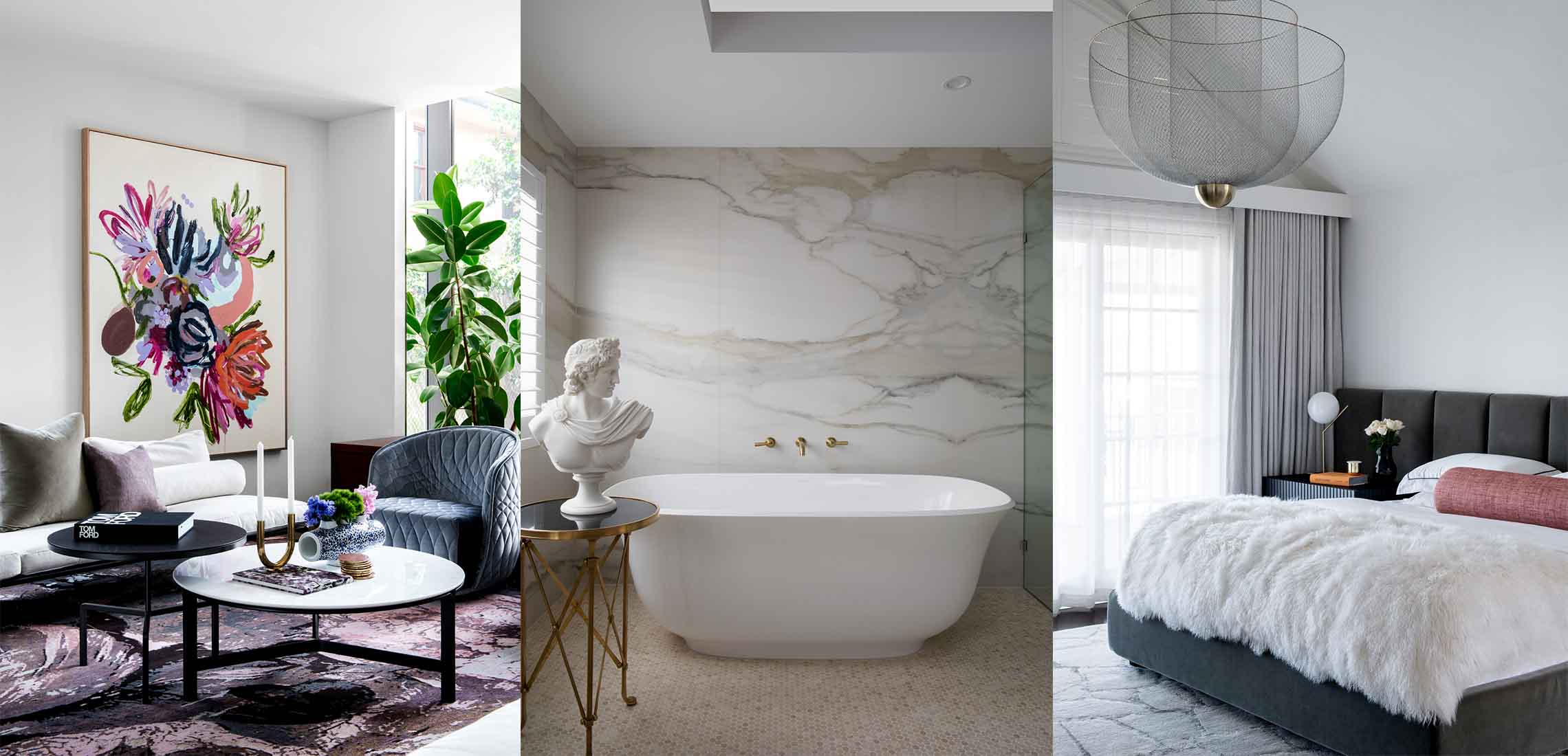 Brisbane's Best Interior Designers
Home is where your style starts
---
Whether you've been picturing your dream home for years or have no idea how to design a new space, finding the right person to curate your project can make all the difference. To get you on the path to interior nirvana, we've rounded up the top local creatives.
With every home having the potential to be a place of great beauty and ingenuity, CG Design Studio – headed by Director and Lead Interior Designer Christopher Gyzemyter – is here to bring your dream project to life.
Producing beautiful residential and commercial projects since 2014, CG Design Studio has made a prominent name within Brisbane's interior design industry. Featuring their projects in some of Australia's top design magazines, their expertise is highly sought after by some of the city's best builders. From curation to completion, Christopher along with Designer Julia Stojanovic are uniquely placed to work on all aspects of a project with expertise that includes planning, construction, fit-outs, interior design and decoration. Whatever the style, project or sector, CG Design Studio delivers an inspired environment that is both highly functional and breathtakingly beautiful.
Inspired by his first drawing board as a child, Christopher has always had a passion for sketching homes and, paired with his worldly travels across Europe and Asia, this has transcended into his creative work today. When it comes to style, Christopher is responsive to all client's wishes and especially a building's past. "I am often inspired by a building's history and will take cues from that, be it an old Queenslander, a mid-century marvel, or 90s brick suburban home," he says.
"Just like fashion, everything in interior design will date. If you love a style, detail or special piece, commit and enjoy it", says Christopher.
From bare bones to beautiful, Darren James Interiors creates stunningly timeless homes designed to thrive in.
Designing with love and eternal elegance are the hallmarks of the Darren James Interiors experience. Lead by award-winning husband and wife duo, Darren James and Elissa Greer, this full-service design-build firm prides itself on crafting homes that are as practical as they are beautiful.
Beginning in the industry as a cabinetmaker fitting out luxury yachts, now Director Darren James is a highly respected and active member of the Australian design community. As well as his expert advice, his work has been featured in top-shelf lifestyle magazines across the country. The other half of the creative duo is Elissa Greer – the dedicated Studio Manager and creative mastermind whose passion paves the way to 100% client satisfaction during all aspects of the design process.
DJI knows that the best residential interior environments are those that facilitate everyday interaction, which is why their approach involves much more than adding a couch here and a pop of colour there. Their focused expertise and masterful skill set factors everything from structural boundaries to space creation as well as planning, ergonomics, sustainable interior materials and interior lighting. The result is refined renovation meets seamless sophistication.
"Nobody can live in a drawing, no matter how beautiful it is. That's why every person in our integrated design-build team is committed to bringing the same, timeless vision to life."
Lead by Principal, Lloyd Hodgkinson, OMI is known for its refreshing take on comfortable style, with each project reflecting the individualism of those who inhabit the space.
In 2017, Oliver Mark Interiors was born with the premise to create a link between wellness and design by creating a true sense of calm. With so much more to a space than just a walk in and out affair, Lloyd's ability to create a tranquil abode when one lingers within a room goes beyond his signature design aesthetic and flows right into the hearts and minds of his clients.
Starting his career at renowned Brisbane interior design firm John Croft Design for over 11 years, Lloyd brings a bold and playful style to each project, ensuring that with distinctive use of colour, patterns and classic detail – the room captures the true essence of both the architecture and beholder. Incorporating modern elements through the use of bright patterned fabrics and modern art, these are always present throughout his work – whether it be a contemporary or classic interior.
"When it comes to styling there is no singular formula to follow as each space requires a different treatment. There should always be a touch of old and new and you should want to linger in a room and discover things that don't always jump out at first sight."
Graceville-based boutique interior design and decoration studio, Rachel Elizabeth Interiors & Textiles specialises in residential interiors, furniture and textile design and event styling.
Years of 'hands-on' experience has given this incredibly unique design studio invaluable knowledge in the various mediums of design. Having travelled extensively and observed different techniques and styles by designers and artisans around the globe, the studio has access to exclusive and bespoke products, both locally and internationally.
Under the creative direction of Principal Designer, Rachel Scott, the studio focuses on personalised service and attention to detail throughout the complete design and install process. Their dedication to their clients starts with the conceptual phase of the design continuing through to installation and completion. Their ongoing liaison with trades, specialists and manufacturers ensures installation and completion of a project is a seamless process.
Every touch point of the design process is considered by Rachel and her team. Starting from in-person or online design consultations and advice to interior remodels, custom joinery design, artwork selection, framing and installation, project management, custom furniture design including upholstery and soft furnishings.
Images: McDOWALL RESIDENCE. Photographed by Mindi Cooke