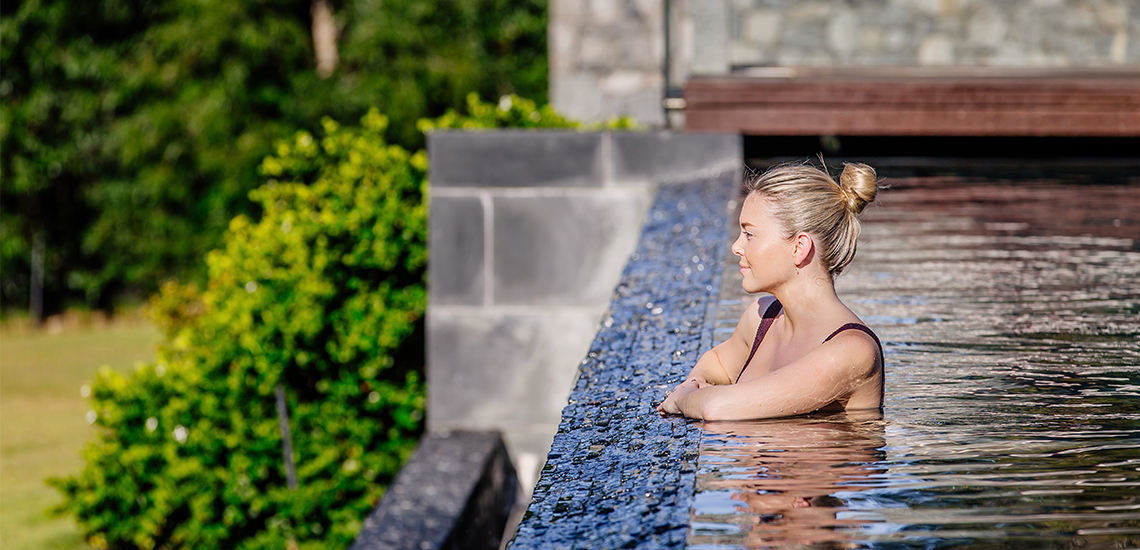 We've Rounded Up Brisbane's Best Hydrotherapy Spas To Relax In
If you feel like you're in hot water, you're doing it right
---
Water is such a wonderful thing. Whether you're drinking it, boiling it, swimming in it or soaking in it, there's nothing like some good H2O to cleanse your mind, body and soul. But for a water cure a step above the rest, take a page out of ancient books from Egypt, Rome and Greece. Hydrotherapy is the use of water at varying temperatures for health purposes. It relaxes muscles, relieves pain and increases the range of movement in your joints. And all you have to do to reap the benefits is sit and relax in one of the soothing hydrotherapy spas we've rounded up for you!
Just south from the hype of Brisbane City, find yourself in the mountains on the outskirts of the Gold Coast. Based on picturesque acreage, this is a retreat for the senses. On Eagle Wings is known for combining the treatments of health spas and beauty services for ultimate rejuvenation. Their six-person hydrotherapy spa has 103 therapeutic jets and is mineral based with no harsh chemicals! You circulation will be flowing, skin tone smooth and muscles relaxed in just 45 minutes. Why not treat yourself to an Infra-Red Detox Sauna after or a pedicure? Either way, your muscles and joints will thank you for the experience!
Relax and refresh amongst the beautiful surrounds of the lush frangipani garden at One Wybelenna's outdoor Magnesium Spa and Pool. Exclusively yours to use for the duration of the treatment, sit back and enjoy a glass of sparkling wine or one of the complimentary refreshments on offer in the secluded environment. Maintained at a balmy 38 degrees, the magnesium in the mineral-rich water is essential for your body's wellbeing and can help with a wide range of concerns including sleepiness, relaxation, stress relief, detoxification and muscle relaxation as well as relieving pain from injuries and muscle cramping. At only $40 for 30 minutes when booked in tandem with another treatment, it's a total indulgence that delivers real benefits.
https://www.instagram.com/p/Byo_eh3gfC3/
Detoxify your body, strengthen your immune system, improve your metabolism and increase blood and lymph circulation with the nourishing Vichy Hydrotherapy Spa at Petrichor. Not only is it an indulgent experience that will leave you floating, but it also increases the benefits of products recently absorbed by your skin, hydrates your body to improve skin and muscle tone, and reduces your stress response through skin nerve stimulation. Take your pick of their luxurious hydrotherapy packages like the Tropical Island Escape or Rain Forest Retreat that will let you have all the goodies without having to lift a finger.
It's true that there's nothing quite like Immersion Therapy at Stephanies Luxury Spas to let your troubles float away. Known as one of Queensland's best luxury spa groups and celebrating 25 devoted years in business, Stephanies will take your treatments to new levels with their luxurious and unique water therapies. At Stephanies Mountain Spa in Clear Mountain, you can experience all that the classic Bordeaux Bath Suite has to offer in solitude, or with your partner in the private Hydro Therapy Bath Suite while overlooking breathtaking surrounds. For a change of scenery, Stephanies Ocean Spa in Noosa offers three different water therapies including the Vino Bath Suite, Geisha Spa Suite and Mineral Flotation Colour Therapy to leave you feeling soothed and refreshed. Also available at Stephanies Spas are additional opulent water therapies, such as the detoxifying Opal Rasul Steam Temple at the Spa Retreat in Sofitel Brisbane Central CBD. During this treatment, you can expect to experience the likes of Skin Brushing, Three Signature Muds and Steam Rain. We guarantee you will leave feeling completely reinvigorated! After all water therapy experiences, you are invited to indulge in some signature herbal tea and sorbet while relaxing in Stephanies tranquility lounge. Integrate weekly wellness into your life and leave the world behind for an hour each week. By joining their Wellness Membership for $699 you're saying yes to 'revive and reset' your wellbeing. Select any combination of rituals from their Wellness Menu and enjoy one visit per week for six weeks; including herbal tea infusions and sorbet while relaxing in the tranquility lounge in any one of our spa locations.
If you're after a wholesome experience where you can totally immerse yourself in tranquillity and a range of treatments, Tamborine Mountain Getaway Spa is your answer. As well as their hydrotherapy spa, you can enjoy facilities such as the steam room, mineral bath and sauna. If you're making the trip down to the hinterland, make a day of it and enjoy their packages featuring massages, exfoliations, facials and more.