Brisbane's Best Hairdressers for Long Hair
For when your hairdresser gives you a long face, not luscious long locks.
---
Having long hair can be the best at times, it can be the worst at times. Hair blowing in the wind is the number one way to feel like a #kween, your long locks basically do half the work for you on the dance floor, and why waste time on words when you can flip?
DON'T GET IT?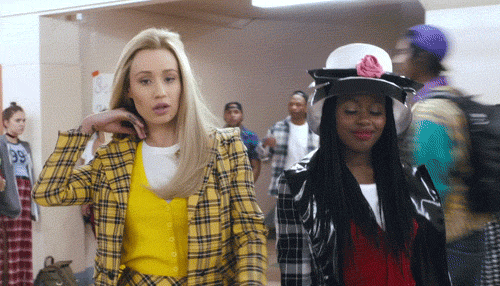 But when your tired little arms give out on you after almost an hour of blowdrying and straightening, when your gallons of shampoo and conditioner run out after one week, when your ends are endlessly frazzled, when your messy bun becomes so large and wonky it frightens small children, you need a hairdresser who can catch you when you fall.
Or rather, catch those long hairs that fall… into other people's food.
Mo' hair, mo' problems? Not a chance. Whether you're looking for some proper long layering, a colour makeover or some help growing out your tresses, you're all taken care of with our top picks for Brisbane's best hairdressers for long hair.
Dezine Hair Studio
Long hair makes it harder for your scalp's natural oils to travel down and rejuvenate your ends, making split ends the bane of any long-haired lass's existence, but with Dezine's $45 touch-up cuts, you'll no longer have to explain to your accountant why you're spending more on monthly trims than on rent. These crafty coiffeurs proudly offer great service and great style minus the great expense.
Shop 3, 183 Bennetts and Macrossan Avenue, Norman Park
P: 3399 5668
dezinehair.com.au
ARC Hairdressing and Wine Bar
Yes, I will have a sauv blanc with my blowdry, thank you for asking. These guys, along with cracking the complex alcohol plus beautifying algorithm, are known for their excellent atmosphere, making clients feel listened to, informed about their hair choices, and above all, styling.
Shop 3, 146 Racecourse Road, Ascot
P: 3162 8608
archairdressing.com.au
Elysium Hair Brisbane
What's that line from Gladiator? "If you find yourself relaxed, sitting with your head being massaged and feelin' yourself, do not be troubled. For you are in Elysium, and you are already fabulous!" Something like that? Anyways, apart from great service, these guys also have an extensive service and price list for different hair lengths from short to extra long, meaning there's no nasty surprises after your pampering experience.
15 Adelaide Street, Brisbane City
P: 3229 0816
elysiumhairbrisbane.com.au
Bach Hair
These guys already have quite the reputation as colourists, giving their long-haired ladies an even coverage of vibrant colour. If a cut's all you're after, we hear Megan from their Paddington salon is your best bet for expertly trimmed long tresses.
76 Cochrane Street, Paddington or 131 Honour Avenue, Chelmer
P: 3368 3552 for Paddington, 3278 1500 for Chelmer
bachhair.com.au
Horse Meat Disco Salon
We've heard these horse meat disco-dancing hairdressers treat every haircut as if it's a life-changer, keeping up communication with the client and maintaining precision. Plus, they're bound to give you a long do as unique as their name, but always manageable when it's DIY.
360 Logan Road, Stoneham Lane, Stones Corner
P: 3324 1118
horsemeatdiscosalon.com.au
Indigo Cut and Colour
These creative colourists love adding dreamlike colour to any length of hair, including reverse rainbow ombré (yes, that is a thing), fairy floss and of course, indigo. Plus, they love to layer long hair for the perfect cut and making sure your locks look luscious, healthy and happy.
Corner of Wishart and Newnham Roads, Wishart
P: 3849 1199
facebook.com/indigocutandcolour
Raw Colour and Style
No matter if your locks are curly or straight, thick or wispy, the ladies at Raw can take any long tresses and make them divine, while pampering you in the process. No cut is casual, with proper, dedicated consultations determining what the right style, cut and colour is for you.
53 Commercial Road, Newstead
P: 3854 0222
rawcolourandstyle.com.au
iD Brisbane
True to their name, the hairdressers at iD love styling great hair tailored to your identity. Just take a look at their Facebook page and see how much they adore the long locks, with long, fresh-looking, voluminous locks a frequent trademark of their client photos.
Shop 2, 918 Stanley Street, East Brisbane
P: 3391 7779
idbrisbane.com.au