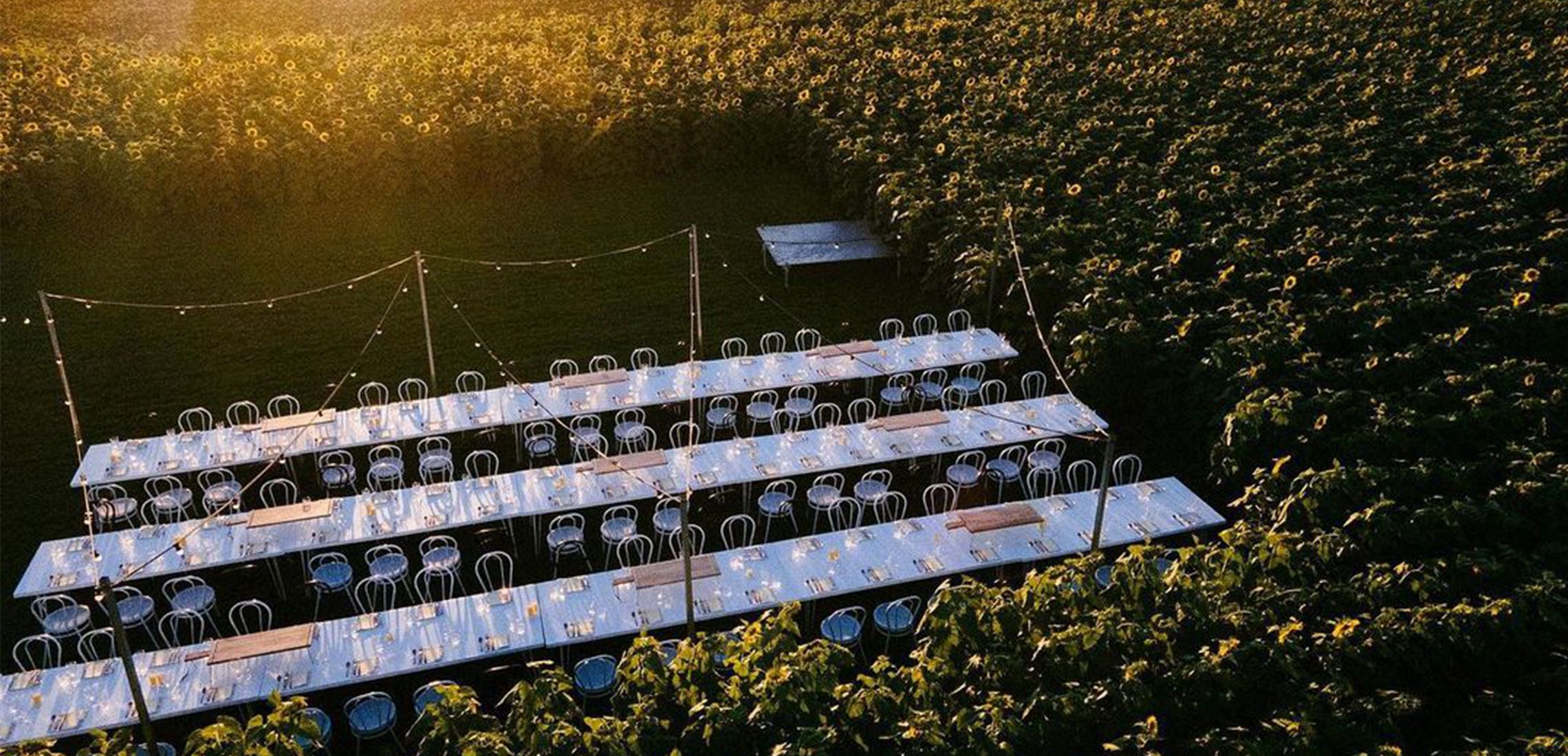 We're Serving Up Brisbane's Best Caterers For Your Next Shindig
Here's the dish!
---
Cooking up a storm in the kitchen sounds like a great idea in theory, but when it comes down to spending the evening slaving over a hot pot while your guests mingle about without you, it does not equate to a successful evening. 
So, if you've decided to delegate the task of preparing five-star food for a crowd of hungry mouths while you float about stress-free, good for you! Smart decision! 
Whatever event you're planning, be the hostess with the mostest without the mess of the kitchen, and let the pros take care of the culinary action. Here, we've collated a list of Brisbane's best caterers, who'll bring the good times to you – all you need to do is join the party.
Did we miss someone from the list? Let us know here!
Boheme Events
Fortitude Valley
Simple, fresh, uncomplicated: that's the mantra of this boutique luxury catering and events company. Bringing their passion for food alive with unforgettable culinary experiences is what drives the team at Boheme Events to create bite-sized masterpieces with only the best produce in season. Using sustainable practices, their love of local produce is showcased in their craft, where every dish plated is as tantalising to the eyes as it is to the tastebuds. From grazing boards to canapes, this crew creates bespoke menus to suit every client, no matter your budget. With an understanding that no two events are the same, they can design the perfect menu for you and your guests.
DALTON Catering
All
Serving up exquisite bites, DALTON Catering offer some of the best food and service in the industry, catering to the elite of Brisbane. With a menu packed full of punchy, modern Australian flavours and fresh ingredients, everything plated up with their classic European technique will take your tastebuds to new heights. As the first caterer in town to cook over open fire, their signature fire dome menu is a must. They've got this art and the sensational flavours it produces mastered. To witness the process is all part of the experience. Consider this caterer a fine dining restaurant equivalent, where only quality ingredients, and exceptional produce are used to create comforting mouthfuls with a taste of luxury. With almost everything made in-house, from the bread to the cured meats, DALTON promise an unforgettable experience your guests will be talking about for years to come. You can even up the ante at your next corporate event with their corporate-specific catering menu – available online.
Cuisine on Cue
All
Great catering comes down to great ingredients, and only the best is used by these culinary experts. Whether you're dreaming of a delicious three-course celebration, a sophisticated canapé event, or a relaxed family feast, Cuisine on Cue delivers impeccable catering and event services across all of South East Queensland. Only the best, local ingredients are used by their talented and experienced chefs, who are more than capable of creating a decadent array of dishes. Their attention to detail is what sets this team apart from the rest, and their expert event coordinators will work closely alongside you to ensure every aspect of your event is a dream come true!
Garnishes Catering
Bowen Hills
Dedicated to serving up fresh, quality food that will have everyone reaching for seconds and thirds, Garnishes Catering combines years of experience in the hospitality industry with knowledge of the latest foodie trends to result in a gourmet masterpiece. From corporate catering to finger food and a la carte fine dining, they'll ensure no one is hungry whether you're feeding 5 or 5,000 guests. They're also all about feeding the planet the goods too, sourcing local produce and using eco-friendly containers, as well as managing waste organically and conserving energy while whipping up your spectacular spread.
Pure Catering
East Brisbane
A family of food lovers based in East Brisbane, Pure Catering brings exceptional catered events with a personal touch with food that is beyond your expectations. Catering to Brisbane, Gold Coast, and the Sunshine Coast, you'll be hit with an array of creative and delicious bites from this tight knit team who are passionate about fresh ingredients that pack a punch. From canapes to fine dining options, breakfast catering, and grazing stations, Pure Catering can accommodate your every need. With Michelin-star trained chefs, a dietician, and nutritionist on board, this team is the creme of the crop of catering. Plus, with stylist and event planners on hand, whatever function or event you're planning is guaranteed to go off without a hitch when you enlist the help of this experienced team.
Chez Nous Catering
West End
This boutique, family-run catering company has spent over 15 years delivering exceptional service in and around Brisbane. As the exclusive caterer for West End's The Joinery and a go-to for Brisbane corporates, Chez Nous Catering are renowned for their commitment to quality, professionalism and attentiveness. While they specialise in drop-and-go catering options, they also have extensive experience in catering a diverse range of events, from gala dinners to corporate conferences, and Christmas parties. They've even expanded their service to include Chez Nous to You – a take-home range designed to deliver comfort and convenience straight to your door, with a hearty home-made menu featuring soups and family pies, meaty mains and sides, classic desserts, and even special occasion gift boxes.
Gathar
Brisbane
Connecting you with more than 150+ passionate culinarians, Gathar is like an online dating service for food, setting you up with excellent food based on your requirements. From canapes to caviar, wine matching, and even equipment, this team is the middleman that makes things happen. Choose from a range of their packages online designed by Gathar head chefs which are then created by select culinarians across the country, coming together to collaborate and create a spread unlike any other. It's a match made in foodie heaven!
Wine & Dine'm
Brisbane
Up the ante at your event with premiere caterers, Wine & Dine'm, who have won a bevy of awards in their 20+ years of operation for their exceptional catering. Taking things to the next level with their passion, service, and outstanding dishes, their menus are a testament to their success. With an ever-expanding network of venues and suppliers desperate to work alongside this unstoppable team, expect nothing but the best when you lock in Wine & Dine'm for your event. Big on sustainability, this team brings colour, creativity, and quality to every meal with grazing tables, food stations, formal dining, and cocktail menus, so you can be sure only fresh, gourmet produce will be served to your guests. Want to knock their socks off? Here's how…
Philip Johnson Catering
Newstead
Opening his iconic and award-winning restaurant e'cco Bistro in 1995, Philip Johnson is one of Brisbane's most celebrated chefs, and better yet – his delectable food is ready and waiting to serve your guests. Renowned across town for his perfect flavours and unrivalled skills in the kitchen, Philip and his team of award-winning chefs research, design, and prepare innovative seasonal menus using only the freshest local produce. Catering for all event types across corporate and private functions, you'll notice the difference in experience when you have such a prolific team such as this working their magic in the kitchen. With a catering team that includes chefs, waiters, and bar and cocktail specialists, your event is guaranteed to be a total hit.
Margarita Margarita
Brisbane
Great food is one thing, but delish margaritas served out of a vintage 1972 lemon-yellow VW kombi? Well, that's a surefire ticket to a good time! Margarita Margarita is the cute-to-boot cocktail catering service, driving straight to the doorstep of your event with the tastiest shaken margaritas ready to flow well into the night. From classic combos to watermelon, chilli, and more, 'Stanley' the kombi van is the guest you want at your next event. Slinging cocktail after cocktail for the entire duration of your booking, you and your guests will love the good vibes Stanley brings to any occasion. Yeah, we'll cheers to that!
Providoor
Brisbane
Ok, this one might come in at a technicality, but props go to Providoor for bringing BNE's fave food to the people. This restaurant delivery service has teamed up with some of your most-loved dining spots around town to help you look like a pro in the kitchen. Fake it 'til you make it, right? Prepared by restaurant chefs, all you need to do is follow the simple steps included in your package to heat up and serve a meal worthy of a permanent spot on the 'gram. Teaming up with locals like Southside, Siffredi's, Evita, La Costa, Nota, and Mama Taco, why would you go to the trouble of booking a table when you can simply bring the flavours to you? With a flat rate $16.50 delivery fee, Providoor delivers to Brisbane Metro, Gold Coast, Byron Bay, Sunshine Coast, Toowoomba, and even northern NSW. Forks up, who's ready to dig in?
Firebird Catering
Hamilton
For food that comes with theatrics and drama, make Firebird Catering your point of call. Combining passion, character, and culinary cooking, David Fiumara and Laura Hidalgo are the literal meaning of 'dinner and a show' – delivering a unique fine dining catering concept unlike any other. With a menu that can accommodate all from exquisite finger food and office catering to gourmet BBQ and fine dining options including their signature gold plated Tomahawk, Firebird is renowned for bringing the heat. Delivering dishes with unlikely combinations that melt in your mouth, this is one theatrical catering performance you'll be in awe of.