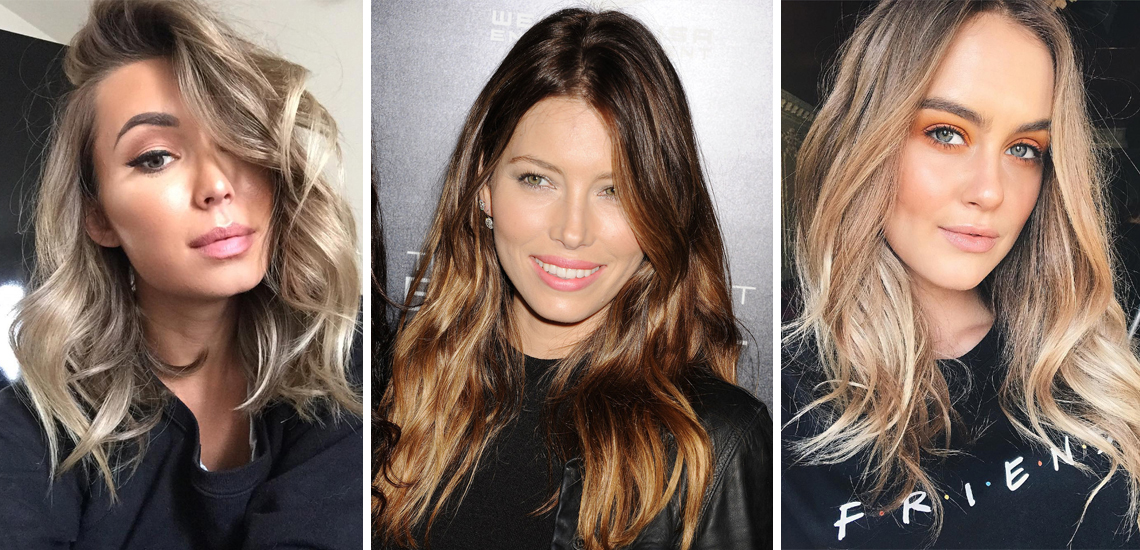 We've Found Brisbane's Best Balayage Hair Stylists
Balayage, ombré, colour melts, baby lights, and everything in between.
---
Hey there! We've recently updated this list with our latest round-up of Brisbane's best balayage stylists in 2020. Click here to check it out!
To help you get the balayage of your dreams, we've rounded up all of Brisbane's best balayage stylists. Get ready for some serious #hairgoals.
If you're in need of a hair makeover, go straight to the experts. As a four-time winner of Australian Hair Salon Of The Year, the team at Elysium Hair know a thing or two about perfecting balayage. Offering a wide range of techniques and variations (including classic and hand painted balayage, baby lights, sombre, and colour melts), the team specialises in bespoke, customised colouring that will turn heads. Balayage is the #1 service performed at Elysium Hair, which is no surprise when you find out that the team has been trained by Australian colouring-guru Peter Thomsen (@chelseahaircutters) who has revolutionised balayage colouring in Australia. And, open late four nights of the week, you can get a cheeky touch-up whenever you need to refresh your radiant locks!
The talented team of colourists at David Murry Salon are leaders when it comes to custom colouring. Directly catering to the fashion-conscious and stylish individuals of all ages, the team use balayage colouring to highlight each client's best features. Similar to makeup techniques such as "contouring" and "strobing", balayage gives the illusion of higher cheekbones and a slimmer face and neck. When experiencing a balayage colouring service, your colourist will take the time to carefully consider the facial features you would like to highlight as well as the existing natural movement and colour in order to create a personalised colour palette that best suits you. No matter the length or colour of your hair, balayage can be tailored to suit all colours and add texture and dimension to all styles. For a truly stunning look, entrust your hair with the experts.
If you've suffered a hair nightmare, you can relax at Kelly Elle Salon knowing that they can fix all hair dramas and completely revolutionise your look. This vegan and cruelty-free Southside salon is famed for their incredible balayage and colour melt services, having refined their technique over many years. Offering clients a bespoke hair colour that is unique to them, Kelly and her team use advanced techniques such as hand painting and micro-foiling to create seamless highlight blends throughout the hair. The result is seriously lust-worthy locks! Taking their quality service even further, they equip all clients with hints, tips, and a haircare program to help maintain their beautiful salon style so that it lasts until their next visit.
Located in the illustrious James St precinct, Lyla Clare adopts a holistic approach to hair styling. One of their specialities is their unique grey-balayage technique, which is an easy, low-maintenance way to seamlessly blend naturally greying hair. Using Original&Mineral products, your locks are carefully treated to maintain optimal health for long-lasting shine. When you first arrive at the salon, before any treatments or consultations, your Lyla Clare stylist will treat you to their indulgent LC ritual – a relaxing hand, neck and shoulder massage! Director Kell explains that this is to allow their guests to fully relax and unwind so as to better enjoy their treatment. When consulting with clients, Kell and her team ensure the result is tailored to suit the client's lifestyle and needs, and best celebrate their natural hair.
You'll be letting down your fair hair after a bespoke colouring service at Rapunzel Rapunzel. Ashleigh has over 12 years of experience and, alongside her incredible team, is passionate about creating the perfect balayage for each of her clients. Looking at hair as a canvas, balayage allows Ashleigh to offer clients everything from festival-ready pastels to silky and subtle bridal looks. Their attention to detail and dedication to quality have earned this salon a reputation as one of the best balayage stylists in Brisbane, and a quick scroll through their portfolio will have you eager for a complete makeover! As we know, colouring your hair can lead to serious damage, but when paired with the ultra-nourishing Olaplex treatment, your hair will be strengthened and healthier than ever before.
Epic Hair Designs seriously lives up to the name, with 12 salons across Brisbane where all stylists are Goldwell Master Colourists specialising in foiling and balayage! Whatever the condition of your hair or the goals you want to achieve, your stylist will create a completely customised and multi-dimensional look that complements your skin tone, face structure, and eye colour. Their use of high-quality salon products (including Goldwell, Kerastase and Olaplex) helps keeps your bonds as strong as possible, resulting in balayage that has been crafted to perfection. To take your experience to the next level, their luxurious massage chairs and impressive range of customisable treatments will have you feeling your best. Offering both classic balayage and uber-trendy colour-melts, they'll have you saying "goodbye!" to boring highlights and "hello, beautiful!" to dynamic and flattering locks.
That woman you know with the incredibly vibrant hair in a stunningly unique colour? Chances are she achieved that at Fluid The Color Salon, the Southside boutique that is upping the hair colouring game in Brisbane. Using only the highest quality of products from Pravana and styling your finished look with Cloud Nine, they can take your locks and create the balayage style of your dreams, all without compromising the health of your hair. One of their most gentle lighteners is clay based with coconut oil and aloe vera, leaving the hair in stunning condition. Their range of Original&Mineral take-home products (available for purchase) and in salon toning services will help keep your locks lush. Their incredible loyalty and referral system allows you to gain even more from your service, while their welcoming and professional team ensure your experience is one you'll only ever rave about to your friends. Whether you want to achieve rich bronze blondes or experiment with sunshine ends and ombré, you'll discover your best head of hair at Fluid The Color Salon.
Say hello to the kind of colour that will have people stopping in the streets to ask "who did your hair?!". At Rokstar Salon, Brodie and her team of creatives are masters of the makeover and know how to turn boring hair into lush, dynamic locks. Awarded 2017 Australian Hair Industry Awards QLD Salon of the Year and 2017 Australian Hair Fashion Awards QLD Hairdresser of the Year, you can sit back and relax knowing that your tresses are in experienced hands. Whether it's a dramatic new look you're after or a subtle revamp, Brodie and her team (who are highly sought after in Brisbane), take the time to custom colour your hair, taking into consideration your hair goals, the health of your hair, and your facial structure. If you just can't wait for your makeover, their unique Salon Pay service (which works similar to Afterpay) will have you running your fingers through your stunning new look quicker than we can say "balayage"!
A gorgeous salon located in picturesque Teneriffe, Ashleigh and her team at Lujo Hair & Makeup are passionate about creating looks that exceed their client's dreams. Specialising in balayage and blondes, the team thrives on delivering stunning results that maintain the health of the hair. Paying careful attention to your facial structure, skin tone, eye colour, and styling preferences, they are able to create dynamic looks that are lush, healthy, and flattering! Their seamless blending results in a natural-looking finish that is dimensional, smooth and strong. Heading into the warmer months, they can even perform a Balayage Refresh for you so you can step into summer with revitalised tresses! For the full makeover, they also offer make-up application using Napoleon Perdis.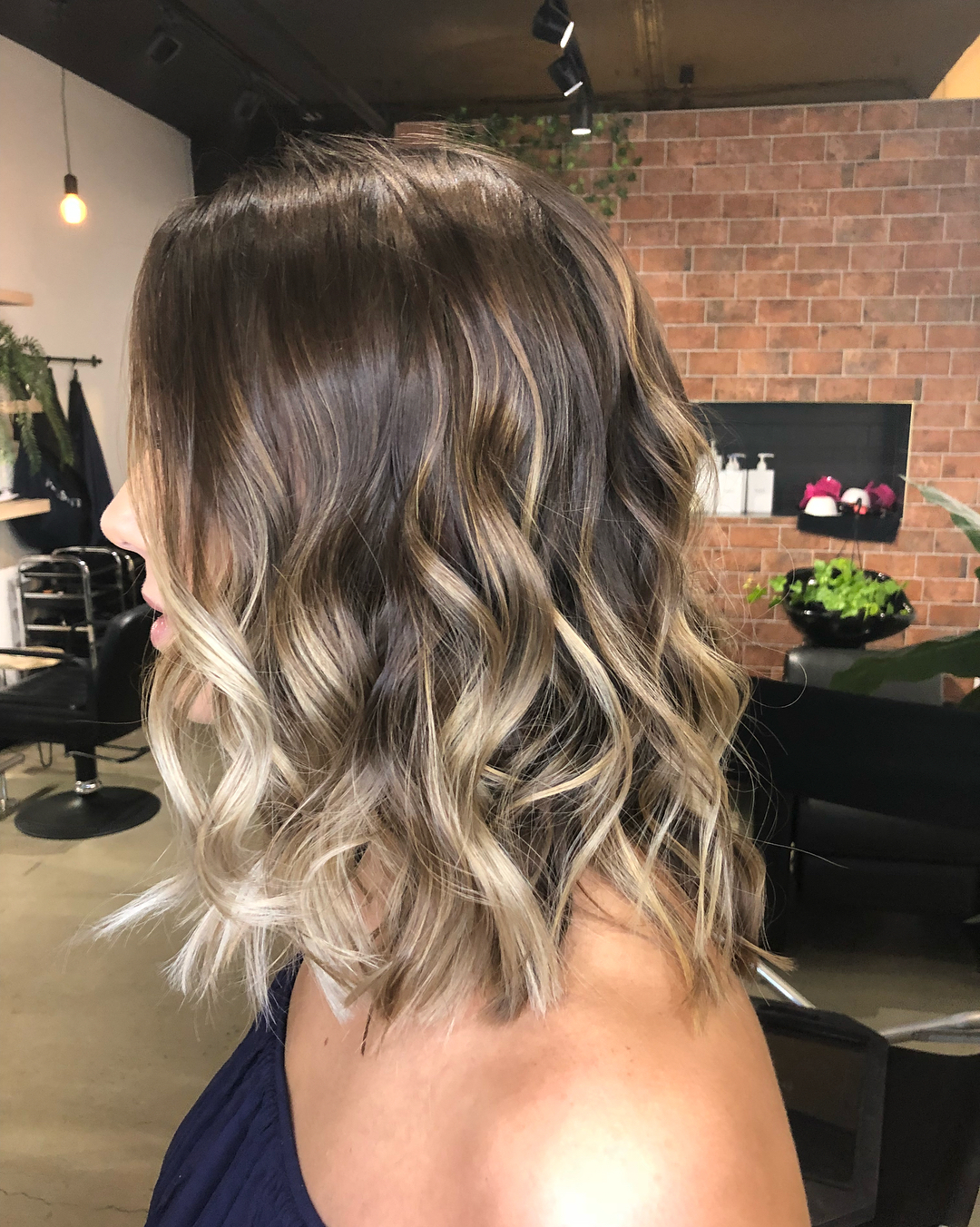 With four locations across Brisbane, Tigerlamb is completely dominating Brisbane's hair styling scene, and a quick look at their Instagram account will have you lusting after rich chocolate brown locks or creamy blonde tresses. This multi-award winning salon specialises in every variation of balayage imaginable, and whether you've been craving perfectly blended balayage or subtle highlights, the team will tailor the perfect colouring plan to suit your face and hair goals. The "Tiger team" are more than just gifted stylists, they are also warm and welcoming individuals who will take the time to sit down with you and work out exactly what you'd like to achieve. By focusing on continual training across all salons, you know when you walk into one of Tigerlamb's salons that you're about to experience an incomparable hair makeover. Sign us up, please!
If you want to discover the magic of a seamless balayage or correct a bad colour experience, these are Indigo's specialities! This boutique city-style salon is a Redken and Pureology ambassador, and the team of Redken certified balayage colourists are industry leaders in colouring services. Utilising the latest techniques such as micro foil, shadow glossing and freehand painting, they are able to create seamless balayage that looks stunningly natural. They swear by Redken's pH Bonder to achieve creamy, pearlescent tones that are perfectly suited for summer. It also allows the team to treat the hair and promote hair integrity in order to push the hair that little bit further to allow their guests to achieve their hair goals. Their flawless face framing and signature gloss techniques will leave your hair with perfect tones, seamless balayage, and glossy shine so that you can walk out of the salon with locks that you love!
This quirky Northside salon is a haven of fashion-forward cuts, trendy and cool colours, and innovative styling. Think of Helmet Hair Co. like your super cool younger sister – a little out there, a little casual, and a lot more rock and roll. That's the atmosphere that Anthea and her stylists have carefully cultivated. Their uber-cool and incredibly experienced team will make your time relaxing and welcoming, and will have you feeling like you've found a salon that finally understands you. Whether you're experimenting with balayage for the first time, or are a long-time fan of the melts and blends from Helmet Hair Co., their gifted team of stylists will help you discover your perfect look. And, for a little extra touch, they are also clear and upfront about pricing for all their services so that you don't have any nasty surprises when you reach the counter. So if you're looking for somewhere that leaves ego at the door and celebrates your unique beauty, you'll find it at this welcoming and laid-back salon.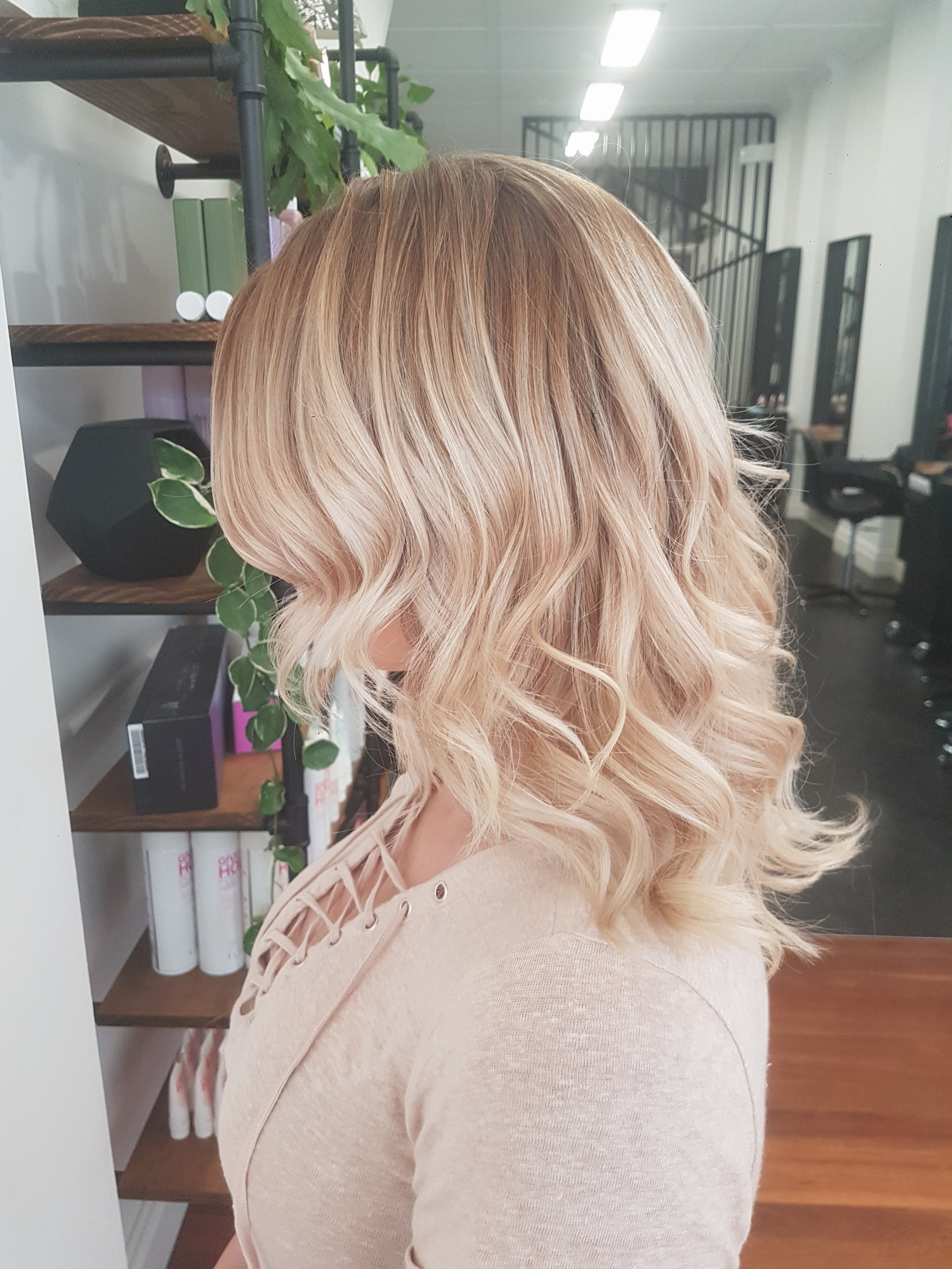 Fruition Style Ambition has one of the best reputations in the biz, and it's really no surprise when you consider their amazing team of stylists. Home to Craig Smith, seven-time AHFA Australian Hairdresser of the Year Finalist and L'Oréal Professionnel Ambassador, as well as the AHFA Artistic Team of the Year 2016 and Queensland Hairdresser of the Year 2016; this Wilston salon caters to the most seasoned of balayage lovers. Those seeking an aspirational style statement to compliment their unique lifestyle will find their locks of their dreams at this slick, modern salon. Boasting eight award-winning stylists and a luxurious and relaxed fit-out, you'll enjoy an experience that truly sets itself apart.
If a strong, lush, radiant 'do is what you're after, the passionate expert colourists at KOR Hairdressing have your balayage covered. Using only the best products in the industry, from the likes of R+Co, Eleven Haircare, I.color and Pravana, as well as super strengthening Olaplex, the team take the time to understand exactly what you want to achieve with your colouring service. Whether it's rich honey shades or icy blonde tones, Kelly and her team are passionate about personalising balayage and go above and beyond for their valued clients. And if you're worried about fading, breakage, or how you can care for your crowning glory at home, your expert stylist will give you all the tips and know-how you need to make your stunning salon-fresh hair last as long as possible.
Verona Hair | Jindalee
If the commitment of a new look is enough to make you nervous, you can rest easy at Verona Hair and know that your tresses are in skilled hands! For peace of mind, the team at Verona offer free 15-minute colour consultations to ensure you receive an accurate and affordable quote and are excited about your experience. With certified Redken colourists creating bespoke looks that highlight your face and take into account your needs, plus a team that is warm and welcoming, all you need to do is relax and enjoy. For extra pep in your step, Verona Hair is a member of Sustainable Salons Australia, meaning they produce zero waste! Everything they use (even hair and foils) is recycled, allowing you to feel good about your fresh new look knowing you helped the environment in the process. Score!
Headmistress | Coorparoo
A quick scroll through the Headmistress Instagram page will have you lusting after a complete beauty makeover, and what better way to refresh your look than with the timeless and effortless balayage style? As part of the Wella family and a certified Olaplex salon, the team at Headmistress are dedicated to a "consult for results" approach. They offer a comprehensive consultation to discover your goals, styling capability, lifestyle and budget. Using a specially formulated Wella highlighter and a soft, freehand motion, they are able to create subtle, "born this way" balayage that contours and highlights your natural features for a stunning result. They are currently offering an incredible deal for new clients, with a $169 unlimited service offer (excluding Olaplex and Keratin treatments). If you've been considering melting blonde or rich browns, these are the ladies that will get you there. Hello, lush locks!
This Nundah salon is one of the Northside's best-kept beauty secrets that you need to know about! Salon manager and senior stylist Jamie Lee offers a detailed colour consultation to guide clients through their hair journey, step by step. Whether you're craving deep, chocolaty locks or macadamia blonde tresses, their range of Keune Hair products (which are exclusively available in boutique salons!) ensures your hair remains healthy and strong no matter how dramatic the transformation. To help keep your hairstyle salon-fresh for longer, they will also show you all the tools and tricks you need to achieve your desired look from home. Get ready for the best locks of your life!
You'll find balayage bliss at Cameo Rose Hair Boutique! Using a range of colour placement techniques, such as soft ombré, the team at Cameo Rose are no strangers to creating stunning colour transformations that will have your crowning glory gleaming once again. Mastering everything from subtle refreshes to full makeovers, they personalise every service to suit your personal features, desired outcome, and hair health. To help your waves stay fresh for longer, they also offer expert advice on how to maintain the health of your hair until your next salon visit. Using the incredible colour range from Paul Mitchell, they'll take your locks to fabulous new heights.
Méche Hair Lounge | Hamilton
If your locks need some tender love and care, this boutique salon in the gorgeous suburb of Hamilton will have your balayage looking fresh again in no time. At Méche Hair Lounge, their talented team of colourists want you to have the most relaxing experience possible, which is why they offer one-on-one service so that you receive full attention from one stylist from the start of your treatment right through until the end. Trained by some of the best in the biz (such as Sheree Knobel of Bixie Colour), Méche colourists use only high-quality Redken colour, and continually up-skill to ensure they are providing their clients with the best possible service.
Liked this? You'll love these!
1. Brisbane's Best Hairdressers For Blondes: 2017 Edit

2. The Summer Hair Survival Guide Your Locks Desperately Need

3. The Spring Racing Hair Trends That We Can't Wait To Recreate