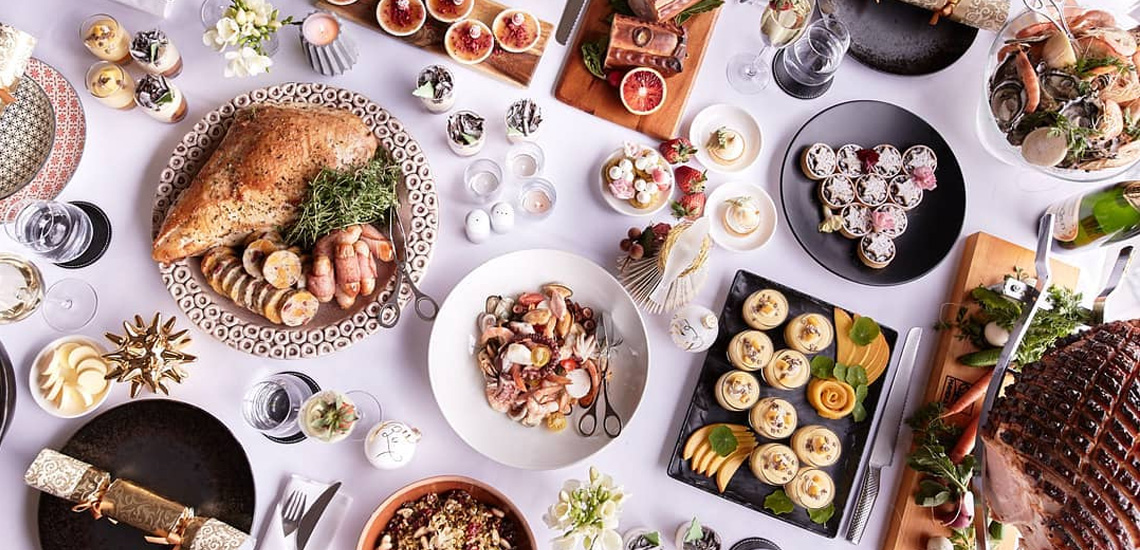 These Are Brisbane's Best Restaurants Open For Christmas Lunch
Can we get a whole smoked ham for the table, please?
---
We often forget, but the responsibility of cooking a perfect Christmas lunch isn't a must. Whether it's because you don't have air-conditioning at home or cringe at the thought of dealing with the expectations, we've got you covered. Let someone else stuff the chicken and glaze the ham this year. Christmas is a day of love to be shared with the family, not a day spent sweating in the kitchen.
These dining delights are open for the big Christmas long lunch, so get booking. The 25th of December is approaching and restaurants are quickly booking out! There is a lot to take in and a lot to consume, but we're up for the challenge – our Christmas stomachs are 10x bigger than our non-Christmas stomachs. You may not have cooked but you'll get the credit regardless of booking an epic venue to fill hungry stomachs. They're bound to make any Grinch merry!
With multiple Christmas lunches to choose from across their restaurants, Sofitel Brisbane Central has Christmas Day sorted! At Thyme2, indulge in a 3-hour luncheon with live entertainment, a visit from Santa Claus (for the young and young-at-heart), free-flowing French sparkling wine, and a selection of house wine, beer, and other drinks. In Ballroom Le Grand, an all-inclusive Christmas celebration with market-fresh seafood, tempting desserts and sweets, flowing drinks, an exciting Christmas pudding finale, and live music is sure to delight! Also on offer is a relaxed lunch in the Cuvée Lounge bar and an intimate lunch in Club Sofitel. Whether you're dining with friends or family, you'll find the perfect Christmas Day festivities at Sofitel Brisbane Central!
Tickets are from $235, available here.
With a delectable range of pre-Christmas, Christmas Eve, Christmas lunch and dinner dining options available, every base is covered. Riverside Christmas luxury is calling, and we are ready to answer! Spend the biggest holiday of the year enjoying a buffet lunch along the Brisbane river, with a carefully crafted selection of the freshest seafood bounty, traditional roasts, hot and cold nibbles and a delicate dessert selection, in addition to a 3-hour premium beverage package! Did we mention the surprise appearance of Mr and Mrs Claus with a sack full of Christmas gifts? With carollers out and about in the Stamford's lobby, the Christmas spirit will be contagious. Tickets are $279 per person, with discounts for teens and children, for a truly family-oriented Christmas beginning from noon.
Tickets from $279, available here.
If you have a tendency for overindulging at buffets, this four-course sit-down luncheon at Gambaro's Hotel is perfect for you. For $199.50 you get to spoil yourself with a delectable meal and a 3-hour beverage package. Mr Claus will be gifting Christmas goodies to children, and carollers will be showing off their vocal holiday spirit! Begin your meal with a range of meats, cheeses and greens for your Antipasto, followed by an entrée of crustaceans, a main of premium steak fillet, shared sides of roasts and themed desserts. With a sparkling wine in-hand on arrival, sip away the afternoon with a spritz, wine, beer or a selection on non-alcoholic beverages.
Tickets from $199.50, available here.
Book your long lunch at the Treasury Casino for the merriest of Christmas's! Expect a culinary buffet featuring the freshest seafood, quintessential Oz grown meats, international delicacies, greens galore and a range of desserts, alongside the traditional Christmas favourites! Enjoy this iconic feast on December the 25th, from 12:00 pm or 1:00 am. Your $265 ticket will also get you a 3-hour premium beverage package, roaming carollers for endless entertainment and gifts for the kiddies, delivered from the man in red himself! Tickets for the youngsters are less expensive so the family is catered for. They're in high demand so the Treasury Casino is already booked out for lunch but contact them to get yourself on the waitlist.
Tickets from $265, available here.
Experience the river city from a new perspective this Christmas. With contemporary seasonal seafood options, what better place to enjoy freshly caught seafood than on the water! Did we mention senior, student and kid discounts are available? For $169, you get to choose from a seriously large menu offering of fresh fish to traditional roasts. There is even a special menu for the kiddies! Boarding at 12:00 pm, dine on the Brisbane River as you cruise from Eagle Street Pier past Kangaroo Point Cliffs and under the Story Bridge. This is not an event to be late to!
Tickets from $169, available here.
If you are booking for a party of 12 to 24 guests, look no further. The newest restaurant to grace our river city is the perfect location for your Christmas lunch, overlooking scenic Brisbane. With a selection of dishes available from smalls to mains, sides to share and desserts, there will be plenty to go around. This modern Australian cuisine has everything from chargrilled chilli prawns to sea salt meringues, ready to impress. If that's not quite enough for hungry Christmas stomachs, you can choose from 'the feast' or the 'the ultimate feast'. Challenge accepted.
Tickets from $55 per person, available here.
If you haven't tried the iconic lasagne alla Granseola at Il Centro, you must not have lived in Brisbane your whole life. Yes, your primi choices will be hard to choose from, but worth the struggle. For your main, select from quail, eye fillet or the fish of the day, with panettone, nougat or formaggio for dessert. Il Centro's prime location riverside at Eagle Street Pier will make for a stunning post-feed stroll, being surrounded by your community on such a social, festive holiday.
Tickets from $140, available here.
Feature image: Sofitel Brisbane Central
Liked this? You'll love these!
1. Get Festive With Our 2018 Christmas Gift Guide!
2. The Stress-Free Guide To Shopping For The Leading Lady In Your Life
3. Want To Find The Best Blooms In BNE? This Is Our Pick Of The Bunch: 2018 Edit