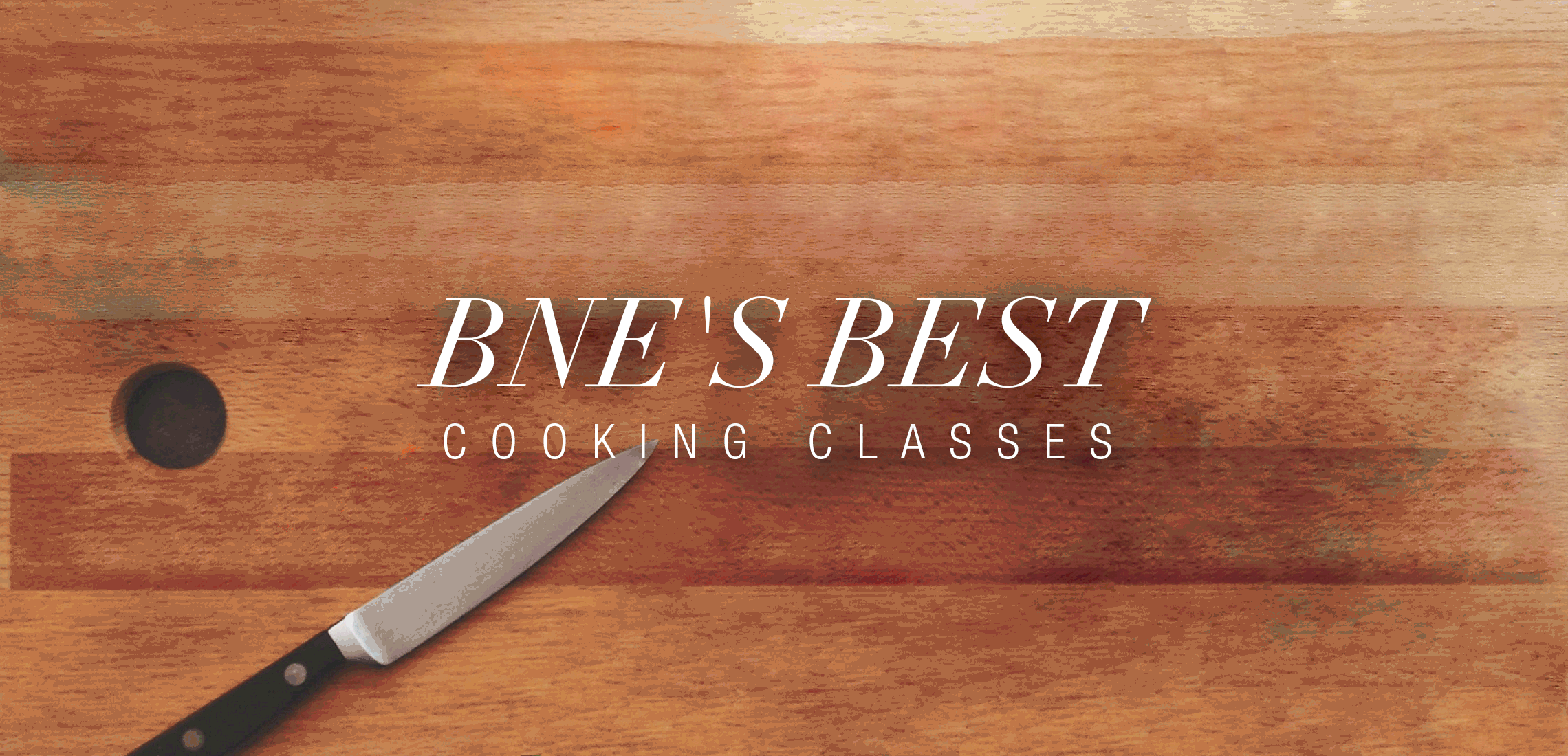 Cook Up A Storm With 7 Of Brisbane's Best Cooking Classes
Ready, steady, cook!
---
Whether two-minute noodles are your forte or you can take Gordon Ramsay head on, we've found a treat for you! There's no such thing as too many cooks in the kitchen when it comes to Brisbane's best cooking classes. Sharpen up your knife skills and work up an appetite with the most delicious meal you've ever had, that also happens to be made by you!
Did we miss someone from the list? Let us know here!
Come and Cook
The Gap
Get the kids living their best life in the kitchen with a hands-on class that will turn them into mini master chefs! With over 25 years' experience teaching kids the culinary arts, the intimate class sizes at Come and Cook mean they'll be involved from start to finish. The cooking schedule fits seamlessly around school, with Dinner Club after school for 7–13-year-olds to practice their meal-making, and baking classes for teens and tweens on the weekend, as well as NDIS specialised classes and birthday parties for keen chefs. Sugar fiends will love the Sweet Tooth holiday class or pop them into Italian Stallion where they'll learn to make a delicious lasagne from scratch. Plus, they'll bring all their scrumptious creations home so you can snag a bite!
https://www.instagram.com/reel/CSIhnABhgpM/?utm_source=ig_embed&utm_campaign=loading
Gelato Messina
South Brisbane
Part science lesion and part degustation, gelato lovers need to put this at the top of their priority list, pronto! Messina spill all their sweet secrets in their Gelato Appreciation Classes, as they take you through the ins and outs of the gelato biz. When class is over, you'll be let loose into the gelato cabinets to try as many flavours as you can handle, before they send you home with a tub of gelato in hand to keep the good times rolling.
Lumière Events & Culinary Studio
Newstead
Come together and share so much more than a beautiful meal in this state-of-the-art culinary studio. The brainchild of internationally renowned chef, Shannon Kellam (who now showcases the elegance of French cooking at Montrachet), each class is all about tasting and enjoying yourself as you go. Learn how to make Montrachet's iconic crab souffle or take a sourdough starter to new heights in the Sourdough Series. The Duck masterclass is a fan favourite, while their newest offering is a collaboration with Australia's most awarded beef brand, Stockyard Beef. With Miele's top-of-the-line appliances and chef-grade tools on hand, you'll finish each class raising a glass of bubbles to your delicious success!
New Farm Confectionery
Newstead
Channel your inner Willy Wonka with a sweet masterclass at New Farm Confectionery. There's a treat for everybody, whether you prefer chocolate, marshmallows, caramel, or even the iconic brittle and honeycomb. Prepare to get your hands dirty before you leave with the skills and recipes you need to spoil your loved ones (and yourself!).
Golden Pig
Newstead
Anyone who's pulled up a seat in this hatted restaurant will know brilliant food is an absolute given, and in their cooking classes, you'll get the dish on their culinary secrets! A variety of cuisines and styles are covered at The Golden Pig, from decadent French, classic Thai, flavours of Spain, delicious desserts, native ingredients, and even knife skills. Do you have dietary requirements? No biggie, as they offer gluten-free, vegan, and pescatarian classes. Hot tip: people are digging into their bao buns and dumplings class so jump on the wait list ASAP. This hands-on opportunity is a whole lotta fun as well as a winning combination that always culminates into a perfect finish – eating a glorious feast!
Salt Meats Cheese
Newstead
If you thought you know how to make the perfect pasta, think again! The delightful cooking packages at Salt Meats Cheese will have you saying 'mamma mia' as you twirl dough, shake up a cocktail, and pipe the perfect cannoli. From knock-out gnocchi to ravishing ravioli, tiramisu martinis, vegan fettuccine, and even options for the mini-Italian chefs, you'll want a pizza this.
Scenic Rim Cooking Classes
Boonah
The small trek to get here is exactly what you need to stir up an appetite, before using the local and seasonal produce Scenic Rim is renowned for to craft a masterpiece. Each of the hands-on classes involve preparing a complete meal that you'll enjoy in a sit-down lunch or dinner with complimentary local beverages. Plus, all your meals will be seasoned with that fresh country air!