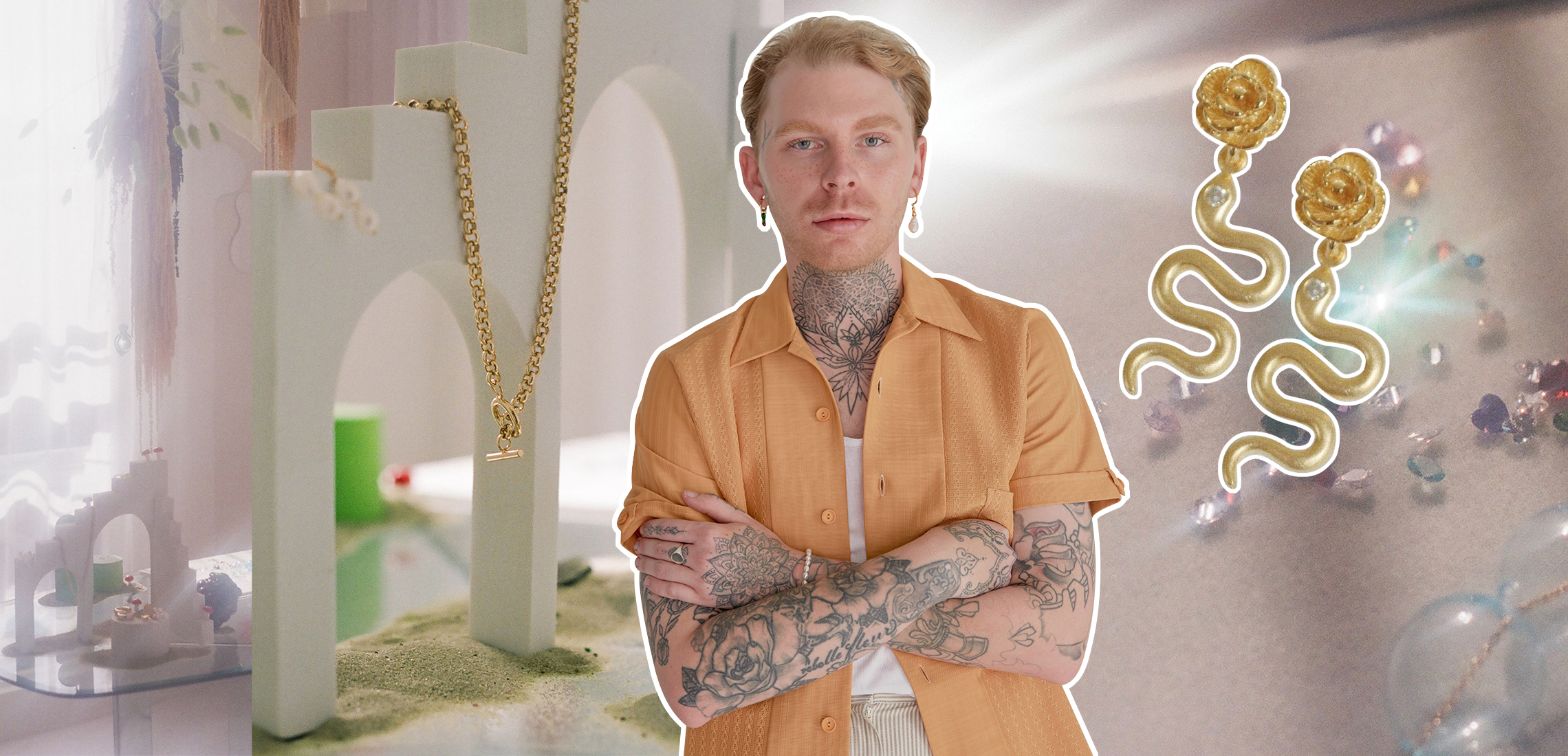 Behind The Glass: The Man Behind BNE Brand Jean Riley
The glass that went global!
---
Whimsical, fragile and lovable, the jewellery and work that is Jean Riley is nothing short of stunning. From chillies to snails, the glass work and hand-crafted beauty of each piece makes them almost too easy to fall in love with. I mean you would perhaps never know that hidden away in the lanes of Paddington, there would sit Joel Riley, the 26-year-old behind it all.
The brand, named after his grandmother Jean, was founded in 2018. A small-town dream, the business now amasses a huge following, worn and adored by influencers and celebs the plenty (um, hi Emma Chamberlain). I was lucky enough to sit down with Joel himself in his studio and trust me, the story is one to hear. A tale of childhood memories, a grandma BFF, sustainable practices, plus a brand-new collection, take a seat and get ready to take a look behind the glass.
So, Jean Riley, where did it all start?
I started in May 2018. A year before that I was doing makeup, living in Bali. I did a jewellery apprenticeship in school and I was like nope, I'm going do makeup, and I kind of kicked it to the curb. But it came full circle. I was like, 'You know what, I've always taught myself my whole thing… I taught myself makeup, I built myself that type of career, so why can't I do it now?!'. I always worried that people wouldn't take me seriously (transitioning from makeup to jewellery), but at the end of the day, that was something that I needed to work on. Now it's at the stage where I don't need to prove myself anymore. It sounds nasty but it's a big thing for creatives, that worry of feeling inadequate or not good enough.
https://www.instagram.com/p/CPnHEL-hqQ-/
Your grandmother, Ms Gloria Jean Riley, is a huge part of your brand. Are you able to tell us a little bit more about her?
Yes! Jean Riley is my nan's name. She had an antique store when we were younger, and I was always around all that stuff. She was like my best friend, literally. She fell sick with dementia in 2016 so she didn't really get to see the process of Jean Riley. Long story short, a lot of it is creating memories from her life. I just remember sitting around annoying her, and she always used to give me jewellery to play with. Now I'm on the other side of the fence, I can really see how much emotion can go into creating a piece or collection. I feel like Jean Riley has grown over the last couple of years to be a brand that's not just about the jewellery, but it's also about the emotional connection and what we have – memories, feelings, emotions, and certain times in our lives.
You're just about to release your brand-new collection, Oasis. Can you tell us a bit about that?
In the middle of creating the collection I lost my nan – who is my brand, basically. So not that it changed, but a lot of it, plus COVID last year, made me realise that life is short. We've got to cherish these times. That's why this collection for me is a whole different can of worms. It's more glass focused so I can support local artists rather than going towards that molten side. We've brought back a lot of snakes because for us, the snake symbolises a lot – new beginnings, challenges, and stuff we didn't expect. It sounds weird to put into jewellery but it's how I create. When I look at a piece, I see that actual emotion in it, versus a piece to just put on.
Oasis is more of a collection that is fun, not taking everything too seriously like I used to. We have this special little place and it's not here forever, and the people that you love aren't here forever, so you might as well make it your perfect little Oasis.
https://www.instagram.com/p/COKFi6Jhhw8/
Supporting local and smaller businesses is not just the basis of your brand, but also something you are such a huge advocator for, why?
With Jean Riley it's about bringing awareness and creating a movement for people that don't have the confidence to start a brand or think they need all this money. I started with $400 for samples, and now we're here. It's a process. I'm 26 now and I've been in the industry since I came out of school. You go through ups and downs, and then the universe spits you out where you need to be.
Within a year I'd like to have an Australian team so then I can help grow other jewellers. It's more about creating a hub for Brisbane, to build a community, like they have in Sydney and Melbourne.
https://www.instagram.com/p/CPZy7DchOHJ/
Where do you see yourself and the brand in the future?
For me, it's just broadening the brand in a way where it doesn't take away from the jewellery. I don't think I'd ever do anything where it turns into more than jewellery. I definitely am releasing one-off little bags but that's accessories that are designed and styled because I wanted to do it – it's not like a quick fix. In 2021, as a brand, and because of COVID, you've got to be very cautious. Because I'm only new, a baby in the world of fashion, I didn't want to over commit – because that's something as a creative you do. I looked at James St stores in 2019, and I thought, "Don't do that, come on, wait!". But now, I feel like in the next year, well I'll see you in another year and be like, "Woah what happened!".
Current fave jewellery trend?
I hate trends, but I love how the jewellery industry has pivoted. I don't know if it's because there are a lot of other upcoming brands, but there's not as much pressure to be perfect. And I think that's perfect!
Fave piece of jewellery you own?
These pearls from my nan. I made them into a bracelet, and I don't have them online, but everyone asks me about them! Plus, this small ring. But that's the only jewellery I ever wear, it's so bad!
How do you like to spend your free time?
I love gardening. Flowers are my thing. I'm growing a garden at home and I try to use all the flowers for the packaging. I went and spent $50 the other day on a cutting of this rare plant – obsessed, absolutely.