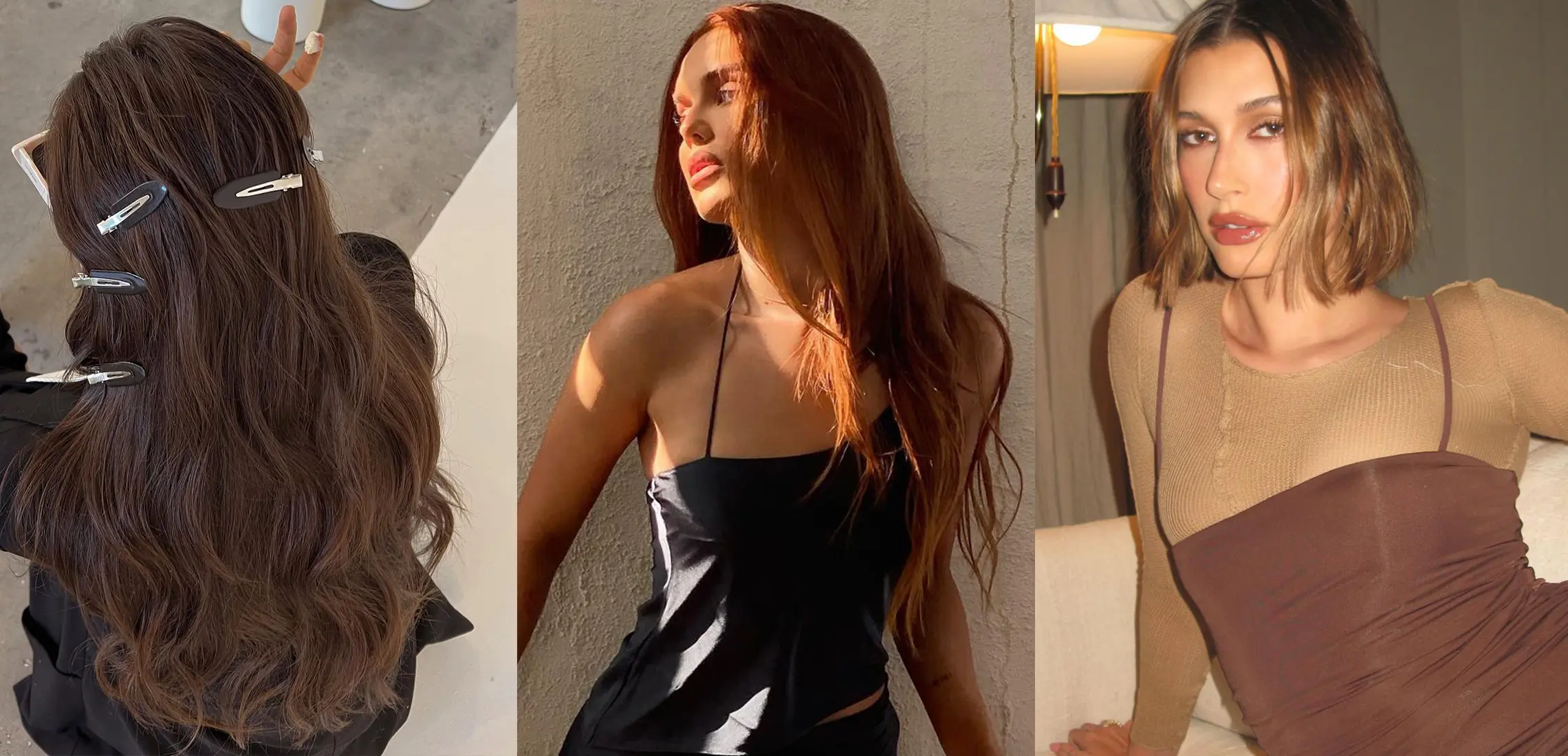 These Are The Best Winter Hair Trends To Try In 2023
Make the switch
By Astrid Taemets | 31st May 2023

Ready to plunge into the cooler seasons with a new 'do? Whether you're ready for a chop, fresh hue, or style, these are the winter hair trends to try according to Jaye Edwards, owner and founder of EdwardsAndCo – aka the Holy Grail salon of seriously cool hair. 

Adding to our growing list of the biggest hair trends to try in 2023, here's how to look the part this winter from root to tip. 
COLOUR
Golden hour
Bring some warmth to your locks this winter with the addition of golden shades that offer an on-trend alternative to the cool blonde tones that took over summer. For brunettes to achieve this look, Jaye says to book a lightening service, then tone your locks back to a honey-hued perfection. Blondes – you are in luck! Simply book in a simple 15-minute gloss service and you'll be there. 
View this post on Instagram
Cherry Cola
A transition from the copper trend that was big in 2022, this deep, cola-inspired cherry colour is the next big thing for those who favour red tones throughout the cooler months. To get it, Jaye says start by creating a deep brunette base, and then enhance it with copper and red tones to make it truly pop. Don't let your skin tone turn you off from trying the hue – Jaye says this is a fully customisable look based on your skin colour, and how deep and bright you want the outcome to be. 
View this post on Instagram
Recession brunette
Fact: maintaining blonde hair is a timely and expensive enterprise, and with the cost of living on the rise, Jaye says it's time to pivot your look with a low maintenance, future-proof hue. Make the switch to flaunt more natural hair – a move, Jaye says, that will see you get more bang for your buck and longevity after each colour service. His top tip? Work with what you naturally have, rather than trying to work against it. From cuts that compliment your natural texture to lived-in hues that add a subtle pop, get your stylist to customise your look for you. 
View this post on Instagram
STYLES
The Hailey Bieber bob
If ever there was a woman to make us completely change what we thought we wanted for our hair, the HB bob is reigning supreme thanks to its sharp, fresh look. But if you want to create more dimension, Jaye says to add in light layers for a softer finish. Suitable for all hair types, short hair is making a major comeback thanks to its chic sophistication and simplicity. Hello, Shiv Roy, we're coming for you!
View this post on Instagram
Curly Bangs
Let's get one thing straight right now (pun intended): curly-haired girls can cut layers, too. Light, bouncy bangs on curly hair is a fun, 90s-inspired way to bring interest to your mane. And all it takes is a simple face-framing trim cut dry to enhance the natural hair pattern to get there.
View this post on Instagram
Mermaid-core
Cooler weather is the perfect time to grow your locks, and this super long, layerless look is having its right old moment in the spotlight. Best of all, it's lush on all hair colours – your only job is to keep it looking healthy! Jaye recommends investing in salon quality restorative products, switching your hue to something more lived-in (see section 1.3 above) to minimise colour services, and commit to regular trims. Can't wait? Feel you. Invest in natural-looking extensions for instant length. 
View this post on Instagram