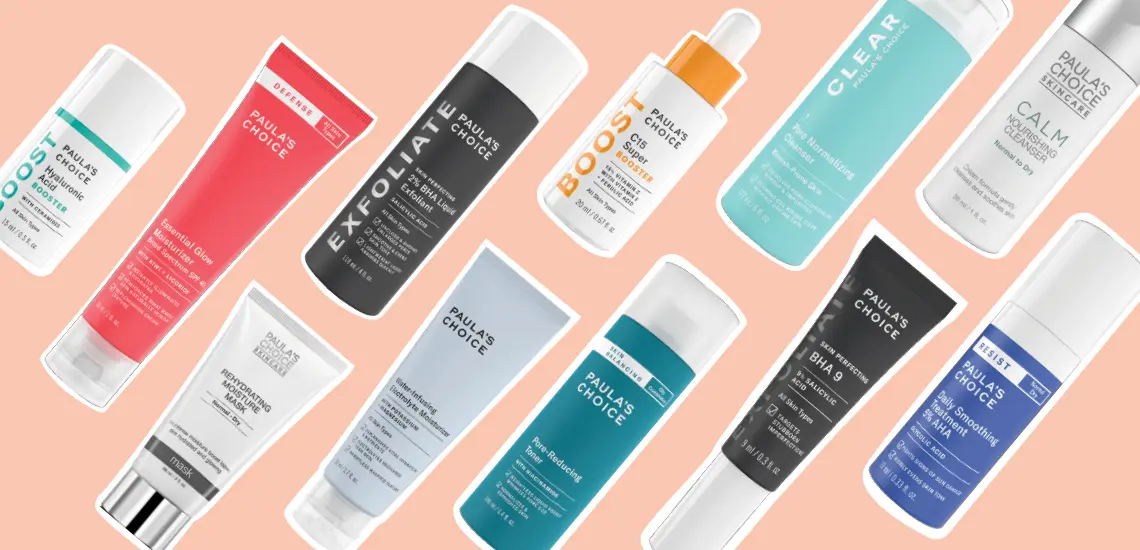 The Ultimate Wedding Skincare Prep
You'll say I Do to this complexion
By Guest Styler | 3rd March 2020

Just a quick note: This post is sponsored. To prevent a paywall or annoying pop-up ads, we sometimes need to publish sponsored content but we only promote brands that we think are doing great things and our readers will love!

If you've recently become engaged, then babes, this one's for you. Senior Research and Education Manager at Paula's Choice, Desiree Stordahl, reveals if she could turn back time and re-do her wedding skincare prep, she would. Luckily for us, we have her to right all the wrongs and set us on the path towards luminous skin.
How long out from your wedding should skincare prep begin?
Giving yourself at least eight weeks is ideal to allow your skin ample time to reap the benefits of a well-formulated routine. Certain products require a period of consistent use before you'll see full results. Skin-brightening products are a great example: the bio-active ingredients in them can take between 8-12 weeks to fully fade dark spots/hyperpigmentation. Moreover, experimenting with new products too close to the big day is risky and could result in an adverse reaction that leaves skin red, rashy, or flaky. Not ideal!
Can you recommend a product to tackle different skin types?
Dehydrated dolls
For dehydrated skin it's all about increasing its balanced water content with ingredients that help your skin hold onto moisture better. Water-Infusing Electrolyte Moisturizer has a heavenly "rain cloud" texture with electrolytes that weightlessly draw moisture into skin and keep it there for a plumper, dewier feel.
One dry martini
It takes a mix of nourishing emollients and skin-restoring ingredients to soften and smooth dry, distressed skin. Rehydrating Moisture Mask deeply hydrates with plant oils and amino acids that create a moisture-locking barrier. Tip: don't rinse it off – leave it on overnight to wake up to your glowiest skin.
CEO of the oil company
Oily skin benefits from ingredients like niacinamide that can help tone down excess oil and minimise pore size. Instead of a traditional moisturiser, opt for a hydrating liquid like SKIN BALANCING Pore-Reducing Toner which delivers replenishing ingredients plus niacinamide to balance skin without a heavy, greasy feel.
Sensitive sally
Those with sensitive skin need ingredients that can instantly minimise redness while also nourishing and repairing skin long-term. CALM Redness Relief Repairing Serum is loaded with soothing extracts that are perfect to prep skin for the big day. Tip: keep it in your wedding emergency kit in case anyone in your bridal party has a flare up (more common than you might think).
Common mistakes made during wedding skincare prep?
It can be tempting to splurge on an exotic facial treatment right before your wedding, but that can backfire in the form of a severe reaction. In fact, some treatments require multiple weeks before skin is completely healed, leaving you with reddened, flaking skin in the interim. If you're thinking about injections or laser treatments of any sort, schedule them at least eight weeks ahead of your nuptials.
The best products to use on the morning of the wedding for brightening and plumping?
I said it before, I'll say it again: no new products! Okay, now that's off my chest, for brightening leading up to the big day, try a concentrated vitamin C serum. You can top that off with an instant boost of skin-illuminating moisture the day of with DEFENSE Essential Glow Moisturizer SPF 15, which leaves a healthy luminous finish. For plumping, Hyaluronic Acid Booster will be your best friend.
How can you best control blemishes and breakouts in the final weeks leading up to the big day?
There are three essentials anyone with breakout prone skin needs to use consistently:
1) Make sure you're using a fragrance-free, water-soluble cleanser that gets skin clean without stripping it dry.
2) Exfoliate with salicylic acid (BHA) to unclog pores and calm redness.
3) Fight stubborn blemishes and prevent future breakouts with benzyl peroxide.
CLEAR Regular Strength Kit combines all three of these elements.
Also, keep BHA 9 Treatment on hand as back-up in case any monster pimples pop up right before the big day. This spot treatment works wonders to get rid of pimples fast!
Did you have wedding skincare prep regime yourself?
I wish I knew back then what I know now! Unfortunately, I went about my wedding skin prep in a lot of the wrong ways. If I could do it over, I would focus on the gentle skincare routine that I do now – the biggest game changer of which was adding the SKIN PERFECTING 2% BHA Liquid Exfoliant to keep my skin blemish free. I'd also splurge on the CLINICAL Niacinamide 20% Treatment (launching in Australia soon!) – it tightens pores and gives skin a healthier looking tone, perfect for that wedding day glow.
Any final advice before the big day?
Give yourself some grace if, even after all of your prep, you still don't have "perfect" skin. Unexpected breakouts happen to the best of us. Crow's feet are a sign of a lifetime spent smiling and laughing. Your soon-to-be-spouse loves you anyway.
For more juicy details about skincare visit www.paulaschoice.com.au