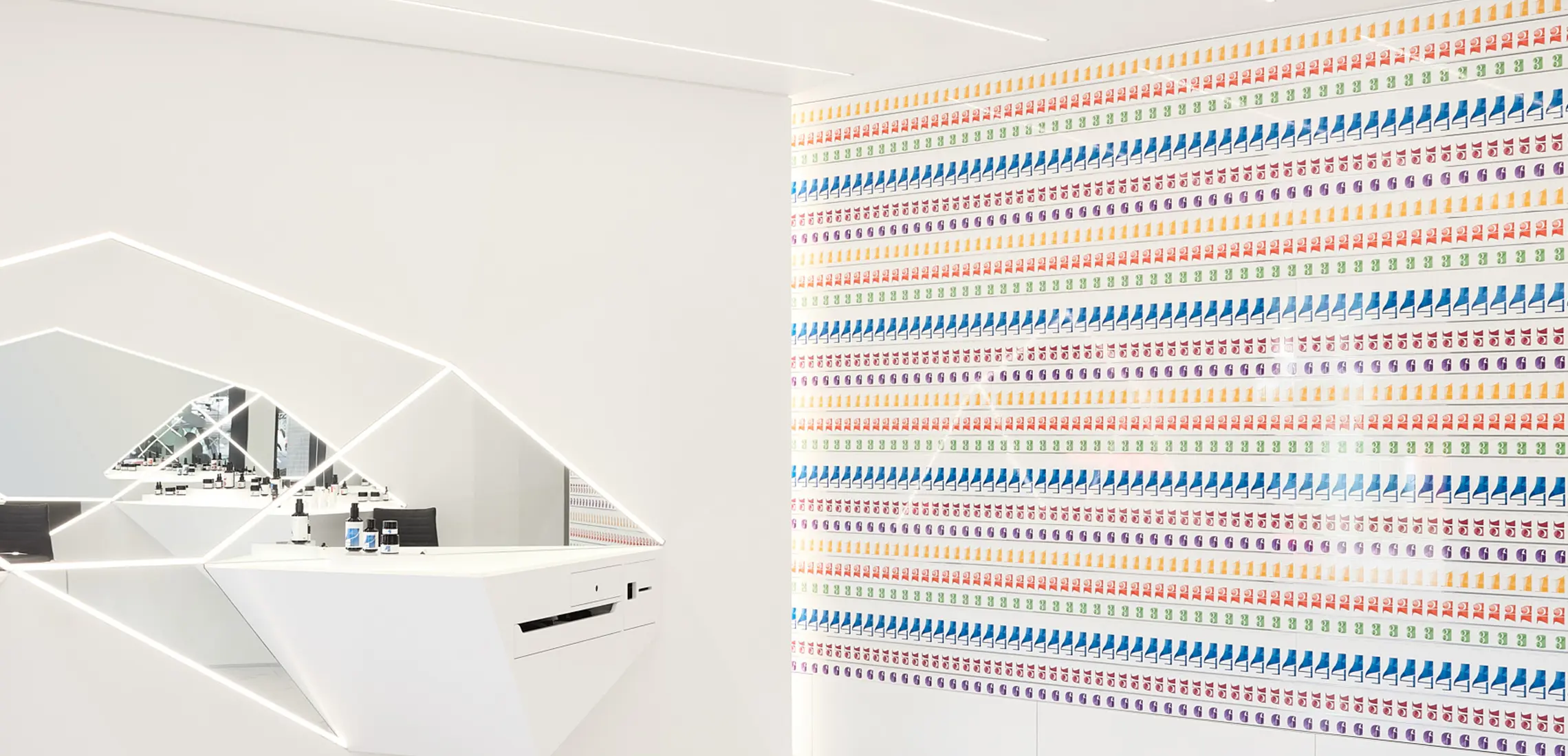 How This Facial Saved My Skin
Our kind of science lesson
By Dinushka Gunasekara | 30th September 2020

This one's for all you fellow folks out there in a toxic relationship with your skin: have your bones ever creaked like you're geriatric because you've been on Roaccutane for too long? Does your bathroom cabinet contain more over-the-counter creams and ointments than a Priceline aisle? Could your skin compete with Judas for traitor of the millennium?

All I want is for my skin and I to build a long-term and loving bond, that ends with us chilling in a rocking chair, still glowing with the glory of our days. But, at my current ripe old age of 21, our future's looking grim. So, when a revolutionary skincare titan promises 'luminous skin for life', I'm intrigued.

RATIONALE was born as a bridge between Cosmetic Chemist Richard Parker's passion for tinkering with test tubes and making skin the bomb diggity. "For years I've been saying that luminous skin is your calling card; your presentation to the world," he says. "It both shapes and expresses your inner confidence."

I want my inner confidence to be shaped like a person's who doesn't get shivers when they have to pick up the phone, and that's what led me to RATIONALE's new James St flagship.

Walking into the immaculate and minimalist space, I felt like I was entering the backend of the Matrix. But, instead of being offered two coloured pills, I was presented with the RATIONALE Essential Six (aka sci-fi beauty at its finest). "Our Essential Six Collections – Resilience, Vitality, Brilliance, Integrity, Clarity and Renewal – represent the six skin categories for skin health and beauty," says Parker. "As the Essential Six offering continues to advance and expand, there is an extensive choice of formulations that allow your RATIONALE Consultant to create and tailor your perfect skin ritual."

My consultant was the divine Shini. She'd been with RATIONALE for more than a year and her passion was contagious. First, she asked me to fill out a form outlining my medical history, and while the questions made me feel like I was in a GP clinic, the bright geometric mirrors and lush flower arrangements did not. After I'd ticked a few boxes and squiggled a few lines, we headed to the treatment room – a calm and cool suite fit with a bed, a basin and some fancy-schmancy tech. And, from there, we got real.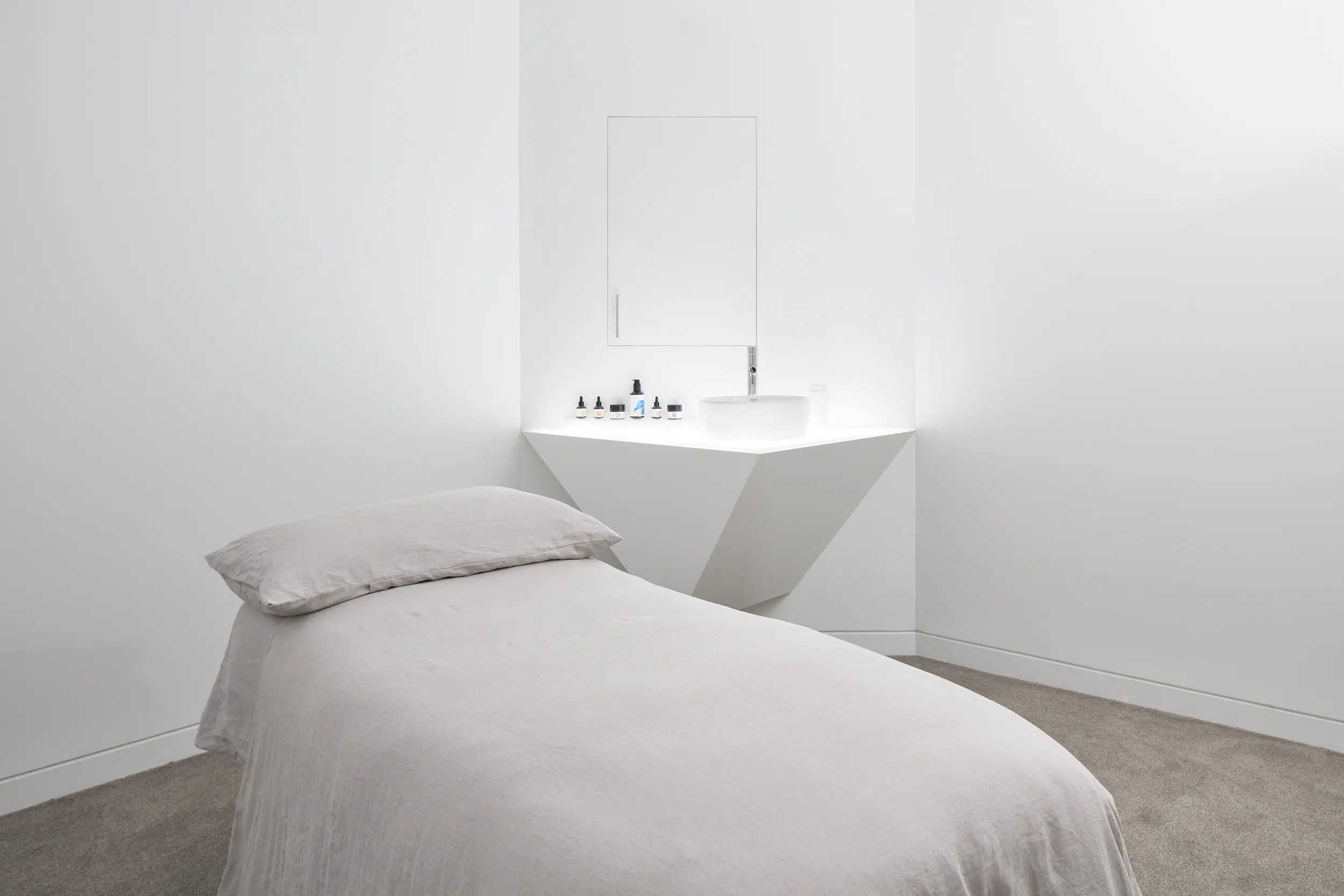 Using a mix of questions, face scans and dermal lingo communicated through handy metaphors, Shini stared straight through my skin's soul and pulled out its deepest, darkest secrets. In the 60-minute consultation, she validated me with all the problems I thought my skin faced, wowed me with the truths I didn't know about my skin and drilled into me the fact that my melanin magic did not mean I could avoid sunscreen. It was confronting, but everything I needed to hear.
Within each of the six RATIONALE collections are a range of different serums, balms, crèmes, cleansers and gels. Armed with the story of my skin, Shini carefully crafted a morning and night ritual using a range of products from each collection. I'm not going to lie – the instructions she told me went in one ear and out the other, but she sent me an email with my tailored skincare and treatment plan so even I couldn't forget.
Once business was done, it was time to play. And by play, I mean lying in a pitch-black room as I was sent straight to massage paradise. I'd never actually had a facial before, but I'd seen enough chick flicks to feel prepared for Rationale's brand-new Integrity Restorative Facial. Designed to strengthen the skin's essential barrier function, it's built around the fourth formulation introduced to the Integrity Collection, #4 The Crème. As an exclusively hands-on treatment, the facial relies purely on strategic cheek squishing, temple rubbing, and massaging circles to wake up your lymphatic system. In other words, it's 60 minutes of undulated bliss.
I spent the first five minutes of the massage trying to think of different synonyms for 'heaven' to use in this piece, but somewhere between Shini soothing my cheekbones and my collarbones, my mind shut down. With wafting scents, the unwinding instrumental tunes and calm of the dark, the treatment was truly a treat for all the senses.
As for my skin, the facial incorporates an exfoliation method adored in the land of baguettes – gommage. Like all things French girl beauty, gommage is simple and soft by letting creams and gels dry on the skin before being rubbed off, taking dead skin cells along with it. All it took was a gentle touch and my face looked luminous – RATIONALE promised and came through.
When Shini pulled me out of my sweet dreams, I woke up with a glowing complexion filled with life, hope, happiness and strength. My skin was soft, dark spots lightened and any stress I had was kindly given the boot. Plus, with RATIONALE's new James St location, I only had to pop across the road for a yiros and reign in the end of a perfect evening.
To experience the [scientific] magic for yourself, head to RATIONALE here.
Photography: David Chatfield/RATIONALE