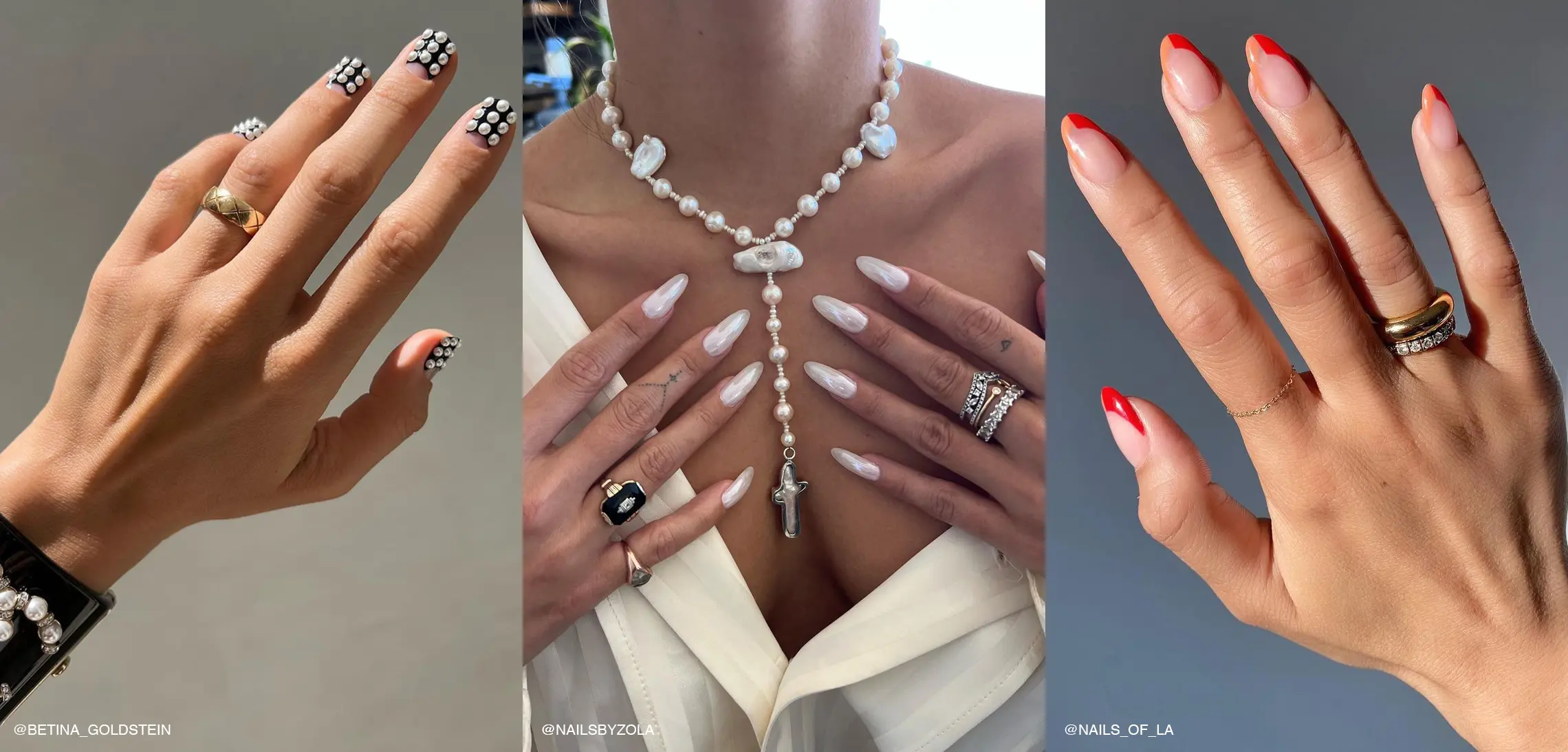 Try Your Hand At The Biggest Nail Trends Of 2023
Nail it
By Dinushka Gunasekara | 9th January 2023

Don't get caught red-handed wearing the trends of yesteryear! 

While 2022 saw the rise of cobalt blues, complementary colours, minimalist manis, and funky stickers, 2023 is set to up the ante. Nails have truly become an accessory in their own right, so make sure yours are ready to steal the moment with the biggest nail trends of the year.

From retro comebacks to subtle takes on 3D nail art and foundational beauty hacks, here are all the nail trends you need to get your hands on in 2023. 
Slugging
The best nails are all about their foundation, which is where this TikTok hack comes in handy (pun intended). Coined 'slugging', the K Beauty-inspired trick simply involves applying Vaseline or another kind of occlusive to your nails overnight to lock in moisture, nourish your nail beds, and protect the cuticles. Bonus points if you layer in a cuticle oil and throw in a hand moisturiser before slugging. 
View this post on Instagram
Glazed donuts
Like cargos and low cut jeans (please let it end), frosted beauty has resurrected from the Y2K era and dived back into the mainstream. When it comes to nails, we're taking pages out of Hailey Bieber's book to rock a Krispy Kreme sheen on our manis. Defined as a milky colour with a glossy finish, if you're looking to smash it out in a DIY, Hailey's LA artist Zola Ganzorigt has outlined all the products she used on her 'gram. 
View this post on Instagram
Droplet manicure
Want to venture into 3D nail art but not sure how to take the plunge? Then a droplet manicure could be the refreshing answer you've been looking for. Made using 3D gels, this look takes your mani from a mere polish to a work of art. Rainy days have never looked this good! 
View this post on Instagram
Velvet nails
Like a Juicy tracksuit in nail form, velvet nails mimic the smooth, fuzzy texture with an added dash of sparkle. A seasonal take on the chrome trend, it works with most colours. So, what's the secret to the velour-like finish? Magnets, to lift the sparkles from your base coat to create the velvet touch. 
View this post on Instagram
Pop art nails
Ripped straight from the pages of a comic book, this eye-catching design delivers a caricature-like pop to your mani. For a sophisticated version of the trend, opt for a neutral while relying on blacks and whites to draw out the illustrative elements. 
View this post on Instagram
Half moon manicure
As seen on burlesque icon Dita Von Teese, the half moon manicure is a retro design that is as versatile as it is flattering. Achievable on all kinds of nail lengths and shapes, it can also be combined with other trends if you're feeling indecisive. It's a great out-of-the-box option for those who don't like to venture too far from their comfort zone. 
View this post on Instagram
Two-toned French
Another year means another take on the classic French manicure, and in 2023, it takes two to tango. A two-toned French manicure is the simple way to elevate a polished look and can be paired with practically any two colours for a schmick design that's easy to style. 
View this post on Instagram