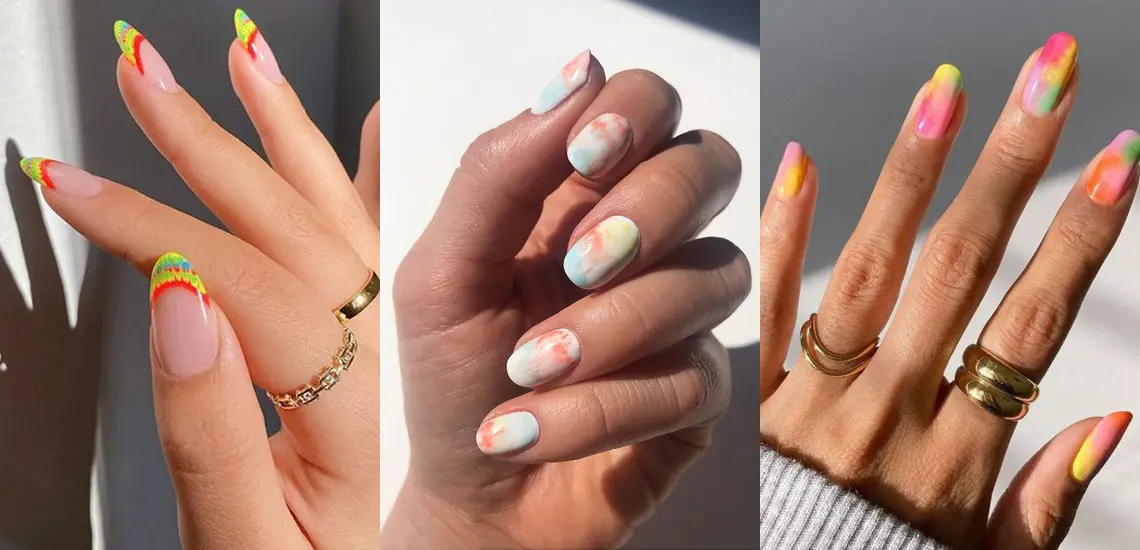 Make Your Nails Pop With Tie-Dye
A tie-dye trend so easy, anyone can nail it
By Jess Cuskelly | 21st July 2020

Just like mum jeans, bike shorts and all things 90s, tie-dye is back, but not as you know it. Forget messy tubs of dye and DIY sweaters that bleed after just one wash – the latest tie-dye craze is all about recreating this old-school trend on your nails.

With style icons Kylie Jenner and Gigi Hadid leading the way, tie-dye nail art has recently taken the beauty world (and Instagram) by storm. With celebrities and nail artists flaunting psychedelic designs and pastel nail creations, there's no shortage of Insta inspo when it comes to this nail trend.

If you're wondering how you can get your very own tie-dye nails at home, look no further. For a DIY tie-dye manicure, all you need is a toothpick, base coat, and a few different colours of nail polish. Simply paint swirls of colour onto your nails, then use the toothpick to swipe through the colours before they dry, creating a spiral pattern. Top with a clear coat and voila – you've got tie-dye nails!

Make like Gigi and opt for a neon-bright manicure, complete with ring-fingers painted in vibrant tie-dye pattern.

Tie-dye is meant to be fun, so embrace your inner 90s child and let your nails pop with subtle accents and motifs.

Keep your manicure chic and stylish with just a hint of tie-dye over a clear coat.

Think: Dreamy cotton-candy patches painted by @mychelelopes. 

90s vibes, anyone? A washed-out blue, yellow and red colour palette makes this tie-dye manicure pop.

Kaleidoscopic tie-dye art is a killer contrast against simple white nails.

Peachy perfect nails complete with hypnotic tie-dye swirls, by New York nail pro Danielle Kalinowski.

For a subtle approach to the tie-dye trend, embrace hazy, pastel nails!