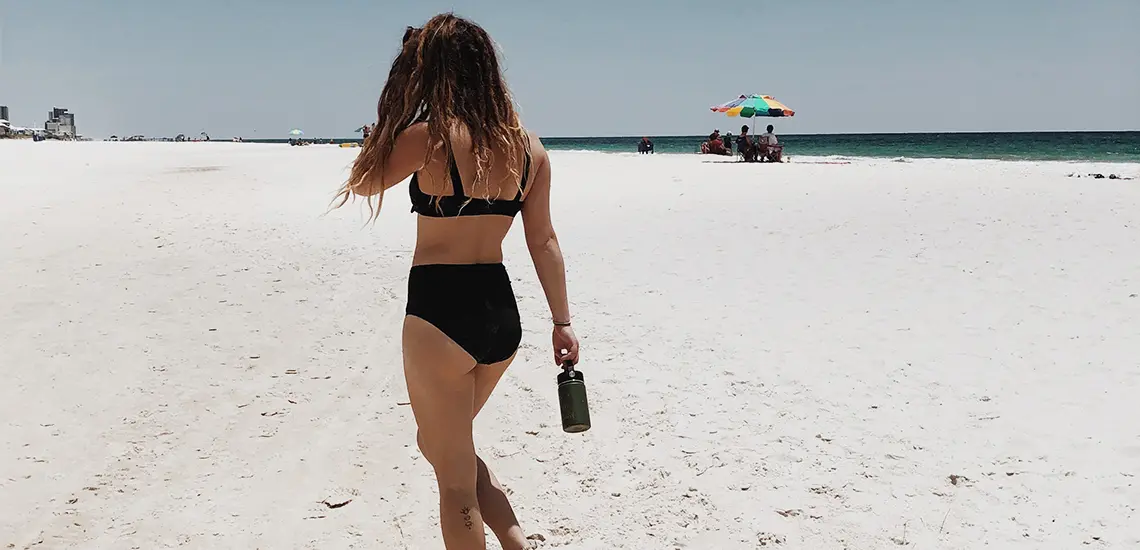 Get Ready For The QLD Sun With These Homegrown Beauty Products
How many Brisbane businesses made the cut?
By Sierra Haigh | 22nd October 2019

With the warmer season quickly approaching, it's time to get your summer beauty regime down-pat. That includes your skin, body, and hair. We really mean the works – it's never too early get summer ready! We've found some of Australia's best beauty lines, here to help you get the glowing skin and flowing locks of your wildest dreams, while also contributing to and supporting local businesses. How many made the cut from our sunshine state? You'll be impressed!

Lovin' that homegrown goodness.

Keep your legs smooth and moisturised this summer with a camel milk body lotion from the folks at Summer Land Camels. Breathe in the sweet orange and lavender fragrance with each use of this moisturiser, and feel your silky smooth legs after a few swipes to treat your skin. Based in Harrisville, Summer Land Camels is taking the Australian beauty world by storm after joining brands such as Salt Gypsy and Nexba in Amazon Australia's new Launchpad Program. Get your hands on a bottle now to find out what all the fuss is about!

https://www.instagram.com/p/B2EAMfDAOu0/

Treat your complexion to a deep cleanse with Mayella's AHA exfoliating serum. Inspired by Cleopatra's quest for eternally youthful skin, Mayella's fruity face exfoliant will keep your skin clean, bright, and summer-ready. It's fully vegan and cruelty-free and their selection of ingredients work together to prevent blemishes and lines on the face, keeping your skin dewy all day long. After a few uses of this Nobby Beach-based serum, you'll be left with skin even Cleopatra herself would envy!

Tried and tested at Style HQ, Edible Beauty is constantly growing from strength to strength by founder, naturopath and nutritionist, Anna Mitsios. The 'Bloom of Youth' infusion face mask is a summertime must-have to relieve the skin from warm days and harsh rays while also acting as an anti-ageing treatment. With concentrated doses of active ingredients featuring bamboo extract, Ribose, hyaluronic acid and more, each ingredient is kind to your skin and the environment. Explore the range of beauty teas, creams, supplements and more!

Avoid lobster-skin after a day at the beach with Simplicite's vegan and cruelty-free moisturiser with SPF15 sunscreen. The Newstead company uses specially formulated moisturising sunscreen to both protect your skin from the suns UV rays and lock in moisture to keep your skin looking and feeling fresh. Featuring key ingredients such as chamomile and avocado, your skin will be thanking you all summer long with this hydrating treat for the skin. Beat the Queensland sun and enjoy a day stretched out in the afternoon glow.

The safest way to get your glow-on, Bella Bronze was born in the Gold Coast by Jasmine Scarr. From opening a mobile tanning business in 2007 to launching her own products in 2014, the brand has quickly grown to be loved internationally. With a violet base, the solution offers a natural colour, avoiding an orange tinge. It's vegan, uses natural products and continues to be made and manufactured right here at home! As we are the sunshine state, it's only right QLD is producing the goods when it comes to sun safety and a golden, beach-worthy glow!

A summer essential (and we can't stress 'essential' enough!). No matter the weather, sunscreen is a must-wear, year-round in Australia and this is why Ultra Violette was conceived. Ideal to wear under makeup, founders Ava Matthews and Bec Jefferd consider the product 'skinscreen'. With five products now in their repertoire, the right sunscreen is out there for you. Whether it's for a mattifying look, an illuminating touch or for some added hydration, protect your skin and pamper it, too.

Tired of the tiny bits of glitter fallout landing all over your new white dress while doing your glam eye makeup for a night out? Or, standing stark naked while your tan attempts to try. Well PrepDress is now available to take away your worry and stress while you're busy taking care of the more important things – your hair, makeup and nails! A stylish wrap dress made from 100% cotton and priced between $39 – $49 the PrepDress is out to save your day (and money) from disaster!

Stay bright-eyed this summer with Biologi's luxurious, rejuvenating eye serum. Based in Byron Bay (not Queensland, but pretty close, so we'll count it), their Kakadu plum serum harnesses ellagic acid to promote anti-ageing and brighter skin, locking in a youthful complexion with each use. Enjoy partying into the warm, ocean-scented nights and wake-up with none of the dark eye circles, puffiness, and redness that can happen after a solid night out. Instead, wake up looking fresh and ready to tackle a new day (and a new party) thanks to Biologi's natural and 100% active ingredients.

Based in Brisbane, Summer Stories is harnessing natural Australian materials to bring you the gorgeous summer locks of your dreams. Each product is named after a Queensland holiday destination. For thicker hair, pair their Coolum Shampoo with a portion of the Caloundra conditioner. Or for fine hair, pair their Tallebudgera shampoo with a dollop of the Tamborine conditioner. Best of all, their products are completely vegan and free of chemicals, so when you're smelling fresh and clean all summer, your hair and the environment will be thanking you for it!