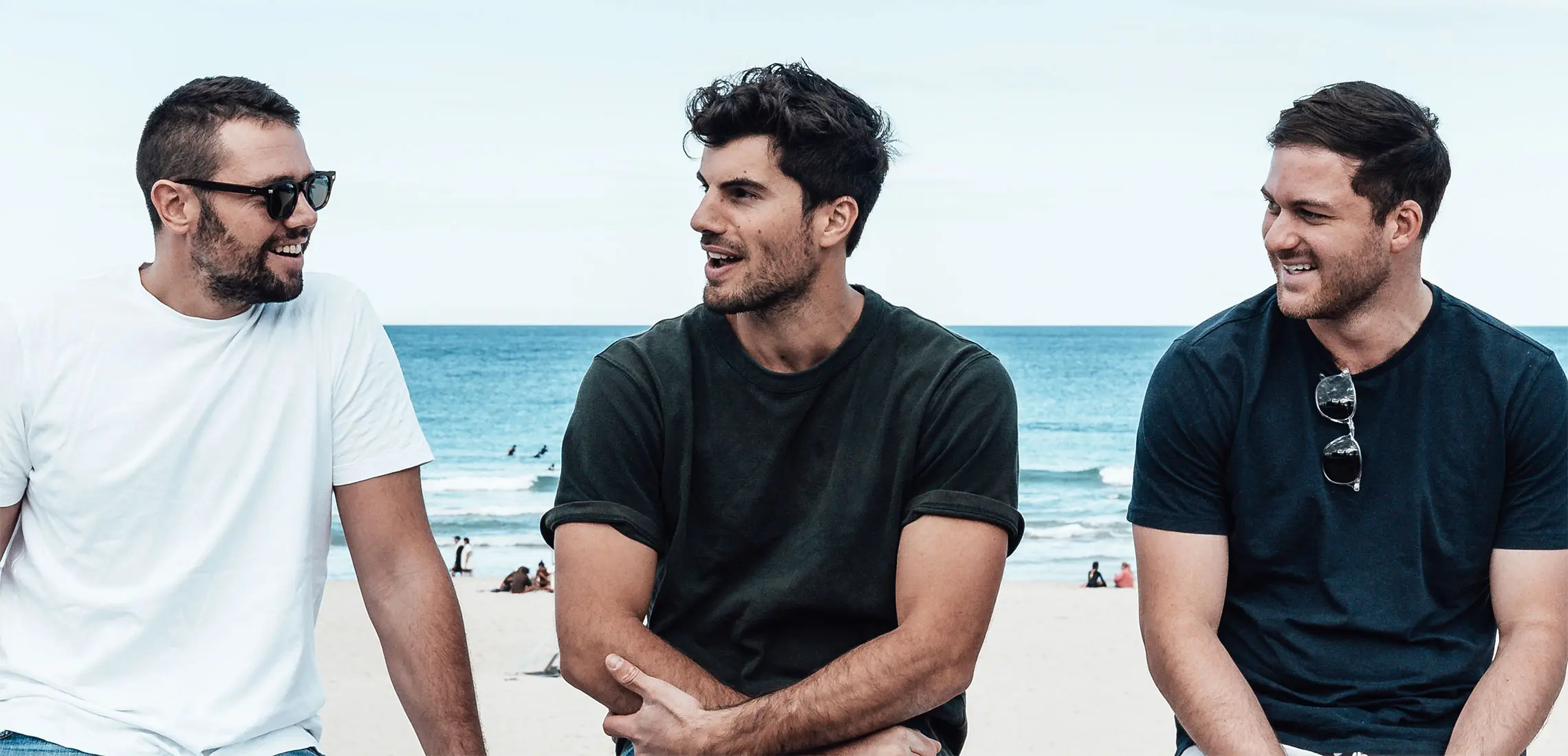 Simplified Skincare For Men Is Here
Meet the boys taking care of skincare
By Astrid Taemets | 30th September 2020

The world of skincare is a tricky, confusing place for even the most beauty-obsessed among us, so you can imagine how much of a minefield it can be for our blokes.

Enter Bondi Skin Co: a new, simplified skincare brand on the market that's run by men, for men. Sick of using their partners' products (and equally, sick of being scolded for doing so!) the Aussie made brand is the brainchild of three mates – Chris Mushan, Dougie Joseph and Nick Mallet – who put their heads together to launch their passion project at the start of 2020.

The straight-up, no muss, no fuss, three-step skincare system is targeted at guys worried about the health of their skin and is not only easy-to-use, but effective and ethically friendly. Best of all, Bondi Skin Co makes it super easy for men to get pumped about using skincare, and more specifically, about fighting the signs of ageing.

To get the full story behind Bondi Skin Co, we sat down with the boys to find out more about this game changing new beauty brand for men…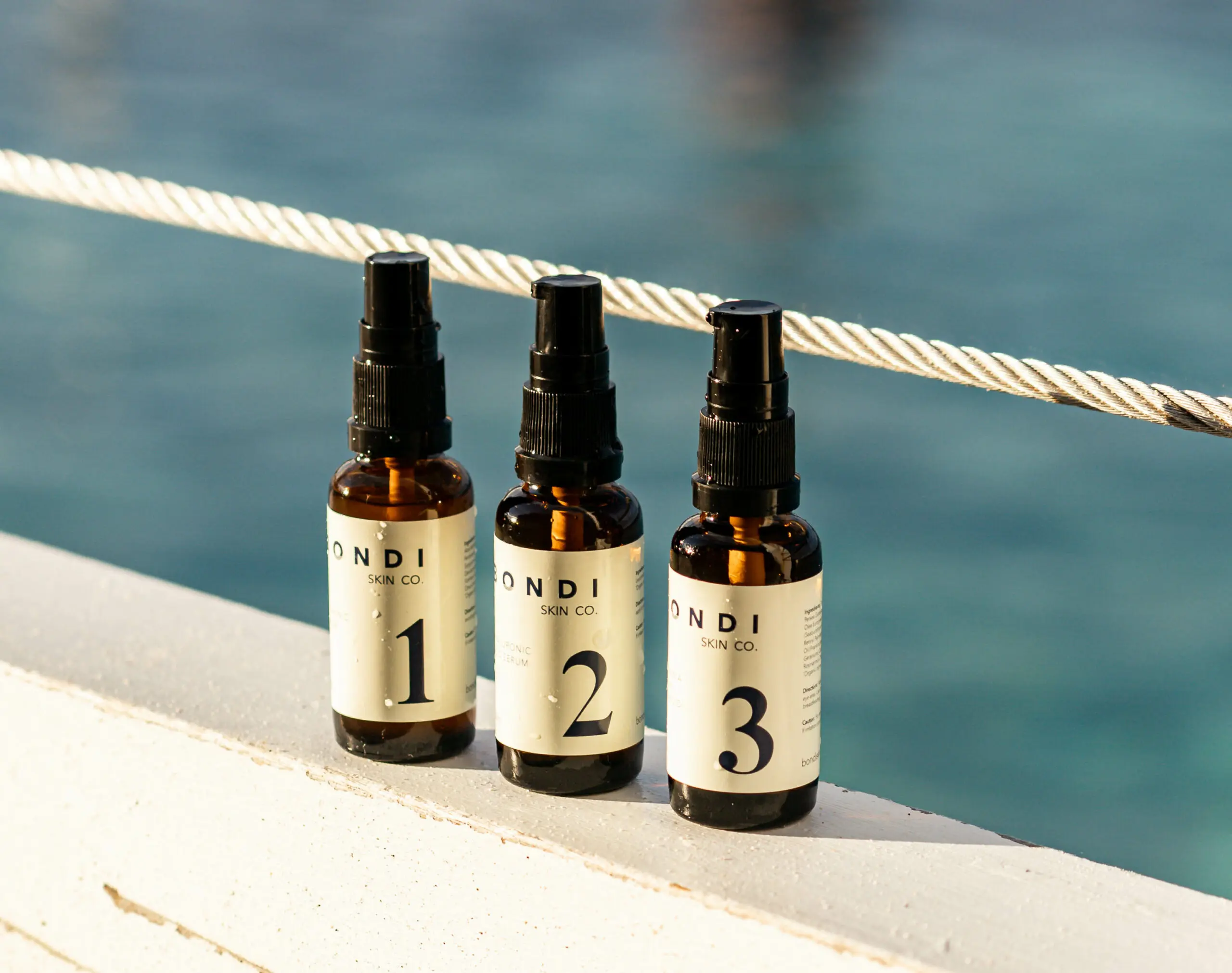 What's the story behind the brand?
We are three best mates from high school that have known each other for 15 years. As we grew older, we began to pay more attention to our skin and how we looked after it. We found ourselves constantly using our partner's products because we felt there was an absence of male skincare brands that we could identify with that catered to our needs. There are of course male skincare brands out there, but without a solid understanding of the ins and outs of skincare, it was hard to know what products you really needed. Men are typically less educated when it comes to skincare, so we felt that they could benefit from a brand that prioritised simplicity and ease of use, without sacrificing on quality and effectiveness.
Give us a lowdown on the Bondi Skin Co products:
Men are predominantly concerned with anti-ageing, and when it comes to how to tackle it, it's hard to look past serums. Serums are lightweight solutions that deliver powerful active ingredients deep into your skin. They're typically lighter than oils and creams, allowing them to better penetrate the surface of the skin and address the underlying issues. Our three serums (Vitamin C, Hyaluronic Acid and Vitamin A retinoid) are renowned for their anti-ageing benefits:
Vitamin C is a powerful antioxidant that helps defend against environmental aggressors such as UV and pollution, and can reduce redness, dark spots and under-eye circles, promoting a healthier overall complexion.
Hyaluronic Acid is a naturally occurring compound in the body that attracts and holds onto moisture in skin cells, promoting overall skin hydration. It is well known for alleviating dry skin and reducing the visibility of fine lines and wrinkles.
Vitamin A (retinoids) help bolster collagen production and facilitate skin cell renewal, and are also known to help reduce the appearance of acne, sunspots and wrinkles, resulting in a more even, smoother skin tone.
All of our products are natural, Australian-made, vegan, cruelty-free as well as sustainably produced and packaged.
Who are the products ideal for?
Bondi Skin Co is a men's skincare brand for blokes who want to walk around with younger, more vibrant looking skin. Our consumers typically range from 18 years old up to blokes in their sixties. Our point of difference is that we provide a simple, three-step solution to anti-ageing that is natural, effective, ethical and sustainable.
Shop the range here.