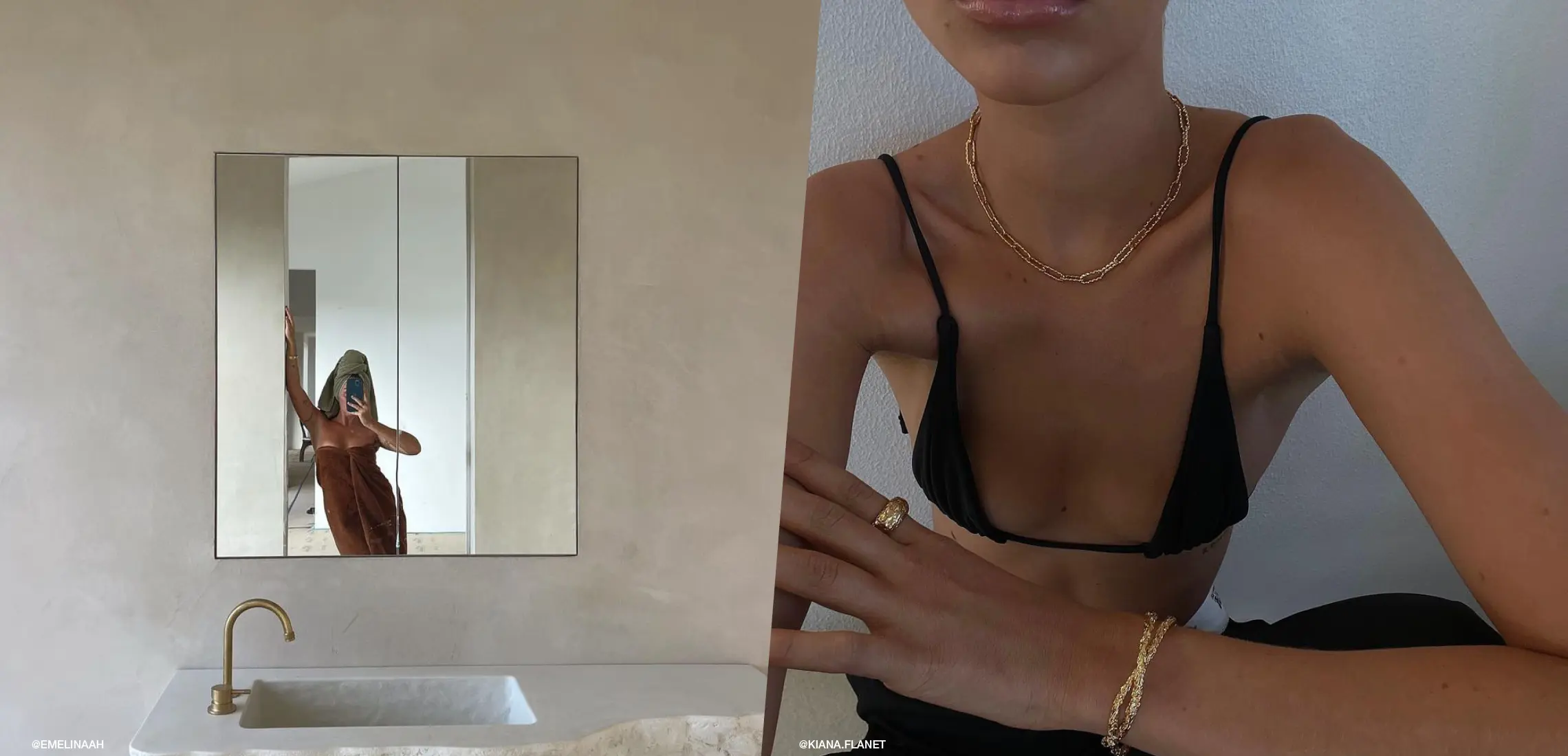 Hit Refresh With Brisbane's Best Skin & Body Treatments
Love the skin you're in
By Style Journos | 3rd March 2023

Keeping ourselves in tip-top shape from head to toe can be quite the daunting task. From maintaining our skin's glow factor to sculpting our bodies just as we like it, there's quite a vast playing field to work with. Oh boy, where do we start?

Lucky for us, the beauty folk of Brisbane have rolled up their sleeves and sharpened their skills, offering an incredible array of skin and treatments for every shape, size, and style. From facials to fillers, and everything in between, the choice is yours when it comes to booking in a pamper that will leave you with some seriously jaw-dropping results.

Whoever said beauty is skin deep has never tried the premium selection our lovely city has to offer, which is why we've found the best skin treatments in Brisbane.  Forget we are what we eat – we are what we treat ourselves to!

By the way, we consider everyone in this list the best of the best! To make finding your next favourite that much easier, we've ordered the list alphabetically by suburb and also have filtering tabs for your convenience. Did we miss someone from the list? Let us know here! Hide the form

FILTER BY

All
All
Brisbane CBD
North Brisbane
East Brisbane
South Brisbane
West Brisbane
Gold Coast
Noosa
Sunshine Coast
Ascension Cosmetic Medicine
New Farm
At Ascension, beauty is their passion, and it shows! Nestled in the leafy streets of New Farm, this luxury boutique clinic exudes an aura of relaxation and offers a host of innovative, non-invasive treatments designed to make you look and feel your best. Committed to providing modern aesthetic treatments tailored to your needs, experienced cosmetic physician Dr Scott Allison and the expertly skilled Ascension team personalise each treatment to the client's unique goals and concerns. Constantly adding new treatments to their list of services, recent additions include PRP and skin bio-remodelling injections that are designed to stimulate collagen produce and decrease fine lines and winkles, and the remarkable results speak for themselves!
View this post on Instagram
Heavenly® Spa by Westin
Brisbane City
Escape into a calming space for all the senses at The Westin Brisbane's Heavenly® Spa. Designed to offer immediate relief once you enter and complete renewal when you leave, Heavenly® Spa is the much-needed reprieve you've been searching for. Tucked away in the heart of the CBD, this tranquil sanctuary combines restorative spa rituals with results-oriented treatments, so you can replenish your mind and body at ease. Our pick? The luxurious Heavenly Dreams – a full-day experience made for top-to-toe rejuvenation, including a mineral wellness hydrotherapy bath, invigorating ocean salt scrub, and a relaxing signature massage, plus a facial and pedicure to wrap up. Oh, and did we mention Heavenly® Spa guests have access to Nautilus Pool Deck, complete with the city's only swim up pool bar,  WestinWORKOUT and the Westin Club Lounge? Yep, if you need us, you'll find us here!
View this post on Instagram
MAKaesthetics
Holland Park
Specialists in body contouring and sculpting, MAKaesthetics are your pain-free ticket to a smoother, firmer bod. Encompassing a holistic approach to skin and body care, the team aims to support your body's own harmonisation by focusing on more than just aesthetics. Working with clients to improve inner health and wellbeing, MAKaesthetics offer manual and mechanical forms of detox and biohacking therapy to ensure you look and feel great from the inside out. From their popular 'Abdo Package' which involves a combination of Fat Reduction and Skin Tightening across the abdomen, to teeth whitening, EMS, scar reduction, and their Vacuum Detox Therapy which assists the body in it's own detoxification of liquefied fats and toxins, their body treatments are sure to have you feeling streamlined, refreshed, and strong in no time. While the team promotes multi-modality treatment for optimal results, they carefully create a unique plan for each client to suit their desired outcome, concerns, and budget.
View this post on Instagram
Beauty Boost
Windsor
Skin feeling dehydrated, dull, and deflated? Bio-remodelling at Beauty Boost Aesthetic Clinic may be just the ticket for you. One of the best holistic skin treatments on offer, bio skin remodelling delivers the highest concentration of hyaluronic acid on the market directly into the skin for natural tightening, improved hydration and texture, minimised fine lines, and the acceleration of your very own collagen production. For Beauty Boost's founder Samara, this treatment is a particular favourite as it not only works for all skin types and ages, but it's also undetectable. With seven years experience as a cosmetic injector, Samara's specialty lies in less-is-more treatments that enhance her client's natural features, which is what bio-remodelling is perfect for. So what are you waiting for? Your new and improved, 'I-just-got-back-from-holiday' complexion is simply a click away.
View this post on Instagram
Derm Haus
Annerley
Known as the home for youthful, radiant skin, this clinic boasts over 100 five-star reviews and a reputation for being one of Brisbane's finest. Trained in the latest technologies and techniques, the staff is made up of highly-skilled dermal therapists and registered nurses who are passionate about achieving their client's desired goals and enhancing their natural beauty. Their most popular treatment, a six-week Body Rejuvenation Program, is a hit for a reason: it treats the appearance of stretch marks, repairs damaged tissue, and firms and smooths the skin. What a triple threat! Ideal for those experiencing weight fluctuation, new mums, or anyone just seeking a little R&R, you won't regret booking an appointment.
View this post on Instagram
Inigo Cosmetic
Fortitude Valley
Leave your skin and body concerns at the door of this premier cosmetic clinic where luxury aesthetic care is their forte. Inigo Cosmetic offers a wide range of advanced cosmetic technologies, from body sculpting and fat reduction, to skin tightening and intimate rejuvenation. Both men and women are warmly welcomed to experience the difference at Inigo, whether it's for body contouring using EmSculpt NEO, anti-ageing using the latest state-of-the-art EmFace, or skin rejuvenation using Morpheus8 radiofrequency skin micro-needling. Whatever your reason, the expert team here pride themselves on providing bespoke treatments tailored to your desired goals and aesthetic, so you can rest easy in the private and relaxing environment, knowing you're well taken care of and well on your way to dream results.
View this post on Instagram
KAILO
Fortitude Valley
Want to be treated by the best? You're in the right place. From the moment you walk through the doors of this skincare sanctuary, you'll feel transformed. An experience unlike any other, KAILO offers exclusive and advanced skin and body care treatments that will leave you radiant from top to toe. With experienced therapists and aestheticians that strive for excellence in everything they do, the KAILO team offer everything from detoxifying lymphatic massage to nutrition and wellness advice, cosmetic injections, cutting edge facials, naturopathy, energetic healing, vitamin infusions, and ayurvedic treatments, as well as their own supplements to keep you feeling revitalised. The ultimate skin and body destination, no matter your concern or beauty craving!
View this post on Instagram
SkinSpirit Day Spa
Tarragindi
Let your stresses float away as you envelope yourself in a calming, relaxing, well-being treatment like the ones found at SkinSpirit Day Spa. Incorporating a luxe environment, healing music, and experienced skin therapists, SkinSpirit's skin and body treatments are thoughtfully designed to treat your mind, body, and soul.  From relaxing massages to full body treatments as well as maternity packages and facials, SkinSpirit's extensive menu offers premium experiences for a range of needs. A small boutique space celebrating 20 years in the industry this year, Director Michelle Vasiliou and her team are dedicated to their craft, providing an indulgent experience, and ensuring you invest in the health of your skin, body, and well-being. Prioritise your skin this year – you'll love the results, inside and out!
View this post on Instagram
The Aesthetic Collective
Northgate
Located in Brisbane's north, this injectables and skin clinic is made up of an experienced and passionate team who seek to empower all who step foot in their space! With an emphasis on delivering fantastic results and making every experience relaxing and comfortable, it's no surprise The Aesthetic Collective has garnered many loyal, long-term patients. Not sure where to start? Begin your journey by taking advantage of their complementary and in-depth consultations, where you can discuss your aesthetic goals and foster a relationship built on trust with your medical practitioner, before receiving a personalised treatment plan across their array of rewarding skin and body treatments. 24/7 confidence awaits!
View this post on Instagram
Australian Skin Clinics
Multiple Locations
From micro-needling, LED Light Therapy, Cosmelan, PRP, Cryo Fat Freezing, Fractional RF, microdermabrasion, and more, you can be sure that Australian Skin Clinics is your go-to for all advanced, results-driven skin and body treatments. With over 26 years experience delivering real skin transformations, this team of fully trained technicians, nurses, and doctors, are dedicated to their craft, and have a passion for delivering optimal outcomes for every client that walks through their doors. Our favourite treatment? Microneedling with Fractional RF, combining radio frequency and micro-needling. Perfect for overall rejuvenation and tightening, this minimally invasive treatment combines two proven technologies to induce a powerful healing response in your skin, targeting fine lines, wrinkles, loose skin, acne scarring, stretch marks, and enlarged pores. But for whatever skin concern you're experiencing, Australian Skin Clinics are determined to help you solve it. Book a consultation and let these experts take you on a journey to your new, next-level glow!
View this post on Instagram
Pêche
Teneriffe
Looking and feeling your best means having confidence from head-to-toe, and that's the kind of positive attitude you'll witness at Pêche. With a number of body treatments such as fat freezing, HIFU body sculpting, cellulite treatment, and skin tightening, you'll love the difference you see in the mirror. Specialising in reducing and sculpting those stubborn pockets of fat found on the stomach, chin, inner and outer thighs, hips, arms, and more, the CLATUU® fat freezing treatments here can permanently kill up to 30% of fat cells in a single session, while the HIFU body treatments can redefine your self-confidence by firming and tightening areas of concern. Book a free consultation and start your transformation to a happier you in 2023!
View this post on Instagram
Angel Aesthetics
New Farm
Are you curious about PRP but haven't given it a try? Well, 2023 is the perfect opportunity to let your radiance shine through with the help of Sylvia and her team at Angel Aesthetics. With a commitment to providing exceptional care and expertise, they prioritise not only enhancing your appearance but also boosting your confidence. Their top requested service, PRP or Platelet Rich Plasma, involves injecting your plasma with a higher concentration of platelets into your skin. This treatment promotes faster healing, smoother fine lines, increased hydration, and overall improvement in skin health. With Sylvia's extensive experience having completed over 10,000 treatments in Queensland, she is undoubtedly a leader in the field. Clients from all over are drawn to Angel Aesthetic's unique approach, allowing you to feel valued and secure in their capable hands.
View this post on Instagram
Body Beautiful Retreat
Wilston
The road to results is paved with relaxation and confidence at this premium skin and beauty salon that offers a chance to rest, restore, and recharge. Your completely customised treatment at Body Beautiful Retreat is designed to suit your every need, honed by the expert skill of their beauty and dermal therapists who are all about a carefully curated approach. From hair removal to massage therapy, and their signature DMK enzyme facials which works to rebuild, protect, and maintain your skin's youthful state, BBR serves as your home away from home, where a commitment to self-care and holistic wellness will whisk you away to inner peace. You really can have it all with Body Beautiful Retreat!
View this post on Instagram
Beyond Spa at TotalFusion
Morningside, Springfield
Designed to empower you from the inside out, this beautiful space houses luxurious and unrivalled treatments at the forefront of the wellness and beauty industry. From nourishing recovery facilities to soothing muscle therapies and essential body maintenance, every detail of Beyond TotalFusion has been carefully curated to help you relax and reset with ease. Don't know where to start? The highly skilled therapists here are well-versed in embracing a personalised approach to your unique needs, ensuring you can make the most of this world-class environment at every visit. Beyond TotalFusion in Morningside and Springfield serves as a true mecca for self-care – one that needs to be experienced first-hand to discover why combining ancient traditions with innovative techniques really makes all the difference!
View this post on Instagram
Want to level up your beauty regime? Find more of Brisbane's beauty and cosmetic specialists
here
.