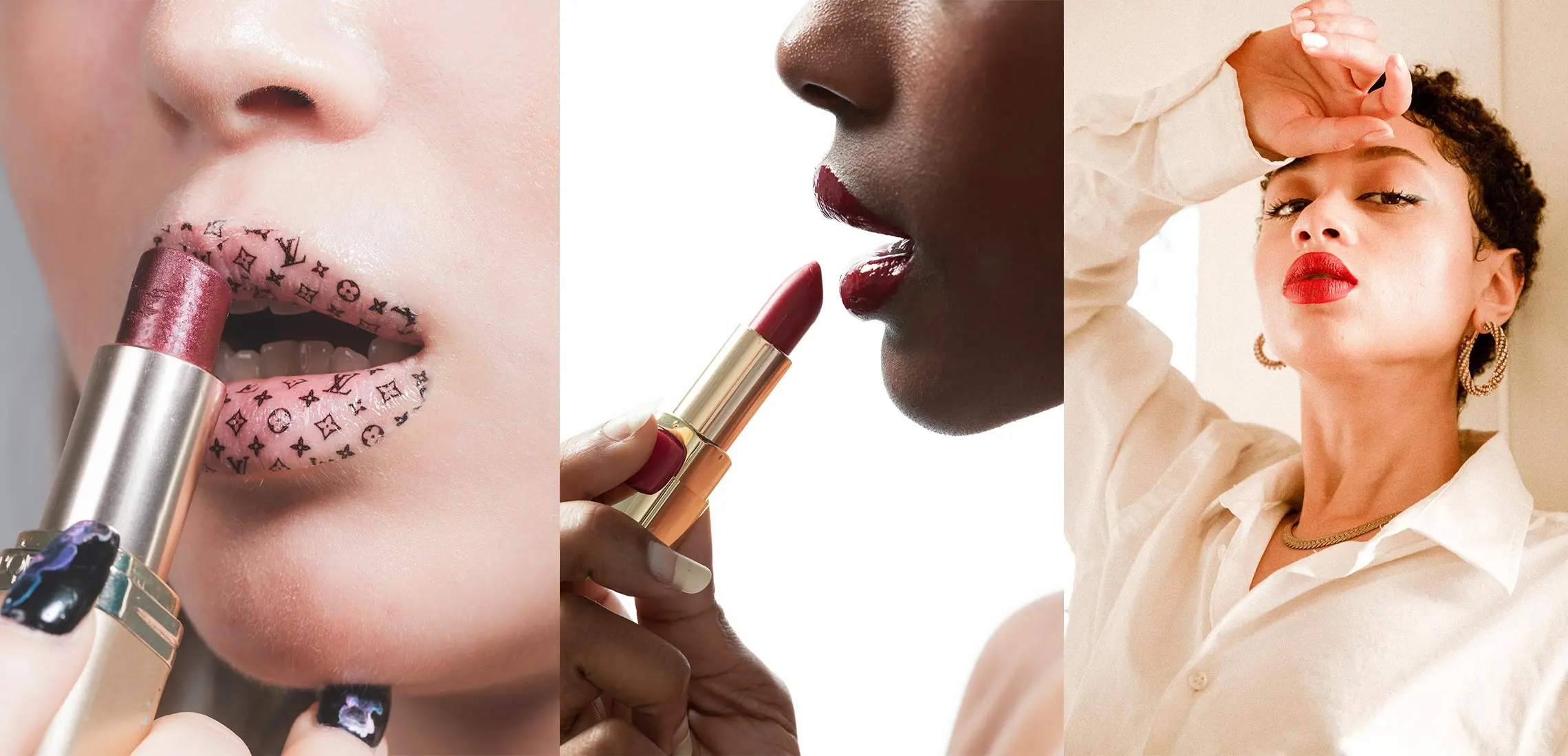 Tricks & Trends From BNE Salons
Their lips aren't sealed!
By Dinushka Gunasekara | 9th July 2020

With the first half of 2020 gone in the wind (good riddance), we want to face the rest of the year with our best look forward. That's why we went straight to our local beauty experts who know us best, to discuss all the tricks and trends we need to know. From fluffy brows to leg veins and everything in-between, the place we call home has us covered from head to toe.

The clinic on everyone's lips is the multi-award winning and home to some of Australia's most experienced injectors who perform over 2,000 treatments per month. And we mean that literally; not only is Cosmétique the go-to for lip fillers in Queensland, South Australia, Victoria and Western Australia, but most patients find them through word-of-mouth. It's easy to understand why – their gorgeous results that meet all desired aesthetic goals truly speak for themselves.

The lip filler process is pain-free and seamless. In the initial detailed consultation, your injector will evaluate the aesthetic anatomy of your lower face and will combine that with the lips you want – whether that's a subtle smile or obvious pout – to create the perfect plan. With the use of premium and ultra-premium dermal fillers, the result is naturally plump-looking lips that last for longer. Your injector will also use nerve blocks to ensure you only feel the way you truly deserve to feel.

Cosmétique take you all the way from A-Z with detailed aftercare provided and follow up appointments offered post-treatment. Always abiding by the principles of professionalism and utmost care, the look you've always wanted is waiting to be found here.

In the cosy and distinguished Harbour Medispa, we chatted to founder and cosmetic nurse, Jo Wilson, about their total face approach.

Hi Jo, tell us a bit about yourself…

I'm a former children's nurse who now focuses on cosmetic and lifestyle with a wellness twist at Harbour Medispa. All of these elements go into having a life where you look well, live well and feel well.

When did you become interested in the beauty industry?

I wanted my career to have a meaningful impact on women's confidence. After a trip to New York and London, I was inspired by the medispa concept because it allows you to have medical treatments not in a hospital, but in a relaxed, luxurious environment. Multiple modalities with one goal – beauty and wellness – is what I had in mind when I arrived back into the country. Looking well and feeling well are synonymous.

What's the Harbour Medispa experience?

I treat the face as a whole using the dimensions of the beauty golden ratio. I strive to attain the Angelina Jolie-look – her ratios are close to perfect while still looking natural! I also focus on women and offer a niche personal service in a tucked-away, luxurious environment. I find women like to spend time with a nurse; there are lots of questions I can answer in a private environment and it's a nice place to be where we can just be women.

What cosmetic treatments do you recommend in winter?

Medical peels and beauty boosters! A double chin fat reduction is also best in winter as you can wear a scarf to hide the redness.

What is your best advice for those considering cosmetic treatment?

Don't listen to anyone who tells you that you shouldn't have a cosmetic treatment. Don't feel guilty; it's your skin and you can choose to prevent wrinkles and keep your youthful look. When it comes to the clinic, choose a reputable place that puts your safety above all else.

When your teeth are being a pain in the mouth, all you want is for someone to see straight to the root of the problem, right? Well, when you book an appointment with this highly trained dental team, they quite literally do just that.

The use of 2D imaging is the standard in the dental world, just like listening to patients, performing physical examinations and asking every single client, "When was the last time you flossed?" Having clear and comprehensive imaging is integral as it ensures a more accurate and thorough diagnosis. While 2D imaging technically meets those requirements, better is always best, which is why James Street Dentists has taken it to the next level with their 3D imaging.

Being treated with 3D dentistry helps support better diagnosis and therefore better treatment. The imaging machines used at James Street Dentists also reduce exposure to radiation, produce a crisp resolution and a single scan is all it takes for your dentist to see pathology, infections, nerves, muscles and bone. There's also the option to superimpose facial photos over the 3D image to give you an overall better understanding of your body and health. It's just one of the many ways that James Street Dentists take the dread out of going to the dentist.

The team at James Street Dentists have embraced 3D technology so much that they have even incorporated 3D printing into their daily practice. It's all part of the comprehensive dental service they provide to all their patients. From prevention to general dentistry, these dentists will truly understand your issue from the inside out so they can offer the best solution. The difference not only means complete relief for you, but the experience will be a standout for all the right reasons.

Amongst a beautiful, breezy and boutique vibe sits Luxe Beauty Bardon. Headed up by owner, Ange, we discovered why Aquapure is the next big thing in facials.

Tell us a little behind the beauty?

I've always been passionate about self-care and skin care. As a teenager, I always wanted to look after my skin and beauty seemed like the right choice. I'm very much a people person and love to build rapport with my clients. Over years working in the industry, I have become even more passionate about it. The beauty industry is always growing and changing – it keeps me interested. I love to be able to help other girls and women look after themselves and feel good.

I am a mum of three boys and always wanted to eventually own my own business so that I could have more control over the days and hours that I worked. I'm a big believer in the work/life balance and having time with family. Alex, who works alongside me, also has a family, and we work well together to make sure we're putting enough into the business while also having our days with our loved ones too.

Do you specialise is any particular treatments?

We do specialise in waxing and spray tanning, as we have done so much of it over the years. The reason our prices are low for waxing is because we can get our waxing done efficiently and effectively in a shorter time frame, which I believe comes down to experience. We are building our skin care treatments to be our new speciality. With the new technology and skin care knowledge out there, we want to make sure our clients are getting the best treatments and getting great results.

What is Aquapure?

The Aquapure facial is a non-invasive, hydradermabrasion facial that helps clients achieve clearer, more hydrated, radiant-looking skin using advanced technology. The machine comes with a range of different handheld pieces that allows us to target different skin concerns. During an Aquapure facial, you can expect a powerful deep-cleansing facial that also infuses serum deep into the skin for a more rejuvenated and hydrated skin. The Aquapeel removes dead skin cells and oil build up and thoroughly cleanses the skin whilst promoting cell renewal and hydrating the skin. The micro current handset lifts and tightens the skin and promotes collagen and elastin production. Lastly, the cooling/heating hand piece helps soothe the skin. This treatment is suitable for all skin types and concerns. Whether it's congestion, dehydration, ageing or uneven skin tone, the Aquapure facial gets great results. Even after one treatment the skin is smoother, plumper and more hydrated.

What's the Luxe Beauty Bardon difference?

I think for us, although we are a new business, we are not new to the industry. We have been in the beauty industry for some time now, so we have a lot of experience and knowledge around beauty. We've seen what works and what doesn't, and our aim is to stay relevant, stay with the trends but be able to cater for all clients of all ages, and to use our experience to best serve our clients. Luxe has a beautiful, breezy, boutique vibe; we want all our clients to feel comfortable and enjoy coming to the salon. It's aesthetically pleasing and has a nice relaxing vibe.

What's next for the Luxe team?

Right now we are focusing on our new additions, our Aquapure, LED light therapy and our Clatuu fat freezing and body contouring treatment. We also have a doctor once a month at Luxe offering cosmetic treatments and we will aim to keep providing our clients with the utmost respect and care they deserve.
Your Beauty, Enhanced | MBODY Aesthetics
Something that empowers you with confidence and helps you find strength in any sensed flaws is worth embracing, and that's exactly what shines under the new light taken on by leading cosmetic injectables and body contouring clinic, MBODY Aesthetics. Fueled by their desire to embody the beauty of individuality, MBODY is moving forward with an all-encompassing approach that will leave you with a glowing self-image entirely based on your given beauty.
To help them spread their passion for people, directors Sharni and Ken have recently unveiled a second, gorgeous clinic at the Emporium in Fortitude Valley. Their latest luxurious location complements their vision of a boutique offering with bespoke treatment platforms and will work alongside the Kedron space to deliver meticulously exceptional results that are natural and harmonious. By expanding their footprint in the aesthetic space, MBODY can further share their dedication, skill and experience to help even more people absolutely adore the body they're in.
Winter is the perfect time to get into shape and, with MBODY's individualized treatment plans, your whole body will experience nothing short of extraordinary. From specified body contouring with the revolutionary EmsculptTM to their tailored HydraFacialTM packages, the lives of MBODY patients are transformed in truly positive ways.
Say 'bonjour' to your favourite Parisian beauty escape because she's looking a whole lot more glamorous. After years of masterful training, studying ingredients and collecting all the best tools and treatments, Shelley Veitch has finally met all of France's strict criteria to call her business an authentic French Day Spa. This means she's bid adieu to La Spa Parisien and unveiled Phytomer Le Spa – Luxury French Day Spa.
French beauty is the epitome of effortless elegance and, within the cosy and chic space, you'll find the unique and traditional French-based experiences to relax your way to casual cool. Earlier this year, Shelley flew to France to immerse herself in the beauty of the nation and left as the Queensland Flagship Urban Day Spa of the prestigious pioneers in marine cosmetics, PHYTOMER. From indulgent massage movements to specific rollers and the latest in European equipment, the wide range of luxurious treatments she's brought to Brisbane will be sure to have you oohing and aahing.
While the collagen eye treatments, cooling globe massage and warm aqua therapy massage mats are a treat all-year round, in the colder months, it's important to stimulate the lower layers of the skin to get the blood, oxygen and nutrients up and feeding the surface. Phytomer Le Spa's Vie facials and face-lifting buccal massage does just that and when paired with a nourishing body exfoliation and Vichy shower massage completed in the traditional French way, your immunity will be boosted too.
Beginning with a full consultation through a skin scanning machine to see deep into the layers of your skin, and finishing with a soul-replenishing experience that will fill your internal cup to the point of overflowing, you'll also be privy to the best kept secrets to achieve the French allure every day.
Let's be real: putting your complete faith in someone to change an aspect of your face is scary. You know your face; you've lived with it your whole life! But when you have to lie back, close your eyes and trust that each touch is put in the right place, worrying is more than understandable.
So, it's a good thing Preah is worth putting your trust in.
The woman behind Brisbane's most gorgeous fluffy brows is now accustomed to her clients' awestruck expressions when they sit up and see how authentically stunning their new brows are. Armed with all the right tricks and flicks, the cosmetic tattooist ensures each stroke is positioned to perfection so not only will they come together to create natural and dreamy brows, but they will also enhance your features.
Your comfort is of the utmost concern, whether that's being comfortable in a space with the highest hygiene standards, comfortable with Preah like you're hanging out with an old friend or comfortable under your new feather-touch arches. Her stellar services are both painless and popular so you might want to check your calendar now because her vast and loyal clientele have her booking two to three months in advance!
When we're feeling aligned, our energy is completely different, and it shows. No one knows this better than Michelle Vasiliou, director of SkinSpirit Day Spa who told us all about how taking care of your inner world beautifully affects every cell in your body – skin included.
How does the mind and spirit affect beauty?
Our inner world directly affects our outer world, and this affects our perception of beauty. Beauty isn't only what's applied on the outside, but a feeling of wellbeing and connection radiating from within. Just like after an amazing holiday, we've had a chance to reset and realign our inner and outer worlds, evident in our holiday glow. Enjoying a spa treatment with us has a similar effect on your inner and outer glow.
What were the common skin problems experienced during isolation?
Many people reported breakouts even if they don't usually experience this and many found their skin was not glowing like usual. We know stress effects hormones in the body and can cause imbalances in the skin. The most important priority is to treat the skin as it is currently, and this may mean changing up your skin care routine.
What treatments would you recommend post-isolation?
We recommend having your skin therapist reassess your skin to see what priorities you currently have and then making changes to suit. The skin routine you were following prior to lockdown may not be what you require post. We recommend our Hydro-Microdermabrasion and Lightstim LED Light Therapy treatment for total renewal, to boost your skin cells and increase radiance. This treatment is customisable to treat acne, congestion, dullness, dehydration, fine lines and wrinkles.
What are your best tips for a mid-year beauty revival?
Book a professional facial treatment and ask your skin therapist for a recommendation giving you the best results. Look at your home skincare and, if you aren't getting your desired results, make adjustments. We've created a Skin Revival Medi-Package perfect for a skin pick-me-up, which is available this winter to assist with skin renewal. We always add in extra inclusions to all our treatments to totally relax the mind and body, providing you with complete serenity.
A cut above the rest amongst major shopping centres and widely recognised as one of Queensland's best hair salons, there's no doubt the Stefan brand is a household name. So, it was no surprise when Brisbane hairdressing tycoon and owner of Stefan Hair salons, Stefan Ackerie, was awarded crowning glory – the top honour of Member of the Order of Australia. Recognised for his contribution to philanthropy and business, Stefan feels this award symbolises how other industries are just as important, "It is not just reserved for doctors or scientists, but tradies too," he says.
The Stefan brand employs over 500 staff including 120 apprentices each year. When asked about training, Stefan says, "Our stylists learn from the best in the Industry with training that is second to none. We partner with L'Oreal Professional – the best colour in the world. Training is and has always been our number one priority!"
The mane man dedicates his award and his service to the industry, incredible staff, loyal clients and wonderful company culture. Having seen many trends come and go, we thought we would ask Stefan what is happening in the hair world and his answer was simple: "In the 70s and 80s, perms were huge! Everyone wanted a perm. Now it's beautiful balayage, foils and fashion shades and these beautiful colours can be achieved to compliment every style and face shape. We use the number one colour range in the world, Loreal Professional, to give hair a healthy glow. But we must never forget a hairstyle must suit you and your lifestyle, be easy to manage and affordable to maintain. Healthy hair never goes out of style," he says.
Stefan has always been recognized as the leading trainer in hairdressing in not only Brisbane, but the whole of Queensland. For Stefan there are no obstacles, only beautiful new beginnings. COVID-19 has created an opportunity of exciting new training programs that Stefan is introducing in 2020 for hairdressers throughout Queensland.
Style Magazines has partnered with Stefan salons for the last 10 years and we are proud to be connected with such a Queensland icon, to no ends!

Brisbanites are very fortunate to have a climate which means shorts and skirts are in rotation across all seasons. For those living with noticeable veins on their legs, clothing options might be limited due to self-consciousness, so they hide their legs under trousers or maxis. For others, they might not have issues with appearance, but instead suffer from aches, swelling and restlessness. These symptoms can be exasperated during the heat of summer, making the Queenslander lifestyle we're renowned for something to be dreaded rather than enjoyed.
Regardless of which category they fall into, when the patients at The Leg Vein Doctor have their final review following successful treatment, they often wish they had come in years ago! Like with many medical and cosmetic treatments, multiple sessions may be required in order to achieve optimal results and therefore planning ahead with appointments and commencing treatment in the cool of winter is a popular choice.
Being proactive about your venous health by booking a consultation can help you avoid venous ulcers and skin damage. Or, it might just be what you need to boost your confidence and ditch the sarong next summer. Whatever your reasons for making an appointment, Dr Kemp and his team are here to help.
When you think about it, your hairdresser is your go-to date for so many milestones and events. From weddings to birthdays and everything in between, you share a truly special bond, which is why at Tribe Hair you're always welcomed as a cherished friend. Led by owner and hair expert, Nikki Gunn, your appointment will ensure you can style your fresh hair at home for non-stop glamour in between appointments. We sat down with Nikki to learn more about what it takes to make a great cut…
How did you develop your creative style?
Well, my passion started young! From cutting all my Barbie doll's hair when I was a kid to working in a salon on a weekend and every spare moment I had while at school. I've been in the industry for 20 years and my creative style has developed and grown during my time in the industry. It has always been heavily influenced by the trends in hair at the given time.
Do you specialise in a particular style?
We have two signature styles: long lived-in blonde and short, sharp and clean blonde bobs.
What have been some career-defining moments?
Taking part in fashion week is always a highlight! I love seeing both hair and fashion meet in harmony. However, a career defining moment for me has definitely been finally opening my own beautiful salon – I should have done it sooner!
What challenges have you faced as a business owner?
Being a small business owner always comes with challenges, particularly in the early stages. As hairdressers, we are all guilty of working in the business and not on the business. The down time during COVID-19 gave me an opportunity to sit back and reflect on my first few months in the business and get all the back of house things that usually get forgotten about aligned and in good order. I now allow regular time in my schedule to make sure I am working ON my business!
What do you love most about what you do?
There is no better feeling than pampering people, making them feel like a million dollars and seeing them walk out with a new confidence! As hairdressers, we are so lucky to be part of so many special life events. I have beautiful clients who I have been through weddings, birthdays and babies with and now do the whole family's hair! This is a really special relationship and I feel so privileged to have this bond with them.
What's the "Tribe" difference?
When you come to Tribe, it's like being welcomed into a friend's home. The Tribe difference is all about you! Everything we do is about tailoring our approach to the guest in our chair. We want to give you a look that works best for your hair, your lifestyle, your budget and your personal style. It is always crucial that we align all of these things. By doing so, we have happy guests who have great hair that looks great for as long as possible.
Looking for something to elevate the heart rate and move your body?
Your Body, Your Way | Pilates 26
We live in our bodies our whole life, so it's important to take care of it. Whether it's harnessing your strength, ability or motion, your body's limits are for you to decide. And – to help you be your best – there's a dedicated Reformer Pilates Studio within the historic former Mowbraytown Church Hall that will do just that.
Headed by dynamic husband and wife duo, Alison and Damon, Pilates 26 is a judgement-free training environment for everybody and every body. Under the expert guidance of their caring trainers, you'll spend each class reaching towards your greatest form through a 45-minute workout customised to your personal fitness level and strength. With a boutique offering, there will be no need for secret breaks in the back corner of the class as the team will take the time to understand your physical journey and will support you all the way. You'll be challenged, inspired and motivated to knockout all your fitness goals, and you can also finish up with a post-pilates coffee because they have their own espresso bar!
Pilates 26 knows you'll be coming back for more, which is why they're currently offering unlimited classes for $39 per week. With a six-month minimum term, seize the opportunity to make a commitment to yourself to tone, strengthen and feel great.
At TotalFusion, their entire brand philosophy revolves around movement as a way of life. Movement helps promote physical health, mental wellness and gets us off the couch when we could easily Netflix for days. For their team, it's less about pushing people to move out of a superficial 'need' and more about encouraging their members to 'want' to move as a way of celebrating what their bodies can do! With toning, sweat and meditative offerings, the team invites members to explore a wide range of group based classes including reformer, yoga, functional, run club, cycle and fusion (hybrid) sessions.
TotalFusion's unique model encourages members to experience various styles of activity in any given week. Adding variety to movement and routine helps keep things exciting and encourages constant exploration. So, if you're thinking of joining your local TotalFusion space, you'll become a member of an entire tribe focused on optimising their health and having fun in the process! The team also seek to educate their members at every step of their wellness journey by providing access to virtual training options, masterclasses, retreats and courses all designed to empower their crew and comrades to be the best version of themselves.
The Top 3 Benefits of Total Fusion:
Increases your mood: It's no surprise we all feel good after a workout! The pleasure effect associated with endorphins is related to the increased dopamine production that occurs due to activity.
Strengthens our bones: Moving every day also does a remarkable amount to our core physical wellbeing. The more we move, the denser and damage resistant our bones become.
Boosts brain function: Walking 30-40 minutes a day three times per week can help "regrow" the structures of the brain linked to cognitive decline in older adults. If you're working from home or tend to sit more often, make an effort to take walks.