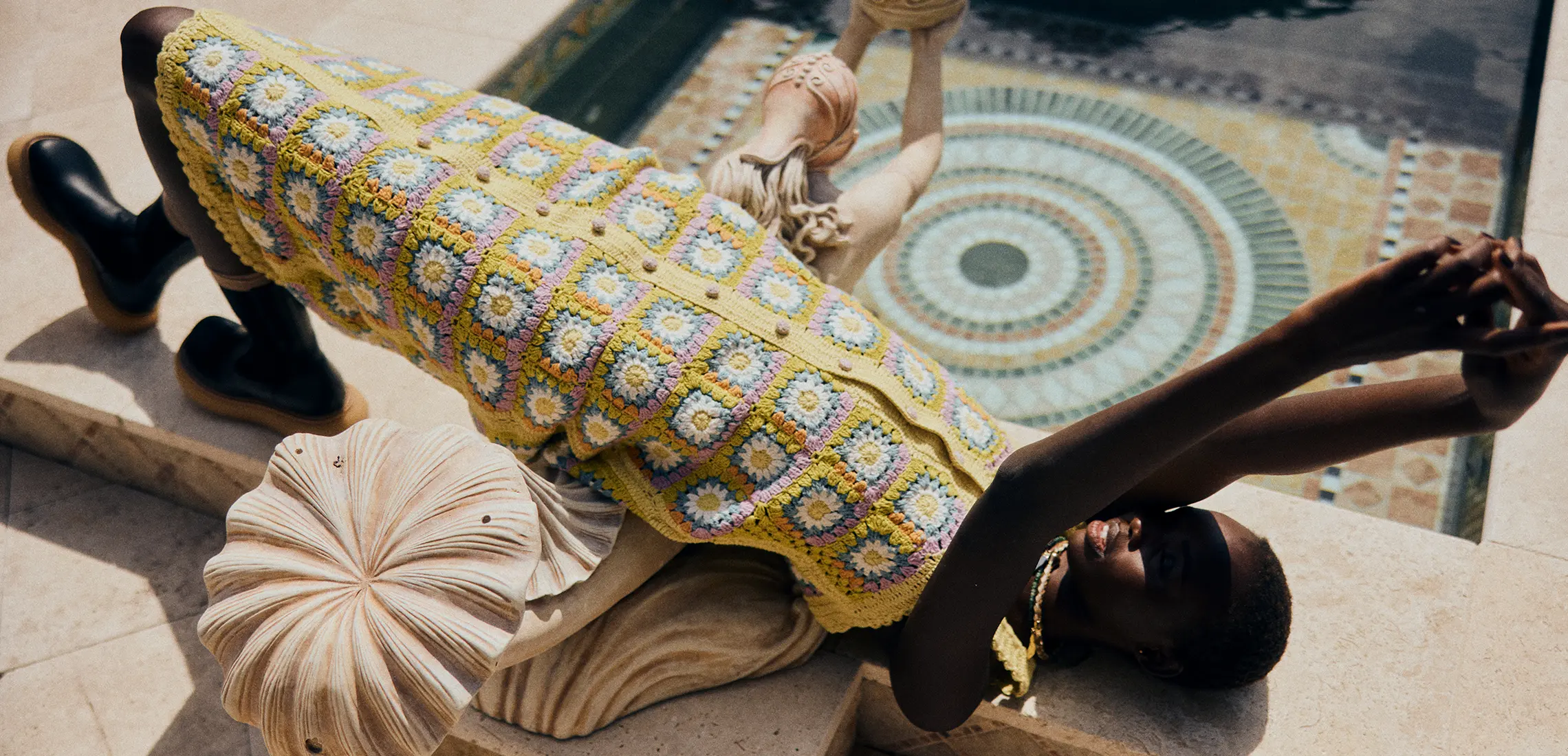 Swan About Like A Greek Goddess In ALÉMAIS' Latest Collection
A modern mythology
By Guest Styler | 19th May 2022

Named after the goddess of women, ALÉMAIS' latest collection, Hera, takes us back in time to ancient Greece, where the lore of mythical themes reigned supreme.

Here, we talk to the Australian brand's creative virtuoso Lesleigh Jermanus, about her fascination with ancient motifs, and how it inspired this latest crop.
Hi Lesleigh! Tell us the backstory to ALÉMAIS' PF22 campaign, where did the inspiration come from?
The PreFall collection, Hera, draws inspiration from the mythical past and motifs seen in the ancient world. I was inspired by the notion of giving these a futuristic twist in pop pastel colours and prints to bring a dreamlike quality.
ALÉMAIS is renowned for its artisanal approach to design – tell us how this collection showcases that craftsmanship?
Collaboration is at the heart of ALÉMAIS, particularly working with artisans on traditional techniques that have been handed down through generations. The Hera collection features handmade crochet, hand-embroidered floral motifs, and delicate pintuck panelling.
Prints are such a cornerstone of your design aesthetic. Tell us about the unique prints of this collection and how they were created…
I love the process of creating prints with interesting and inspiring creatives. In this process we always leave room for exploration, for something uncertain and accidental to come together in an unexpected way. I think it is this creative collaboration and exploration that brings magic and a richness to ALÉMAIS prints. For Hera, we've worked with Newcastle-based fine artist Annie Everingham on prints that have artful leaf-like floral compositions and abstract brushstrokes.
Ancient motifs appear to be a muse for this collection. What drew you to these themes?
I'm always inspired by travel references and a starting point for Hera were the motifs found in mythical cities. I also connected with some of the themes found in ancient myths – I just became a mother and found resonance in the Roman god Janus, presiding over new beginnings, transitions, and doorways, interpreting these abstract themes in a pastel and dreamlike printscape.
This collection sees an expansion into swimwear – will this be a regular occurrence for the brand?  What can we expect next?
We had such a positive response to our recent Resort 2022 collection that swimwear felt like a natural progression for the ALÉMAIS story. We wanted to offer our community the option to feel inspired by a resort look that encourages a holiday or seaside escape. We've got another new category coming in our fall collection, so watch this space!
For lovers of Australian fashion labels, refresh your wardrobe with pieces from stylish local labels here.