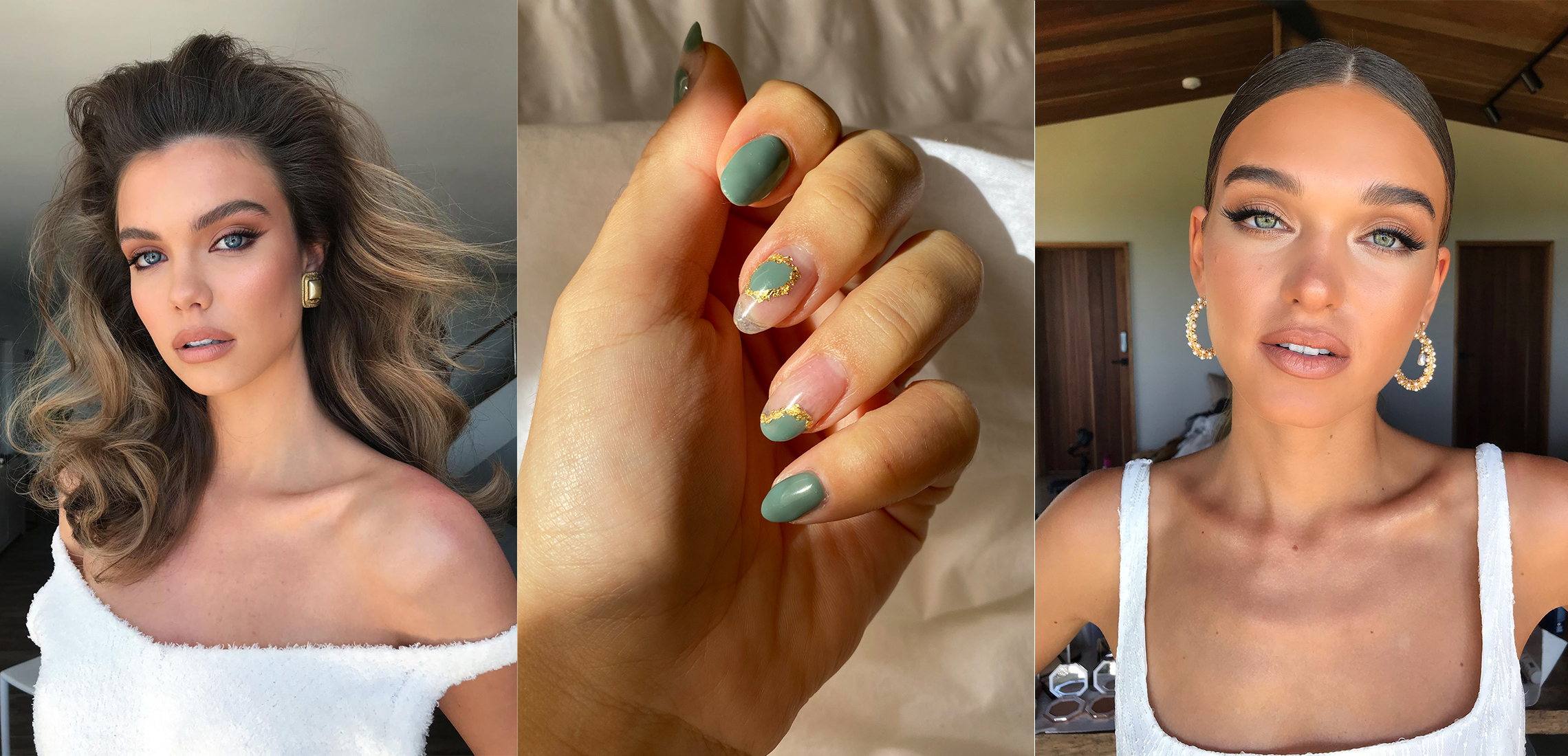 Our 2021 Beauty Predictions
2021, you beaut!
---
Look into our crystal ball and let us tell you what the world of beauty will be all about in 2021. From abstract nail art to all things green, we took to the experts and asked them what they see in our future.
MAKEUP
On one hand, makeup in 2020 looked like wishful glam that we hoped would one day see the light of day, and on the other hand it was non-existent. Right in the middle of the spectrum was a more pared back look that took the spotlight. "Embracing yourself for who you are and what you look like was a big focus of the year, and a trend I was more than willing to jump on," says renowned makeup artist, Emma Chen.
From softly illuminated skin to the Pantone colour of 2020 – classic blue – donning eyelids, makeup was simple and deliberate. As the stellar makeup guru Ginelle Dale put it: less is more, with a hint of glow. "People just want a few select products to help them feel awake and confident to take on the day," she says.
Likewise, 2021 will be all about perfecting the base. "I forecast that 2021 will look like big, bushy brows (if you weren't a teenager in the 90s and have any hairs left), rosy cheeks, and freckles," says Emma.
"I've also been loving brown, smoked out wings, minimal mascara and barely there skin."
Think Myspace-made-luxe for trends of 2021. "The smoky eye will be back," says Ginelle. "Just make sure your base is perfected to show off your natural features. White eyeliner has been seen on the runway shows of 2021, and whenever times are tough throughout history, a bold lipstick becomes a staple for many; something to quickly slick across the lips to make you feel alive and ready to take on the day."
HAIR
When hair wasn't mussed up in a messy bun fit for the couch, it was on the receiving end of DIY dye jobs that were either a hit or a real big miss. "People were stuck at home looking for something to do, and many of them turned to at-home hair jobs," says the hair maestro behind EdwardsAndCo, Jaye Edwards. "The lob haircut was undoubtedly one of the biggest post-quarantine-glow-up hair trends, and TikTok inspired lots of at-home dye jobs, including the Dua Lipa-inspired e-girl high contrast face frame. It's a good thing we love a colour correction challenge!"
How low can we go will continue to be the vibe of 2021, with low maintenance 'dos featuring choppy layers, undone face framing and medium length hair the go-to, according to star stylist, Shannon J. J. Williams. "With colour, you'll start to see a lot more 90s foil work come through, chunkier highlights and a lot more variation," he says.
It's all about the easy, breezy, beautiful. "We'll see people continue to embrace effortlessly undone colour and styles in 2021 – sun kissed blondes and brondes seamlessly blended to enhance natural colour, as well as effortless styling for a beach-to-bar ready look," says Jaye.
NAILS
Emily in Paris wasn't the only time people were obsessed with France in 2020 – French tips made a comeback in bold colours, barely there linings, and classically clean designs. "People are starting to step out of their comfort zone, experiment and be playful," says owner of the iconic Nail Therapy, Edna Kantarevic.
With the nail-biting year officially done, she predicts that 2021 will see nails worthy of the Louvre. "We've seen a lot of abstract art with negative space and I think this will really blossom in the New Year," says Edna. "Abstract art can never be boring and it's also hard to replicate – who doesn't love a custom mani? With so many ways to incorporate shapes and colours into your mani, once you start, it's hard to go back to a solid colour."
But, before you go painting mini Monets on your fingertips, let's vow to leave damaged nails in the past. "2020 forced many of us to stop visiting salons that are not taking care of our natural nails," says Edna. "This led to people discovering their nails can actually thrive when they're treated right! Find a good nail tech that cares about the health of your nail – you won't regret it!"
SKIN
Whether you were one of many manically googling 'iso skin', or trialling at-home versions of your favourite clinic treatments (threading at home – wouldn't recommend), 2020 was an interesting year for skin. "People have spent more time than ever at home, and there's been a tangible focus on finding joy in simple pleasure and looking after yourself," says Stephanie Forge, who is the global brand manager of cult favourite, Alpha H. "We have seen an increase in dialogue around self-care, and skincare has naturally become an intrinsic part of people's at-home routines."
Skincare is more than what you slap on your face. Sir Thomas Overbury, aka the guy harping on about how beauty is only skin deep, clearly never met the gua sha, which was the saving grace of 2020. "I'm not one to promote most skincare trends, as I stick to my medical roots and address skin as it's always been – an organ," says The Functional Nurse, Madilyn Wolens. "However, as both a client and skin nurse, I'm grateful that the gua sha became a very popular and 'on trend' beauty tool. Everyone's lymphatic system could do with a little more love and stimulation this year!"
2020 was a year of experimenting, but in 2021, it's time to get beyond the pretty packaging and go knee-deep behind the scenes. "I see hundreds of new patients yearly who are starting to question why their skin is still developing acne, perioral dermatitis and rosacea in their 30s after years of investing in good products," says Madilyn. "2021 is the year we focus on the ingredients list, stop buying into highly marketed and poorly formulated products, and start treating skin like an organ and not a beauty canvas."
We're over the one-night stands – when you find what works for you, put a ring on it. "To get the best out of our skincare, we need to focus on commitment," says Stephanie. "There are so many products on the market – it's easy to get distracted. But we need to remain focused; understand your unique skin needs, find out what works for you and then commit to it."
Header images: Shannon J. J. Williams, Nail Therapy and Emma Chen