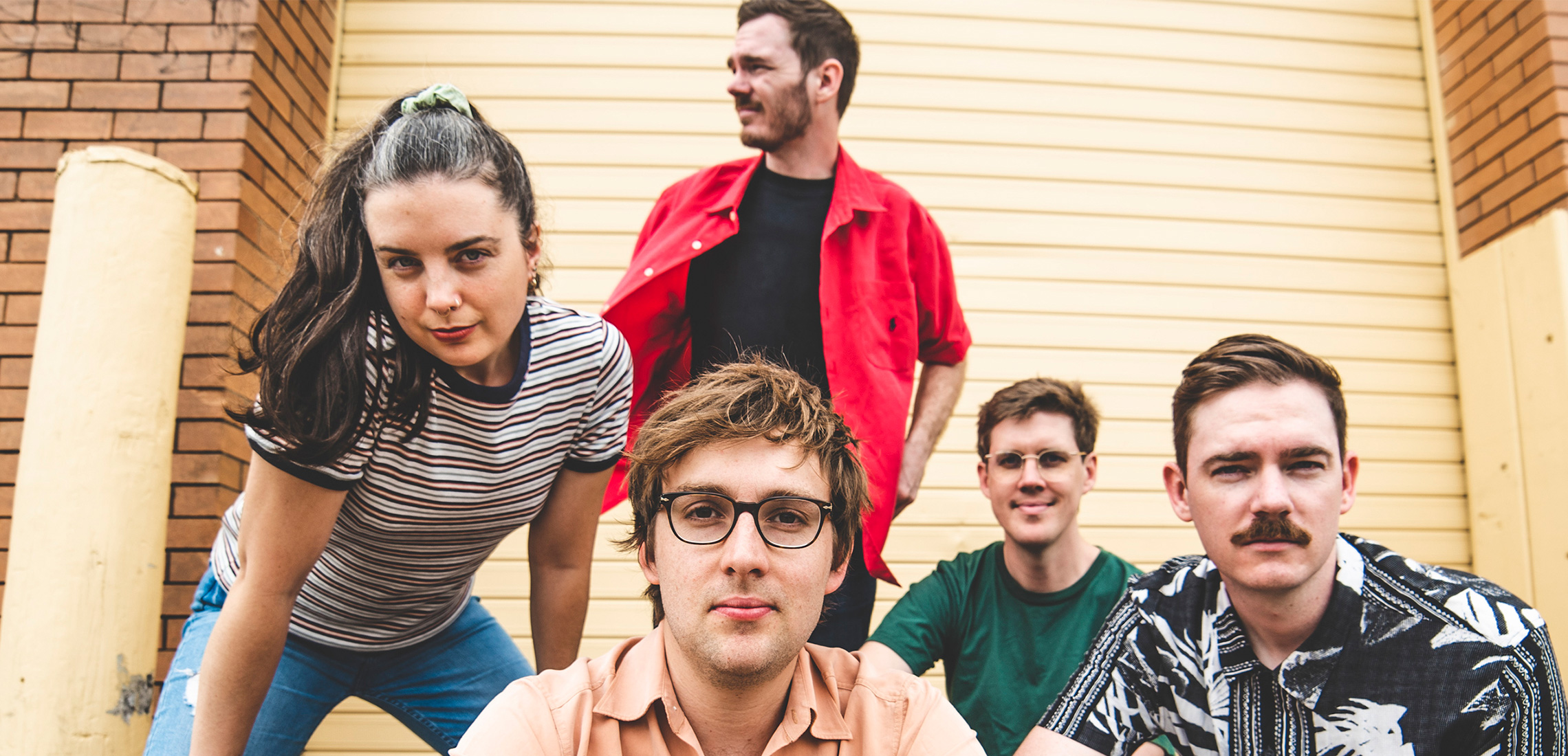 We Chat To Ball Park Music About Wheelbarrows And Perfect Sad Songs
We love them exactly how they are
---
There's nothing quite like music played on home turf, where lyrics were born around the corner and beats were dropped just a street away. There's an accessibility about the rockstars on stage – you probably stood in line for a Valley kebab together back in the day. And it's that sense of kinship that ignited The Fortitude Music Hall when Brissy favourites, Ball Park Music, played.
Currently Australia's most punctual band (their Instagram bio is always changing), Ball Park Music smashed out an electrifying gig last week for Coopers Live, Loud & Local. After dropping an impeccable self-titled album last year and starting 2021 on a high note with a top five placement in the Triple J Hottest 100, we grabbed guitarist, Dean Hanson, for a quick riff in a quiet dressing room to talk wheelbarrows, failed experiments, and the perfect sad song.
https://www.instagram.com/reel/CL-cd_LhXE_/
Who is Ball Park Music?
We're five people who met in Brisbane. One of the members is my twin brother so I met him a long, long time ago.
How does it feel to be home and on stage with Coopers Live, Loud & Local?
We've had so many shows booked to play at the The Fortitude Music Hall for the last couple of years and cancelled them for one reason or another – the last time we performed here was the opening night. We're so excited to be able to perform shows, especially when it's at home in our own city, which feels really special.
After five albums, why did you choose for your latest release to be self-titled?
We definitely talk about self-titling after every record. It's partly out of laziness, but every time you think about it, it doesn't feel right or it's not the right fit. But this time when someone brought it up in conversation, all of us collectively said, "Yeah, wow, this record truly does represent not only what we've been about for the last decade, but where we want to go in the future." It felt like a confident record for us to make, but we didn't second guess ourselves at all. We also felt it's cool that we know what it is to make a Ball Park Music record so that title fits.
What was it like creating an album in 2020?
We actually finished recording it just after the whole COVID thing hit. The last two weeks where we needed to come in and do the finishing touches was at the point where you felt like you couldn't see anybody because everyone is going to give you this virus. Jen was doing backing vocals in Sydney and recording them on her iPhone in voice memos so we could slot them in!
What makes the perfect sad song?
I love sad songs – I pretty much write exclusively sad songs. A great sad song is a song that's not obvious. When you hear a lyric and you think, goddamnit, I've been feeling that feeling every day and I don't know how to articulate it, but this person said it perfectly. A lot of our sad songs are lyrically pretty grim but musically kind of upbeat and people love that – people are sick!
You're known for your musical experimentation – what's been your most successful experiment?
We decided to record a wheelbarrow as a percussion instrument for Spark Up. Paul brought a wheelbarrow in one day because he was doing some work on his house and he needed to leave it inside, and we were like, oh cool, let's chuck it in a song. I think it's even in the album credits!
And a fail?
We're really good at not putting things out that we think are terrible. Once for an album release, we wanted to do a pamphlet drop from the sky on Brisbane City and our label was like: you're putting your name on this stuff and dropping a ton of rubbish on the city – you realise that's not legal, right?
It's Saturday 23 January and the Triple J Hottest 100 is on – recreate the moment you heard 'Cherub' come in at number 4…
If I recreated it, I would pick up this beer! I'd had a fair bit to drink – we were at Paul's (the keyboardist) house on his back deck with friends and family. When 'Day & Age' came in, it was pretty cool and we were so excited, but we thought if anything would get in, it would be 'Cherub'.
As it gets closer and closer to the pointy end of the countdown, you get more and more nervous, and you start thinking that the ship's sailed. When it got to the top ten, our friends were so confident about it but inside we were like, I don't want to let these people down. Everyone was cheering for every song that came on that wasn't 'Cherub' because it was going be higher than this. When it finally came in, we were stoked – I'd forgotten what number it even was, so I was asking everyone. Still hard to comprehend how many people actually voted.
Haven't grooved out to Ball Park Music's new album just yet? Check it out here.