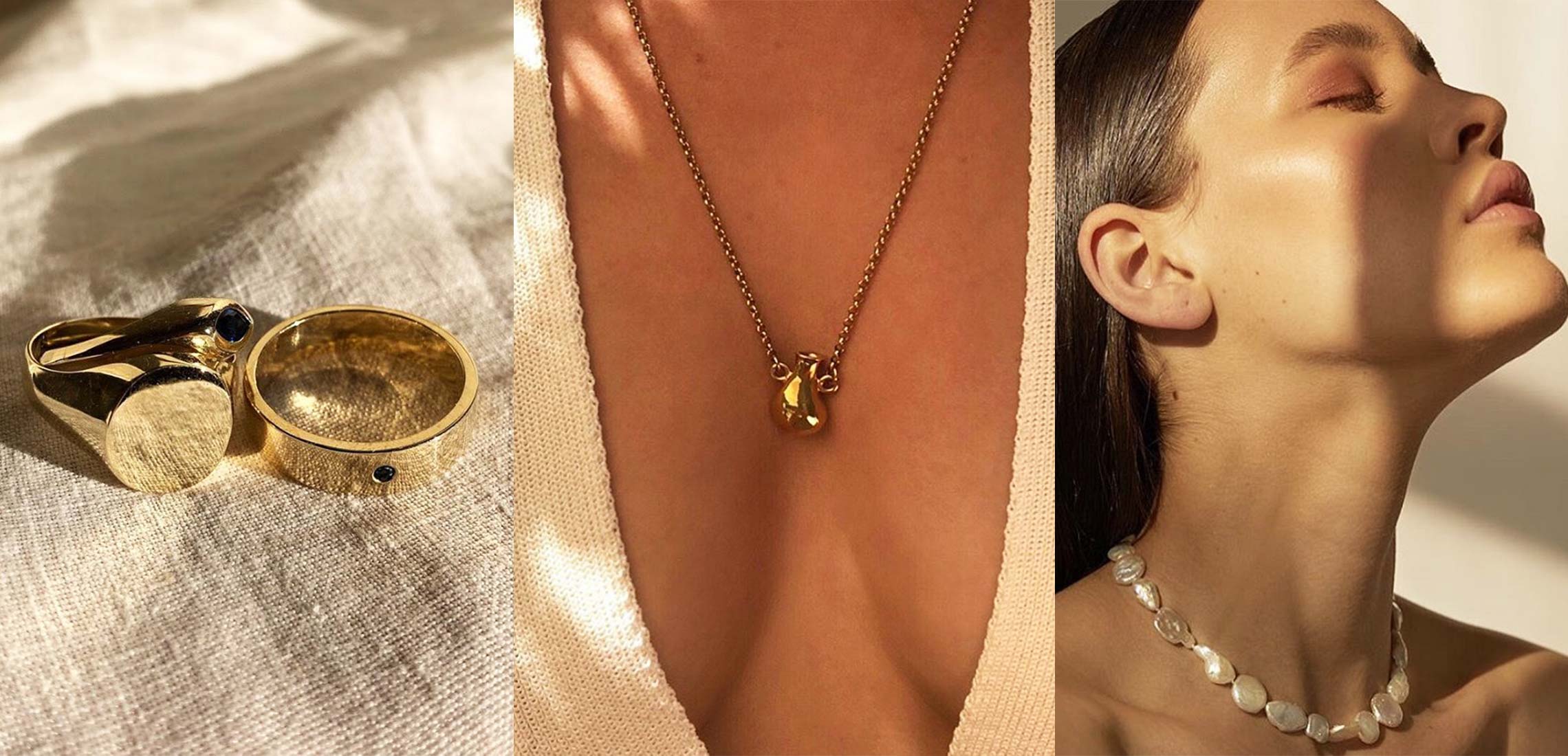 5 Australian Jewellery Designers
Dainty yet daring
---
For some, how we accessorise can form part of our self-expression and is a way for us to individualise our outer appearance. Whether you layer to the max or prefer to keep things minimal, there's something out there for you, you just have to find it.
Fancy being centre of attention with the chunkiest of chunky statement pieces? Check. How about a fine, dainty accessory to add a touch of class? Double check. Or, perhaps you want to resemble a myriad of colours and shapes without limitation – if there's a will, there's a way.
In my personal and certainly not biased opinion, I'd say that Aussie's are doing it best in the jewellery department right now. But instead of telling you, I'm here to show you. Here's five of our homegrown creatives in the high-end market making waves in sustainability. If you didn't know them before, now you do! Thank me later.
Sisters Natasha and Alex Chipman are the power-duo behind Brisbane-based jewellery brand, Natasha Schweitzer. The designs pay homage to the styles of past decades, blended perfectly with modern and simplistic shapes. If you're looking to invest in a high-quality, hand-crafted piece that is just the right balance between understated and captivating, Natasha Schweitzer is where I'd send you.
This brand ticks all the boxes with consciously crafted, high-end pieces made to order right from Sydney. Designed by Tania Gnecchi Ruscone, RUUSK jewellery embodies traditional, curated designs with modern simplicity. Each piece is made to be timeless and unique, allowing you to make a meaningful connection to your jewellery and pass them down through generations, just as our grandmothers did. The planet is always in mind at RUUSK, with their studio powered by green technology and their 'tree by tree initiative' sees one tree planted per piece purchased. Talk about taking care of the planet in style, right?
When I stumbled onto the Laura Miers Jewellery Instagram page, I was immediately drawn to their vintage aesthetic and eye-catching stones. Identity and self-expression through jewellery appears to be at the heart of the brand, with their pieces there to celebrate and form part of our individual stories. This homegrown brand makes their pieces (many of which are unisex) from Australian stones and metals, so you'll be celebrating and supporting the Aussie's, too!
P.S. If you're searching for something unique, their rings are a sure-fire stand out.
Designed and made here at home, Kate & Kole is a boutique jewellery studio founded by Newcastle creatives Sara and Madalynne. The sophisticated and simplistic styles of their pieces are perfectly matched with delicate design intricacies to create an endearing, feminine aesthetic. Each piece is made by a combination of state-of-the-art technology and good ole traditional jewellery making processes. This is your one-stop-shop for fine jewellery that you can layer, or keep things minimal for everyday wear. Now, I call that glamourous convenience.
You may already know of Holly Ryan jewellery, but on the off-chance you don't, I thought they would be the perfect way to round up this list. With designs inspired by art and nature, this Aussie-based brand produces timeless pieces – all made through sustainable practices. To minimise their impact on the environment, the brand uses recycled metals and sources their stones as ethically as possible. After a long browse of their Instagram and website, I found myself intrigued by just about every piece. For jewellery that tells a story, Holly Ryan has you covered.
Header imagery and products: Holly Ryan Jewellery