Style Trial: We Tested Out The Science Behind Artisan Clinics
The newcomer shaking up the industry.
---
Breaking into the Australian market last year, Artisan Clinics established themselves with a philosophy in mind to empower people to look and feel confident in their own skin. As a premium and bespoke medical aesthetics brand, Artisan Clinics offers luxurious skin treatments that use the latest science and technology to achieve the best results. With a medical focus behind everything they do, each clinic employs a trained and knowledgeable team of doctors, nurses and dermal therapists, rather than beauty therapists, to ensure the treatments you receive not only make you feel good, but will help you achieve targeted and long lasting results.
Their main focus is always on achieving the results you desire, and they do so by conducting in-depth and scientifically backed consultations, before creating a completely tailored treatment plan. It's incredibly important to Artisan that your treatment does more than make you feel relaxed and refreshed. Your treatment, whether it involves microdermabrasion, LED light treatment, or a medical grade facial will work through each layer of the skin, ensuring specific areas are targeted, and you leave with the best results. By taking into consideration factors such as your current skincare routine, previous health history, day to day life, and the medications and vitamins you may take, they will work with you to achieve your desired result, focusing on the medical elements, as well as the aesthetic.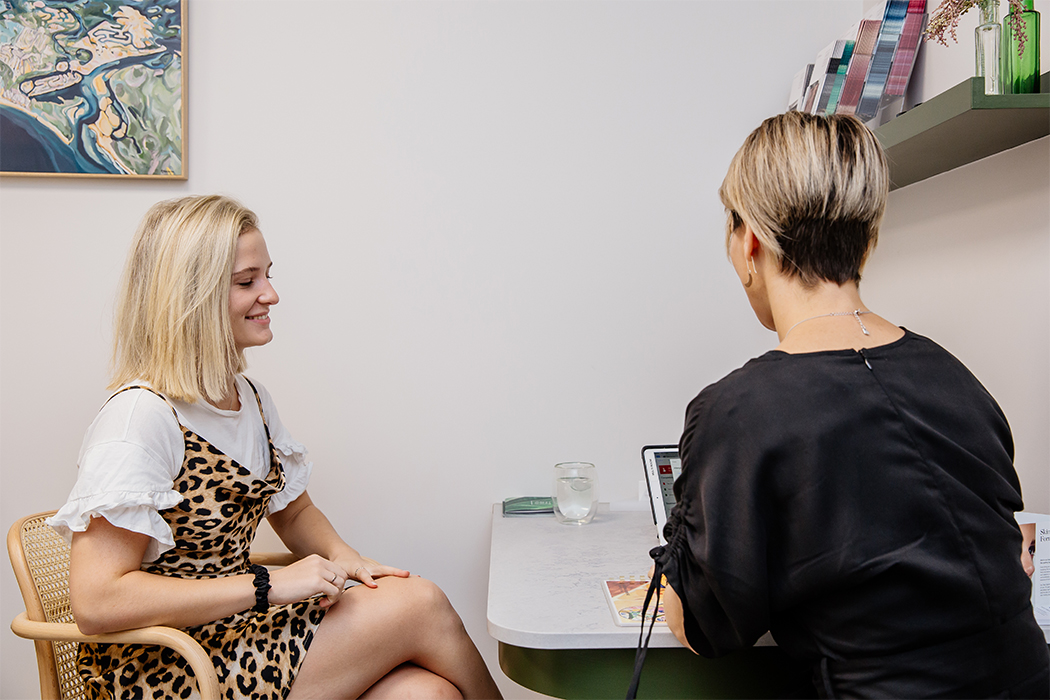 THE TREATMENT
Styler Laura checked out Artisan's newest Rosalie clinic to put their knowledge to the test.
Upon entering the clinic, I was greeted by a bubbly clinic manager who directed me to the cosy waiting area to chill out with a warm cup of tea before starting my consultation. After a brief chat about my treatment with a few small details entered into an iPad, I was led by my dermal therapist, Tali, through the beautifully designed clinic to my private treatment room. The clinic itself was breathtaking, covered in beautiful green colours and plenty of plants, reflecting the leafy suburb of Rosalie which they are located in. With touches of gold and brass here and there, and an incredibly crisp and clean finish, it's exactly what you'd expect from such a luxurious space.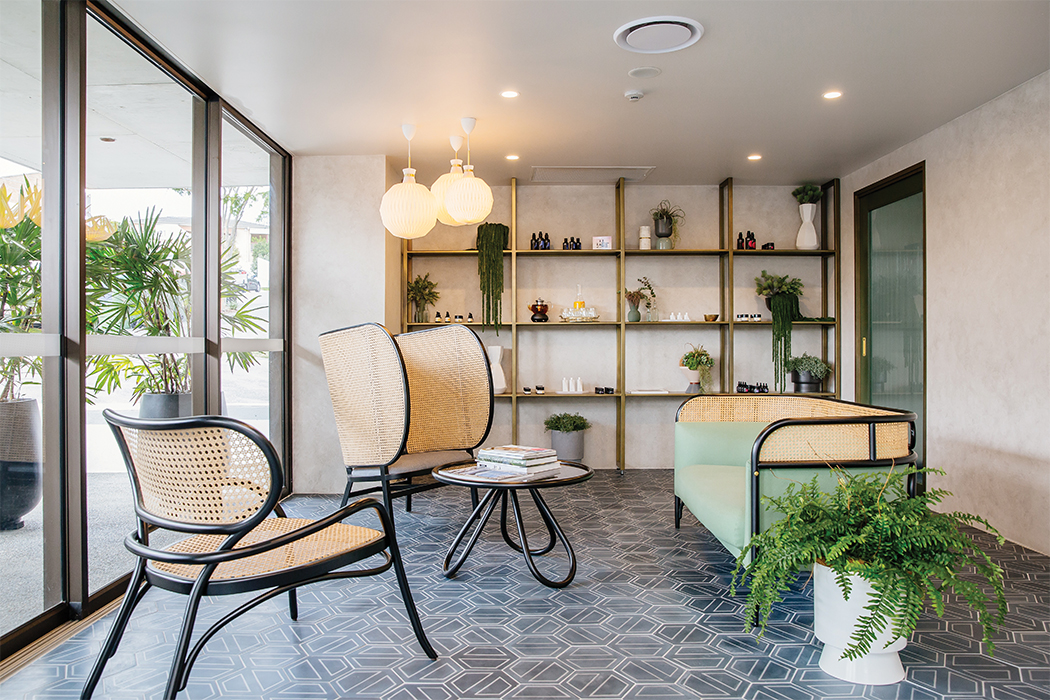 Once settled in the room, Tali discussed my skin concerns, and educated me on how even the slightest external factors can have an affect on how my skin will react to various treatments. I learnt that the products I was using were only skimming the surface of my skin, creating more of a film than actually penetrating into the deeper layers, and Tali showed me an incredible diagram that illustrated the various layers of my skin, and how different types of skincare can only reach so far.
I explained to Tali that my main concerns were dryness and dullness. She recommended we use a few Rationale and DMK products throughout my treatment, and mentioned I should incorporate them into my current skincare routine to achieve further results. While my skin is still quite young, our objective for the session was to increase clarity and brightness, and essentially have me leave with glowing skin. To achieve this, Tali recommended we begin with a Rationale cleansing facial and a mini peel to remove any dead skin and dirt, followed by an ultrasonic infusion to promote blood flow, increase hydration, and give my skin a youthful glow. To finish, I underwent an LED light facial for 15 minutes, to give some much needed TLC and bring back the vibrancy to my skin.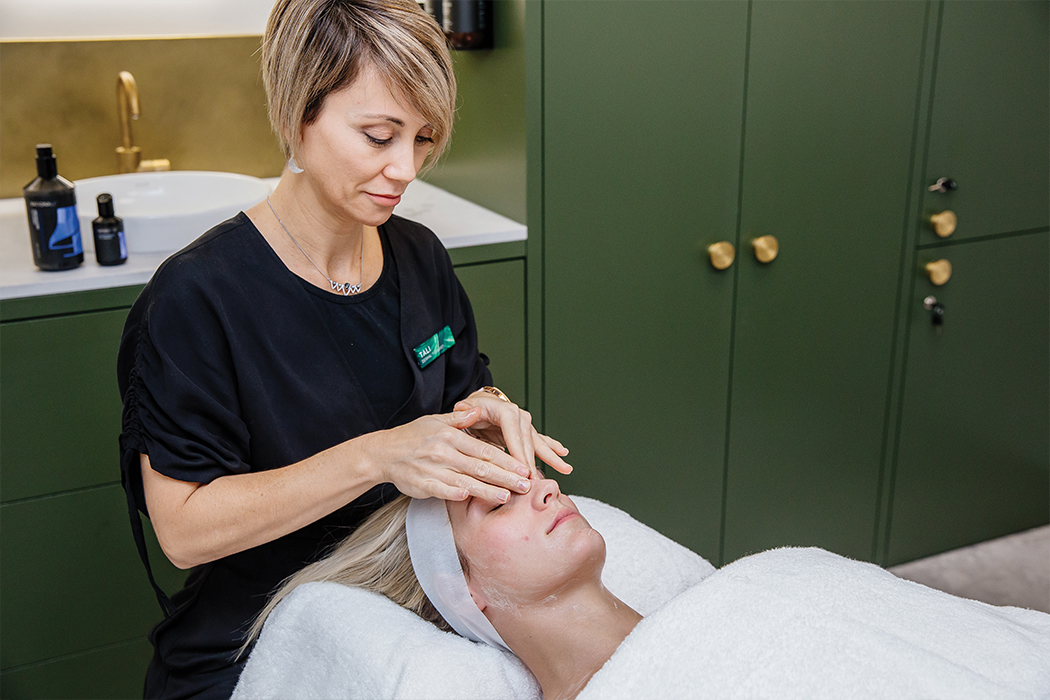 THE RESULT
The cleansing facial was incredibly refreshing, and made my skin feel squeaky clean without that 'dry' feeling I'm always left with after using my own cleanser. Tali mentioned this was because the Rationale cleanser she used was still nourishing my skin while removing the dirt, opposed to just simply cleaning my face and potentially stripping it of essential oils. The products themselves smelt absolutely heavenly, due to being enriched with native Australian plants and oils.
I was a little tentative about the peel as I've never had one before, and the thought of putting something new on my face scared me a little. But Tali assured me that the peel would only add more moisture into my skin, and simply removed the unwanted nasties from the first few layers of my face, prepping my skin perfectly to gain the best results from the upcoming elements of my treatment. Once it was removed, the dry feeling I was worried about was nowhere to be seen – if anything, my skin was left feeling even more hydrated, and I was well and truly entering into relaxation mode.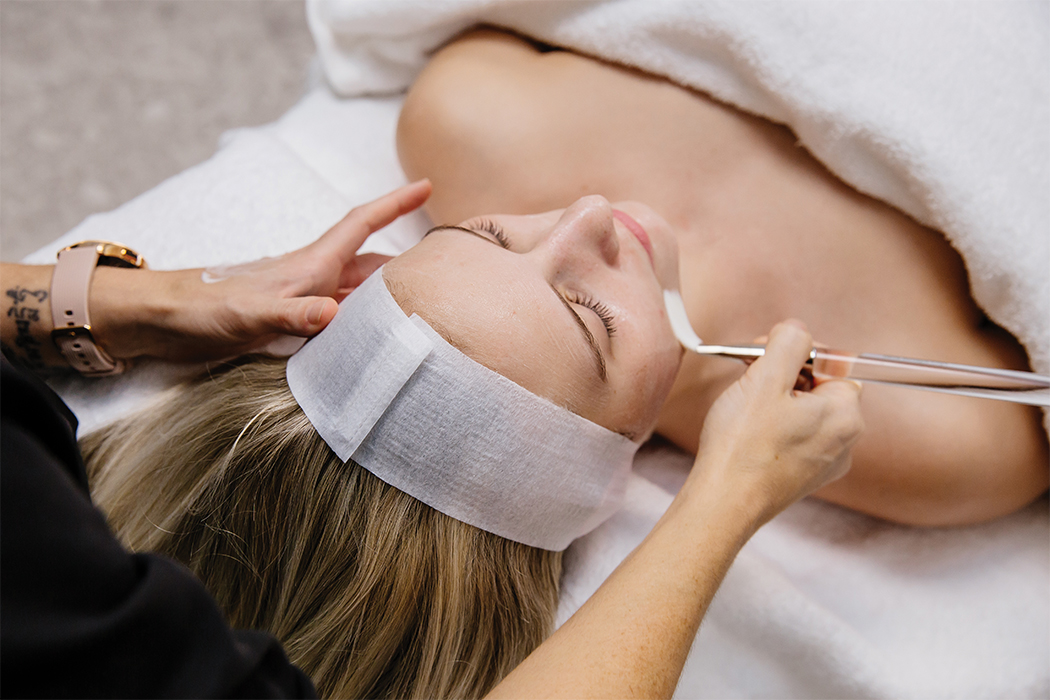 Next up was the ultrasonic infusion which again, was something I'd never tried before – I wasn't even aware that ultrasound treatment could be used on the face or as a skin treatment. Tali was very knowledgeable though, and assured me once again that it would be nothing but relaxing, and that it would only feel like tiny vibrations over my face. This treatment was without a doubt the standout of my facial, and was something I'd absolutely return for. The small vibrations gave me a tingling sensation all over my face, and it felt as if my skin was being reset, almost being encouraged to glow and renew itself.
We finished with the LED light facial, another foreign concept to me. Tali explained that the yellow lights would help with skin rejuvenation and would deeply penetrate my freshly cleansed skin in order to achieve that glowing and hydrated result I was after. It took a few minutes to get used to the flashing lights, but once I was settled it was quite relaxing, and I think I even nodded off for a second!
At the end of my treatment, I looked in the mirror to see that my skin was left beaming – dewy and fresh and just the way I liked it. One of the most surprising results, was that my skin wasn't left bright red; just a light flush of healthy colour. I could return to work straight away, and was complemented on my glowing and healthy appearance. After a few hours, my skin had returned to its normal colour, but the vibrancy was still there – just what I was hoping for!
After three days, my skin was still glowing and it was feeling more hydrated than ever. I had fewer patches of dry skin, and I was no longer waking up with that "tight" feeling on my face. Seven days later, I still hadn't had a single new pimple come through, and my dry spots were still staying at bay. I was opting to wear less makeup to show off my improved skin, and already dreaming about the next time I'd be visiting Artisan Clinics.
Liked this? You'll love these!
1. You've Asked For It! It's Time To Meet Brisbane's Best Hairdressers For 2019
2. The Lowdown On 3 Of Our Favourite Makeup Removers
3. We've Rounded Up Brisbane's Best Facials To Experience In 2019