9 Of Brisbane's Best BYO Restaurants You Must Discover
BYO drinks and they'll provide the good vibes.
---
These BYO Restaurants in Brisbane let you bring everything from food, drinks and dogs. If you're in the mood for something different, give these one's a go. Here's our list of Brisbane's best BYO restaurants.
If you've been craving BYO with a difference, OTTO Ristorante is here to shake things up. For the entire month of December 2017, OTTO will be hosting their very own BYO Saturdays, whereby diners can share a mouth-watering lunch overlooking the picturesque Story Bridge while indulging in a BYO drink of their choice. The $75 three-course Italian menu (including corkage) features stunning dishes such as burrata with San Daniele prosciutto, schiacciata and zucchini flowers stuffed with ricotta, butterflied spatchcock, and tiramisu. Rosé? Chardonnay? Pinot noir? Whatever your drink of choice, OTTO's exclusive BYO Saturday's are the perfect time to catch up with friends and celebrate another brilliant year – but make sure you book ahead to secure your seat! BYO Saturdays will take place every Saturday until December 30, between 12pm and 2:30pm.
Atticus Finch, self-proclaimed dogo café not only allows you to BYO dogs but also BYO food! This luxury is accommodated on Fridays and Saturdays from 2pm-10pm and Sundays from 2pm-8pm. They'll plate everything up for you and hook you up with an afternoon sparkling if it so takes your fancy.
Cardigan Bar, a true BYO Bar hosts live music Thursday through Sunday. From behind the bar they provide you with quality domestically brewed craft beer, conscientious award-winning wines and quality spirits. And of course you can bring your dinner from home to be plated up while you chill out to live music.
The Scratch is all about trying new things with a constantly rotating draught and bottled beer menu. They're rebellious, friendly and all about beer, also being home to the Brewtal Brewers. But don't forget to bring something from home to pair up with their unique selections, but if you do forget they always have their in-house cheese platters. Check out their website for what they have in rotation!
If a bar with a stock of 400+ whiskeys and a zero pretentiousness policy sounds like your kind of vibe then Cobbler is the BYO bar for you. They're all about good chats and great experiences coupled with an abundant knowledge of the whiskeys they're serving. At Cobbler they only serve drinks but their BYO food policy is all-inclusive. So if you like your whiskey with a bite bring something along!
Another West End fave, The Bearded Lady is a BYO BAR that hosts some amazing live music and a fabulous drinks menu and is known to be a buzzing destination all week long. Being in the heart of West End, you can take advantage of any West End take-away spot that your heart desires.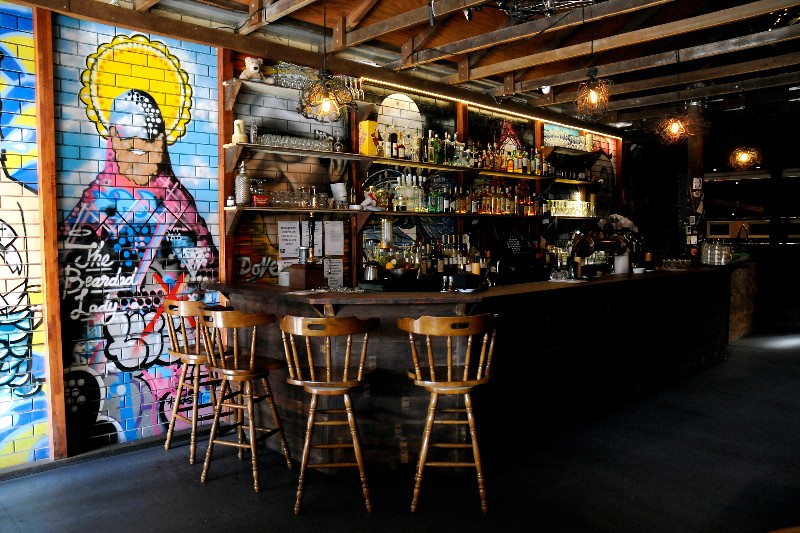 The Gresham is the only Heritage Bar License in Queensland. Still maintaining the buildings original characteristics, it's a saloon-style whiskey bar boasting an all-inclusive ideology with no dress code but a definite attitude policy. You're invited to BYO food over the lunch period till 3pm.
If you're looking for a fun day trip that keeps in Brissie with a side of beer then Bacchus Brewing Co in Capalaba is the place for you. They brew their own unique and experimental beers and have a BYO food policy Monday to Thursday and some amazing food trucks Friday to Sunday.
Mr Henderson maintains a homely vibe and impressive beer list not forgetting their wines, sparklings and liquors either. Scattered around the bar are tributes to the namesake Bob Henderson, a boot maker from the 1920s-70s. On the weekend Mr Henderson is often accompanied by the food trucks Pirates Plate, How we Rolls, Koma Sliders and more. With a small selection of snacks on their menu Mr Henderson encourages an any day of the week BYO food policy. Our top tip is ordering a traditional Italian pizza from il Forno on the corner.
Liked this? You'll love these!
1. Brisbane's Best BYO Restaurants
2. 22 Brisbane Cafes You Should Have Eaten At Already
3. The Brisbane Brewery Letting You Brew Your Own Beer