7 best free spots to see Brisbane Riverfire 2015
Enjoy the fantastic fireworks of Brisbane's Riverfire in several family-friendly zones without splashing the cash.
---
Sure, fireworks are in the sky so EVENTUALLY everyone can see them, but we all still have an almost primal urge to get a position where you can see the WHOLE THING ALL AT ONCE.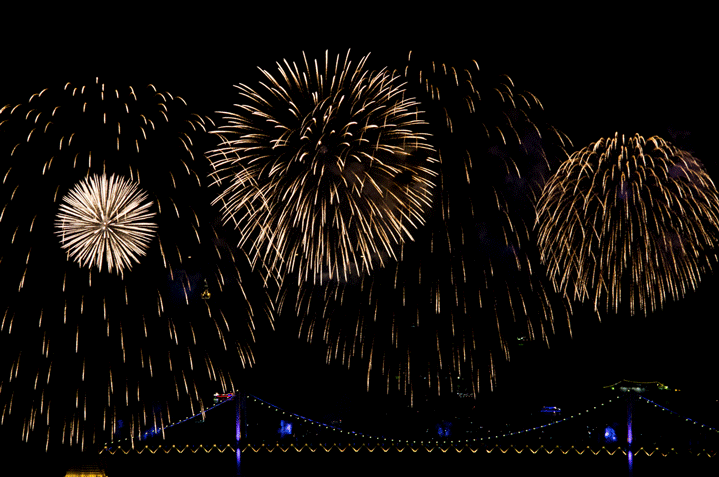 There are plenty of events around Brisbane showcasing our annual celebration of the river city by shooting explosives into the sky, but they can be costly. We have scoured the city to find the best vantage points for Brisbane Riverfire 2015 where you don't have to spend a cent to take in the spectacular scenery.
1 Wilson Outlook
Located on the New Farm side of the Story Bridge, Wilson Outlook is a small, flat park where you can enjoy a panoramic view of the light, bright display. There isn't much seating here, though, so try to get in quick!
Cnr Bowen and Moray Streets, New Farm
2 Mount Coot-tha
Mount Coot-tha is the closest you can get to a birds' eye view of the entire display. Panoramic views of all the action mixed with the ambience of looking out over the whole city are sure to make it a night to remember.
Sir Samuel Griffiths Drive, Mount Coot-tha
3 Kangaroo Point cliffs
Equipped with plenty of urban jungle seating and a breathtaking view of the CBD, the Kangaroo Point cliffs are an ideal location for surveying the presentation. Parking can be difficult, so arrive early and bring nibbles so you don't have to give up your precious spot for anyone.
River Terrace, Kangaroo Point
4 Captain Burke Park
Tucked away underneath the Story Bridge, Captain Burke Park offers an alternative perspective. With plenty of parking and seating, you can watch the fireworks from one of Brisbane's quieter, more quaint parks. This site is has good access for those with limited mobility.
Holman Street, Kangaroo Point
5 Highate Hill
Highgate Hill sits under the watch of Brisbane's iconic Torbrek. It's right behind South Bank, so expect a ripper of a view. Bring a picnic blanket, plant yourself on the hill and watch the pretty explosions.
Dornoch Terrace, Highgate Hill
6 Pear Street, Greenslopes
Pear Street is one of Greenslopes' steeper streets, making it an ideal location for nabbing a great view of the fireworks. Park your car on the wide street, take a seat on the bitumen and rub shoulders with Pear Street locals.
7 Old Cleveland Road, Coorparoo
If you're on the eastside, you don't have to join the masses to get a decent view of Riverfire. Locals perch themselves on the elevated end of Old Cleveland Road to get amongst the Brisbane Festival spirit.