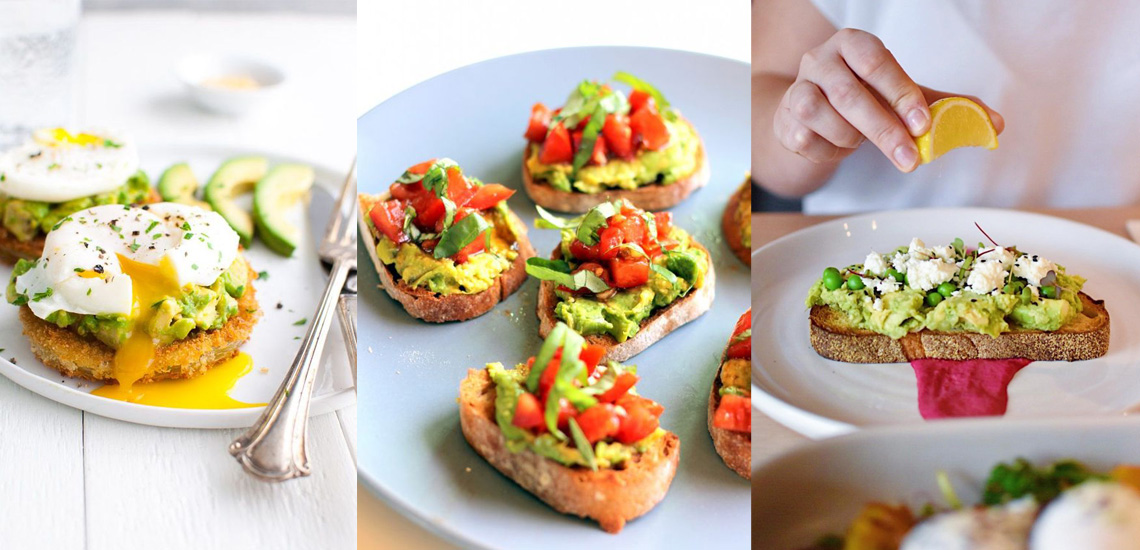 12 Of The Best Smashed Avocados In Brisbane
National Smashed Avocado Day is fast approaching, and boy do we have the best dishes for you!
---
Check out our 2021 edit of Brisbane's Best Smashed Avo's here.
National Smashed Avocado Day is fast approaching! Luckily, we have a list of the best smashed avo in Brisbane for you to celebrate this Sunday.
Like a work of art on a plate, Miss Jones Café has the best looking smashed avocado around! For $15.50, prepare your tastebuds for the explosive flavours of avo, beetroot hummus, peas and goats cheese on toasted sourdough bread.
No café is immune to the desire of avocado as a prime breakfast serving, not even these guys! But one thing is for sure, Pawpaw Café in Woolloongabba does not do things by the book, this of course includes their smashed avo. So, prepare yourself for mouth-watering roasted red pepper hummus, creamy avo, juicy pomegranate, as well as almond and pistachio dukka on toast. The dish comes to a total of $14.90, however you also have the option to add bacon and eggs for that little bit extra.
Step it up a notch at Sassafras Canteen, with a more sophisticated form of the beloved smashed avocado. Bite into a serving of avo on sourdough with goats cheese, smooth pistachio dukkah and caramelised apple balsamic. Enough said! Oh, and Sassafras serves this bad boy for $17, but trust me (the biggest fan of smashed avo), it's totally worth it!
With a European inspired transformation, there is no doubt that the classic smashed avocado is made better at The Jam Pantry. For $16, nothing compares to the honey roasted daikon, toasted sunflower seeds and dolloped cottage cheese.
A picture tells a thousand words, and right now this bad boy is telling me to leave my desk ASAP to consume its goodness!
Go for something a little outside the box with the cool smashed avocado offering at Goodness Gracious. It's hard to believe that for $12, you can score yourself a smashed avo with all the trimmings, including: macadamia and turmeric cauliflower puree, coconut flecks and tangy lime.
Expect to smash this dish as quickly as a bullet is fired from a gun! 
For $15.50, you can devour smashed avocado on granary toast, with feta cream, flaked almonds and pepitas, as well as truffle oil, mixed leaves and dukkah.
For $16, savour the taste of one of Brisbane's best smashed avocado dishes with She Bangs appropriately named "The Banksy". This veteran dish is served with spiced almond and walnut dust, as well as a house made balsamic glaze to die for!
The smashed avo or otherwise known as the "Green Envy" ($13.50) at Let Minnow Café, comes chockers to the brim with avocado on toasted sourdough, beetroot and dill infused feta. It is also topped with unforgettable chimichurri and house dukkah. Take it to the next level with a side of creamy poached eggs, smoked salmon or crispy bacon.
Oh man, oh man, oh man. You think a smashed avocado with feta is good? Try a smashed avo with cloudlike mozzarella, as well as enoki and edamame from West End Café Morning After. So classy!
There are so many versions of smashed avocado to try, and this is one of the best! For $16, grab yourself an Avocado Plate topped with sesame cheese, chimichurri, raspberry and mulberries/pomegranate. The best part is that it's a healthy guilt free meal! Yum!
Naïm | Paddington
Revamping their already exceptional avo toast, the smashed avocado at Naïm is worth dragging yourself out of bed for.
Liked this? You'll love these!
Brisbane's Best Food Challenges You Need To Try
13 Of The Best Eggs Benny In Brisbane
Brisbane's New Spring Menus You Need To Try Asap!