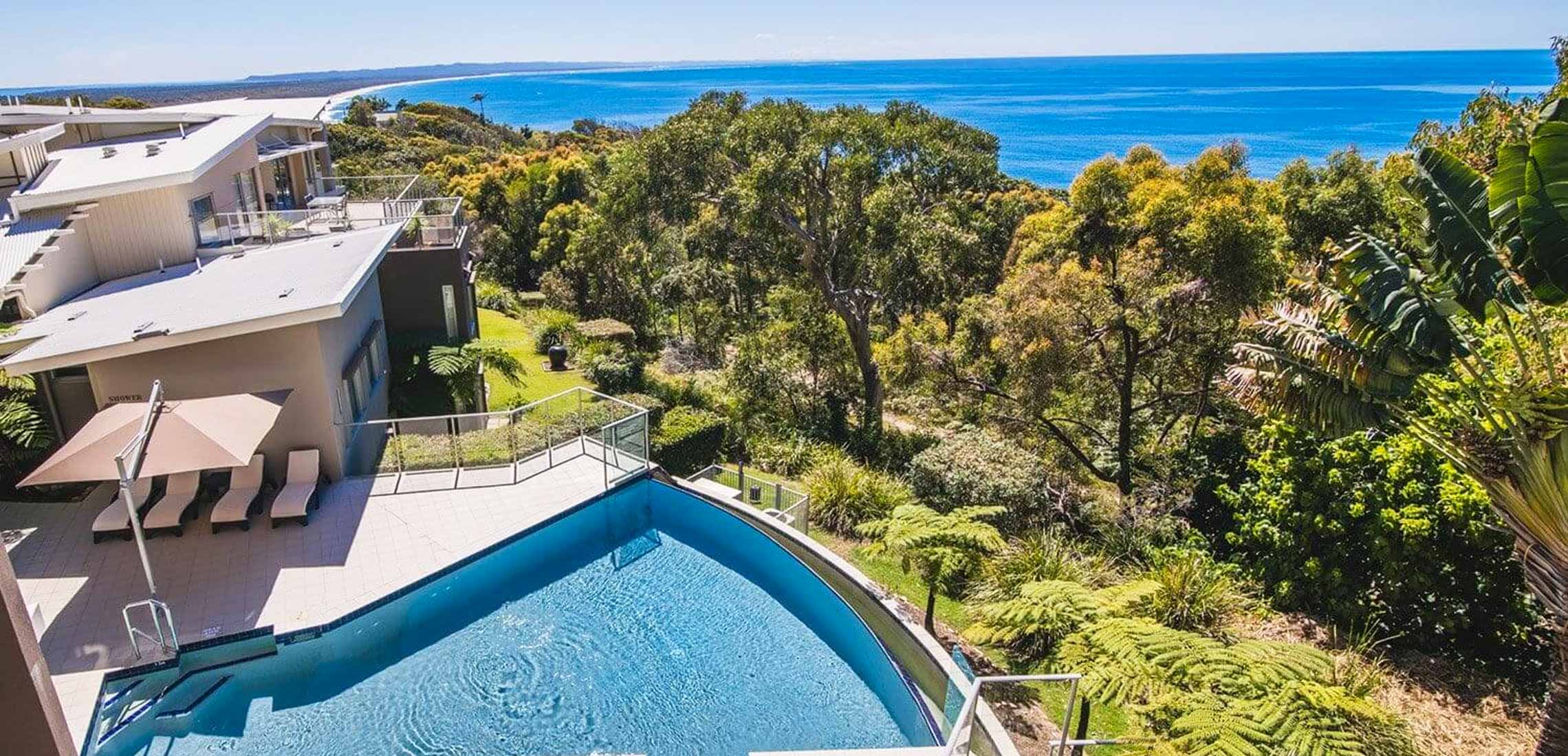 Accommodation Within 250km Of BNE
You're welcome!
---
Chocolates are being put back on pillows and fresh towels are being washed en masse, so the time to book is now. For this itinerary, forget your usual staycations or coast-side digs and instead take advantage of Queensland's backyard waiting to host you. From sweet country cottages to seascapes outside your door, there's a roof here for all kinds of holiday goers and groups, or none at all if that's your vacation vibe.
Flourish in Queensland's garden city with modern and serviced apartment-style hotel rooms standing amidst it all as your base. The one, two, and three bedroom apartments are perfect for everyone from solo seekers to fun-loving families who love the outdoors accompanied by the finer things. The central location means you can spend your holiday hiking Mount Tabletop, taking in the Great Dividing Range at Picnic Point, strolling through Laurel Bank Park or anything in between.
Getting to know the outdoors has never felt as luxe as when it's done across 20 acres of stunning gardens and lagoons with chillaxing kangaroos aplenty. This award-winning stay by Peregian Beach offers private cottages with Lake Weyba views, a double spa and wood fires perfect for the upcoming months. Adventurous spirits can make use of the complimentary canoes, mountain bikes and fishing rods while those on the search for relaxation can enjoy massage therapy and facials from the comfort of your own cottage. While you're up that way, don't forget to check out the main drag of Hastings Street and Noosaville for boutique shopping and delish eats (we suggest Zachary's Gourmet Pizza Bar).
Hangar O | Gunalda | 193km
Whether you prefer glamping or good old-fashioned camping, you'll be sleeping under starry nights on 160 acres of gorgeous greenery where the natural world is most at peace at Gunalda. Days will pass you by as they're spent strolling along the creek, lounging by the natural billabong or dozing in your personal hammock. The campsites will have you feeling like you have the outback to yourself, but Hangar O's true treat is their luxe tents. Custom built to make the most of their stunning locations, each tent features an open-air shower and fire pit to create an outstanding getaway you can't experience anywhere else. Never heard of Gunalda until now? Neither had we! A little research tells us the small township between Gympie and the Fraser Coast only has a population of around 400 people and was called Keelar until 1923. While you're around town, check out the Mary Valley Rattler and Gympie Gold Mining History & Museum for a bit of culture!
This sweet escape nestled in thick rocky bushland is the perfect point to soak in the charm of the Granite Belt. With eight brick cottages sitting across five acres of lush land, you'll experience firsthand the comforts and calm of country living. Plus, any step outside your cottage will automatically turn into a leisurely stroll when getting from A to B is surrounded by crisp mountain air and the bountiful bush. Don't forget to pick up your breakfast picnic basket and finish off your day by the fire drinking local wines and playing dominos for supreme relaxation.  If you're a Stanthorpe first-timer, make sure to check out the Big Apple and, no, we're not talking about NYC! The Big Apple will impress the little ones and makes for a great pitstop along the way. Otherwise, head to the Granite Belt Christmas Farm for merry festivity year-round, where kids can meet some of Santa's animals and roam through the fresh pine trees.
Within the world's largest forest of bunya pines awaits holiday homes, chalets and lodges to suit any size, budget or occasion. The pristine and precious wilderness range offers rainforests, eucalypt forests and woodlands, as well as enough fresh air to cleanse your lungs from the city breeze. Whether you sneak away to the hidden Whitewood Cottage or rug up in the cosy Possum Lodge, there's a place for everybody here. Don't forget to stock up on snacks and drinks before making a beeline for your accommodation, as there's minimal opportunity for a big shop in the township other than a quaint general store. If you're a keen star gazer, you're in luck, as the clear skies above the mountains makes for sharp views of the Milky Way (paired best with a drink in hand and cheese on a cracker). No matter what you desire or decide to take part in while in the Bunyas, the entire fam will enjoy the abundance of wildlife with wallabies and birds almost in arm's reach.
Wake up to a reality that's better than your dreams with panoramic views of stunning bushland and seascapes outside your door. Forest meets sea from every balcony at these luxury apartments and penthouses that are designed with your comfort as their number one priority. Spend your day exploring the World Heritage listed Fraser Island or wander over to Tin Can Bay – the dolphins will literally thank you for it! The Rainbow Beach area is popular for beach cruising and horse riding, with plenty of local businesses and activities to choose from. If you're yet to live out your Daryl Braithwaite 'Horses' dreams, perhaps this is it!  
Do you have any local tips and tricks or know a destination worth sharing? Let us know! Email info@stylemagazines.com.au
Header image: Rainbow Ocean Palms Resort | Facebook