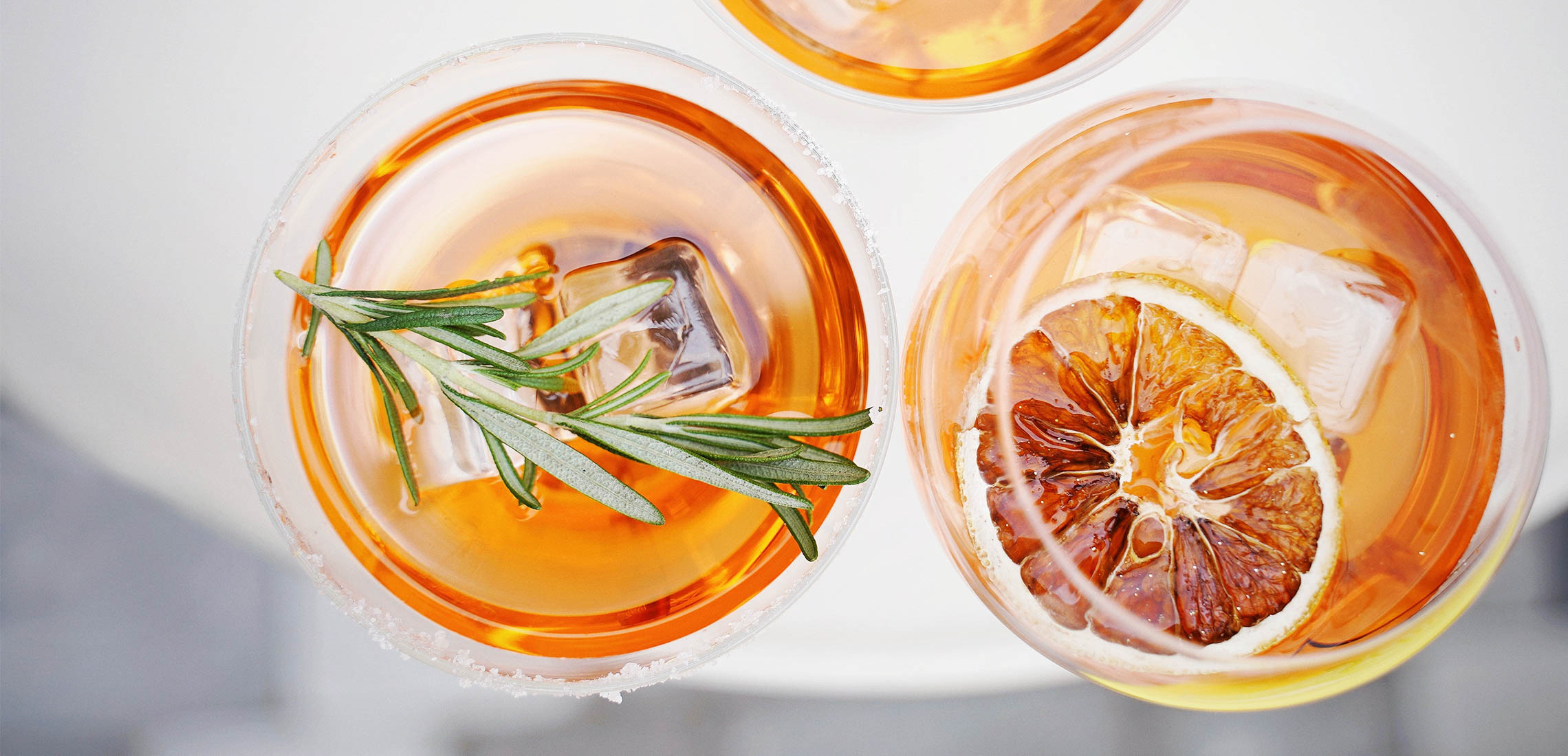 Easy Summer Cocktail Recipes
Happy hour is underway!
---
When the weather heats up, refreshing summer cocktails are the perfect way to cool down. And no matter whether you're a fan of tangy citrus flavours, minty-fresh mouthfuls or sugary sweet sips, this season is prime for trying out new cocktails.
Plus, with the party season about to get into full swing, nothing tastes better than a post-work refreshment (or two, or five).
Ready to wet your whistles? So are we…
Chilli lime margarita
Spice up your weekend tipple with a little heat! A chilli lime margarita is a spicy, boozy kick in the pants that your happy hour needs, especially after a day in the sun. Turn up the heat in every sip with chilli salt flakes – your lips are in for a wild ride!
You'll need:
Margarita
150ml tequila
150ml triple sec
150ml freshly squeezed lime juice
100ml chilli-infused simple syrup
3 cups ice
4 limes, thinly sliced
Chilli-infused simple syrup:
2 cups water
1 cup sugar
4 red chillies, sliced in half from the stem down
Method:
To make the syrup, bring the ingredients to a boil and allow to bubble until slightly thickened. Remove from heat and set aside to cool.
Make a notch in a slice of lime, then run the notch around the edge of a glass.
Add a generous amount of chilli salt to a dish, bigger than the diameter of the glass. Then turn the glass upside down and coat the rim in the chilli salt. Add a small handful of ice cubes to the glass.
Meanwhile, blend the margarita ingredients and syrup in a blender. Pour into the glass, and a slice of lime and serve.
Negroni
This super suave drink might be more than 100 years old, but the fact is, it's never been popular. Best enjoyed before dinner, this three-ingredient drink is as refreshing (and Italian) as it gets. Intended to be sipped, it's the most refreshing aperitif on a hot day. Bitter, sweet and dry all at once, make this mix your summer mainstay.
You'll need:
30ml gin
30ml Campari
30ml rosso vermouth
Orange peel, to garnish
1 large ice cube
Method:
Add the ingredients to a cocktail shaker with ice, and shake for 30 seconds.
Strain the ingredients into a glass over a large ice cube.
Wipe the orange rind around the rim of the glass and then garnish the cocktail.
Gin Fizz
This sweet gin-based cocktail hits the spot, thanks to the injection of lemon. Uncomplicated, fresh, light and timeless, there's never a bad time to whip one up.
You'll need:
60ml gin
30ml lemon juice
15ml sugar syrup
Soda water, to top
Lemon wedge, to garnish
Rosemary, to garnish
Ice
Method:
Add gin, sugar syrup, lemon juice and ice to a shaker.
Shake, and strain into a short ice-filled glass.
Top with soda water
Garnish with lemon wedge and rosemary
Aperol Spritz
This crowd-pleasure sure tastes like summer, but can end in disaster if you don't get the balance bang on. The trick to the perfect Spritz is a large wine glass, and remember that the brighter the cocktail, the tangier the flavour. Salute!
You'll need:
Aperol
Prosecco
Soda water
Ice
3 pitted green olives
Wedge of orange, to garnish
Method:
Thread olives onto a swizzle stick
Fill ⅓ large wine glass with ice
Pour 60ml of Aperol into a large wine glass, followed by 90ml of prosecco
Top with soda water, then gently stir with sizzle stick, then place on top alongside an orange wedge
https://www.instagram.com/p/CIBtPYVr99y/
Vesper Martini
James Bond fans will be familiar with this concoction, as it's the first martini 007 ordered in Ian Fleming's 1953 book, 'Casino Royale' (or the 2006 movie). Named after the seductive Vesper Lynd character – Bond's one true love – this mix is not only one of the most famous drink orders in history, but is incredibly precise, and tastes spectacular – especially after a cool swim on a steaming hot summer's day. Beware its potency, this one's not for the faint hearted.
You'll need:
2 shots of gin (we recommend Gordon's)
1 shot vodka
½ shot dry vermouth
Lemon peel to garnish
Method:
In a cocktail shaker, combine the ingredients
Shake well and strain into a chilled martini glass
Garnish with lemon peel and serve
Gin & cucumber
Few things are better than this combo when you're schvitzing, so make sure to keep this refreshing favourite on high rotation this summer. Crisp and clean, there's no better way to while long summer days away.
You'll need:
¼ cup caster sugar
1 Lebanese cucumber, chopped
2 Lebanese cucumber, peeled into ribbons
¼ cup lime juice
1 cup gin
2 cups chilled tonic or soda water
2 limes, cut into wedges
Ice cubes, to serve
Method:
Combine sugar and 60ml of water in a small saucepan over medium-low heat. Cook, stirring until the sugar dissolves. Set aside to cool.
Place the sugar syrup, cucumber and lime juice in a blender and blend until smooth. Strain into a jug and discard solids. Add gin stir to combine
Thread cucumber ribbons onto skewers, then place one ribbon down the inside of a slightly damp glass
Pour gin mixture into glass, top with ice and tonic or soda water
Garnish with cucumber skewer, lime wedge and mint