A little while ago I created a breakdown of millennial slang so those over the age of 16 could partake in cool, hip, conversation with Gen Z. Now, there's a new wave of words I'm struggling to understand (and I consider myself cool – but perhaps that's actually where I'm going wrong?). Anyway, I thought if I don't understand Gen Z, how on earth would my parents and grandparents? With that, welcome to Volume 2 of Millennial Slang: Decoded. Check out Volume 1 here.
And again, you're welcome. Coast through the article, be a duke from the jump and share it with your right-hand or eBae, ok Boomer?
Bet – No dollars literally involved here, it simply just means in agreeance, for sure, okay?
Coast – Nope, not the literal coastline, but rather to glide or cruise/chill as if one would take a leisurely cruise along the coastline. Kapeish?
Duke – I don't quite get this one, but according to the very reputable source, Urban Dictionary, 'duke' represents an action of doing the right or noble thing…whatever that thing may be.
eBae – A relationship established online. (This one deserves an award.)
From The Jump – A common saying meaning from the beginning.
Getty – Once upon a time not so long ago, a party meant a party. It then progressed to a 'gathering' and now has matured to 'getty'. But, a getty is not a full-blown party, don't be so daft. A getty is simply a get together of approximately five to 12 people.
Kek – 'Lol', in gamer-talk. Yep, we're talking World of Warecraft.
Lifted – To feel mentally lighter due to illicit substances.
LLC – Commonly, LLC stands for 'Limited Liability Corporation', but in this day and age thanks to Nicki Minaj it can now mean 'low list celebrity'.
Ok Boomer – This originated on the world-wide-web or the 'www', if you will, and is used to diss those born in the Baby Boomer era.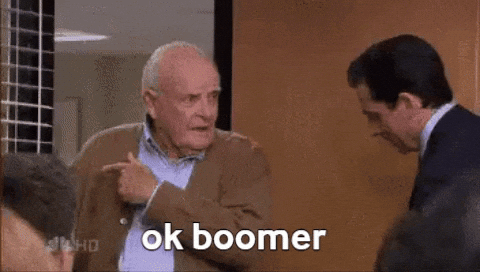 Racks – Similar to 'bands' in Volume 1 of Millennial Slang, racks means cash within a rubber band. Apparently, one rack is $1K. The term has also been made famous by American rapper, Tyga so you can thank him for this one.
Ratchet - A ghetto-dialect mispronunciation of the English term "wretched". Another shout-out to Urban Dictionary for that one.
Right Hand – Your go-to, the one you rely on day and night. Please speak to Drake for further questioning.
Whip – This is certainly not a new saying, so if you don't know this one, check yourself before you wreck yourself. This means car, got it?