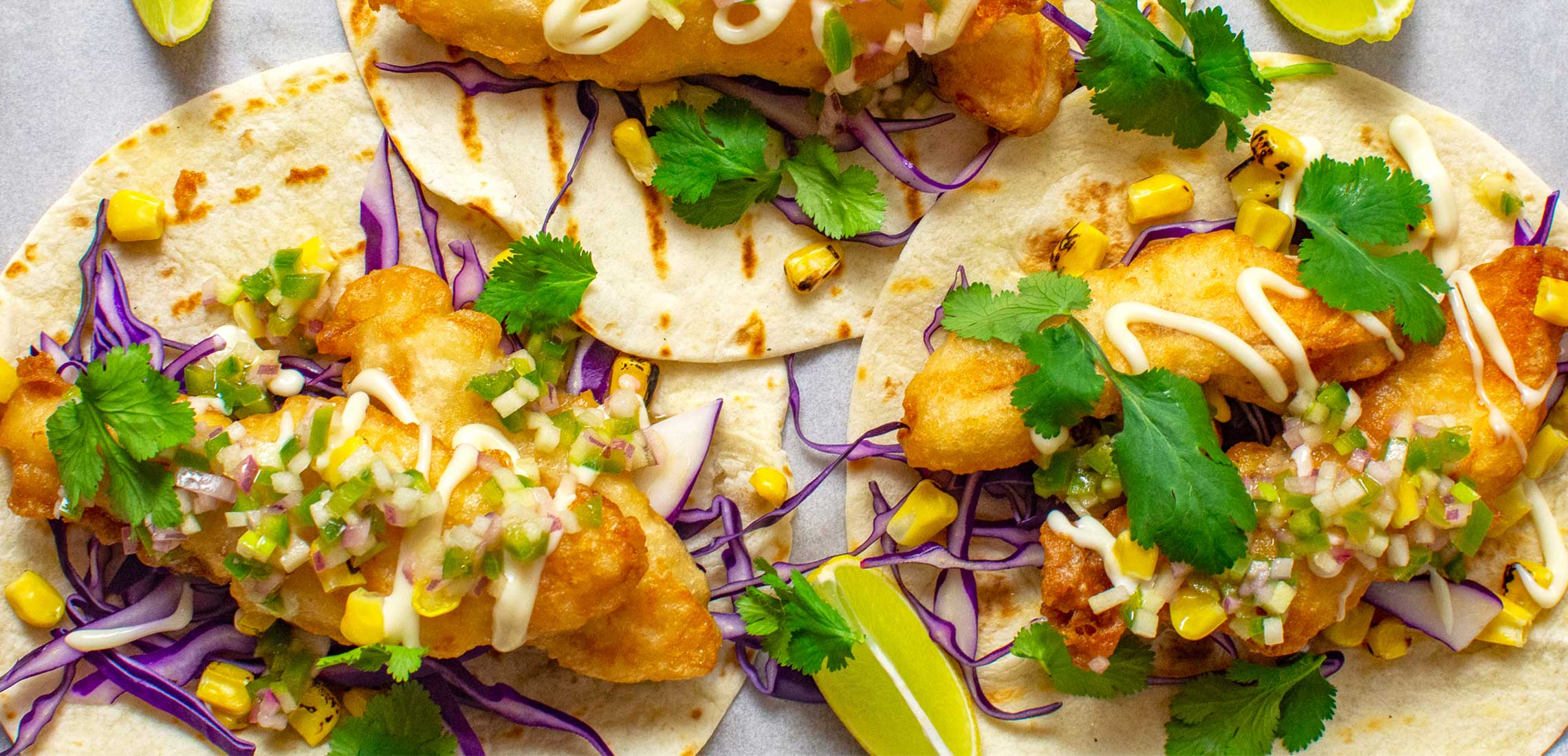 Hands Up For Fish Tacos! 
The spring fish taco recipe you need for your next long lunch
---
Loved the ultimate spring salad recipe?! Unbutton your jeans and sit back with a crispy fish taco recipe that will have you drooling for more. Another Food Blogger, aka Gavin Sutherland has hit us with another fresh feed and we simply had to share it!
"I think the first ever taco I ate after moving to NYC was a crispy fish taco. It was so simple – beautifully fried fresh fish, cabbage, a squeeze of lime and some aioli. Not much to it but boy was it a lasting memory. Crunchy, fresh and a great punch from the delicious jalapeno apple salsa."
BATTER
For the all-important crispy part of crispy fish tacos, I like to keep mine simple and use flour, salt and sparkling water for the batter.  We have a SodaStream so we always have plenty of bubbly water on-hand.  Pro tip: when making batter make sure the water is ice-cold (or at least as cold as you can get it). The colder the batter, the more it'll puff up and crisp up in the fryer.
SEASONING
Once the fish hits the batter you can't season the flesh of the fish anymore so it's super important to season the fish before cooking, season your batter, and as soon as the fish comes out of the fryer, hit it again with a pinch of salt.  Before the batter cools and completely hardens up, it'll grab hold of that salt and leave you with a beautiful kick of salt as you bite into that crunchy batter.
Ingredients
Jalapeno Apple Salsa
• 1/2 granny smith apple
• 2 jalapenos
• 1/4 red onion
• 4 tbsp olive oil
• 1 lime, juiced
• salt & pepper
Fish Tacos
• Pure canola oil *see tips
• 250-300g snapper
Batter
• 60g flour
• 120ml sparkling water
• salt
• 6 tortillas
• 1 handful coriander
• 100g red cabbage, sliced thinly
Instructions
Jalapeno Apple Salsa
1. Dice onion, jalapeno and apple into similar sized, fine pieces
2. Mix with lime juice, olive oil and season accordingly
Batter
1. Whisk together cold sparking water, flour and seasoning. Leave in fridge until ready to use.
Fish
1. Heat oil to 180c *see tips
2. Cut fish into 30-40g pieces, pat dry and season
3. Dip fish into batter and gently place into oil away from you *see tips
4. Cook fish until golden brown (approx 3-4 minutes) remove from oil, season with salt and place on a wire rack while you cook the rest.
Serving
1. Heat tortillas in frying pan or grill pan, place cabbage on bottom followed by two pieces of fish, a spoon of salsa, a squeeze of aioli and a sprinkle of coriander.
2. Devour and repeat!
Notes
Tips/Tricks
• When testing if the oil is hot enough, a thermometer works best. But, if you don't have one, then dip the end of a wooden spoon into the oil – it should bubble around the spoon. If it bubbles like crazy, then the oil is too hot.
• You want the batter to be cold when making it so use cold water.
• Always place food away from you when deep frying or shallow frying so it doesn't spit on you.
• The right amount of canola oil depends upon the pot/pan you are using. For my deep 28cm pan I used about 700ml.  A narrower pan will use less and a wider pan, more, so it depends on how many pieces of fish you want to fry at a time.
Nutrition
Calories: 813kcal | Carbohydrates: 85g | Protein: 37g | Fat: 36g | Saturated Fat: 6g | Cholesterol: 46mg | Sodium: 715mg | Potassium: 973mg | Fiber: 7g | Sugar: 12g | Vitamin A: 871IU | Vitamin C: 63mg | Calcium: 175mg | Iron: 6mg