A New Year means new beginnings… and new beauty and fashion trends! Although reflecting on the year just passed can be a bit of nostalgic fun, we love gazing into our crystal ball and sussing out all that is about to feature in the New Year, especially when it comes to beauty and accessories. Let's be real, adding a new lipstick or hair clip to your collection is a lot kinder to your wallet than buying a whole new wardrobe!
We've been keeping tabs on social media and have scoured the runways to bring you 13 of our beauty and accessory trend predictions for 2019. Let's just say, it's time to go bold or go home!
Barrettes
Mark our words, hair accessories will be big in 2019! In particular, we have noticed the 90's barrettes have made a comeback lately and have been seen as a chic addition to modern, side-swept waves. Barrettes are the ideal accessory to make you look like you have put more effort into your hairstyle than you probably did.
We love: Valet Studio's handmade resin hairclips
View this post on Instagram
Metal Eyeshadow
Put your domed eyeshadow blending brush down, because messy metallic eyeshadow is in. This trend features imperfect metallic hues that have been simply smudged across the eyelid with fingers. If you feel challenged in the eyeshadow blending department, or you don't have time to spend 20 minutes on your makeup, you will love this look.
We love: Natasha Denona metallic eyeshadow
View this post on Instagram
Glossy Makeup
Remember the matte liquid lipstick trend we were all sporting a few years ago? Well, this look is the total opposite. The spotlight is finally back on gloss everything, so it's time to ditch the drying mattes! Everything from glossy lips, skin, and eyes will be one of our go-to looks in 2019.
We love: Mecca Max gloss boss lip gloss
View this post on Instagram
Mixing & Layering Jewellery
In 2018, we saw a huge focus on yellow and rose gold jewellery. While these tones will be sticking around for a while longer, it's time to mix-and-match your metals. Next year, we will be seeing plenty of mixed metal combos, so get ready to stack those silver and gold rings!
We love: Kristin Ash solid twisted ring (in all shades!)
View this post on Instagram
Bold Lipstick
Wearing a bold lipstick shade is the quickest and easiest way to feel instantly dressed up. While bright hues are always on trend, Pinterest has seen a recent 467% increase in searches for "standout lip colours." You're not likely to see us packing away our bright lipsticks anytime soon, that's for sure!
We love: Kosas weightless lip colour
View this post on Instagram
Headbands
Similar to our friend, the 90's barrette, we will be seeing headbands a lot more throughout the New Year. Instead of the primary school-esque headbands, you might be picturing, 2019 headbands will be grown-up and feature materials like velvet and sophisticated patterns.
We love: Camilla's wrap headbands
View this post on Instagram
Coloured Sunglasses
There's no denying that wearing coloured sunglasses in funky shapes definitely takes some courage. Despite this controversial trend, coloured sunglasses have been making an appearance on runways recently. If coloured sunglasses aren't your thing but you want to try out something new, we will also be seeing plenty of bold sunglass styles in the New Year. Oval-shaped sunglasses are a great way to dip your toes into the on-trend world of quirky sunglasses.
We love: Poppy Lissiman Barbara sunglasses
View this post on Instagram
Snakeskin
Move over leopard print, because there's a new sheriff in town! Faux snakeskin prints have started to emerge, and we couldn't be more excited. As much as we love leopard print, there's something fresh and chic about neutral snakeskin tones.
We love: Zara straight fit snakeskin print trousers
Fluttery Eyelashes
They say the eyes are the window to the soul, so there are no surprises that full, fluttery lashes are going to be big in 2019. Are you someone who enjoys creating a full lash with mascara in the mornings or do you prefer the ease of eyelash extensions? Achieving larger-than-life lashes can easily be customised to suit your personal aesthetic!
We love: Hourglass caution extreme lash mascara
View this post on Instagram
Glass Skin
Thanks to some of our favourite skincare Instagrammers (aka Bambi Does Beauty), hyper-real, glass-looking skin will be sticking around next year. Glowing, radiant, lit-from-within-skin not only looks healthy but is also simple to achieve. This look has a huge focus on skincare and is all about hydrating the skin well with moisturisers and primers and keeping foundation to a minimum. This allows for your natural beauty and skin to shine through and looks stunning paired with either a metallic eye or bold lip.
We love: Eve Lom The Radian Ritual pack
View this post on Instagram
Air-Dried, Tousled Hair
The goal for this trend is to not look like you have spent too much time on your hair – even if it did take you 30 minutes to achieve. To achieve the ultimate cool-girl 'I woke up like this' hairdo, either allow your hair to air-dry or softly wave it and spray some sea salt spray throughout.
We love: Kristin Ess soft shine beach wave spray
View this post on Instagram
Woven Handbags
A woven handbag is an ideal accessory to take you from the beach to drinks, which is perfect for us Queenslanders who experience a year-long summer! You can easily dress a woven handbag up or down to suit any occasion.
We love: Adorne's knotted macrame plait handle tote bag
View this post on Instagram
Statement Sneakers
If you thought the sneaker trend was over, think again! Traditional sneakers have gotten a bold makeover, so get ready to see lots of colour and bulky sneaker styles in 2019.
We love: Adidas Originals continental 80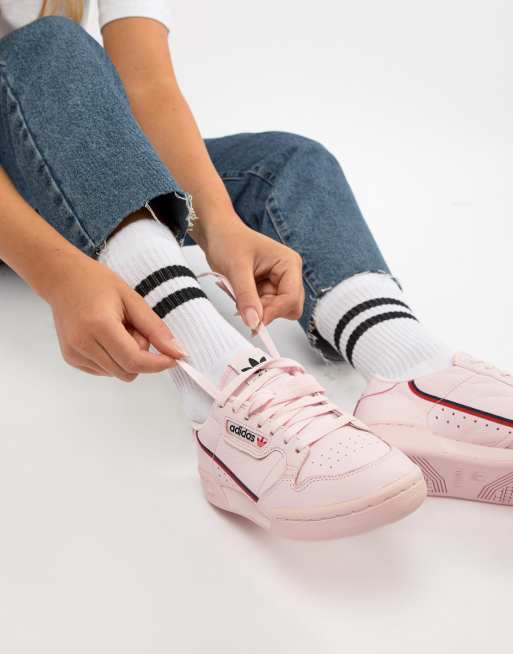 Liked This? You'll Love These!
11 Of Our Favourite Glitzy Products To Inspire Your New Year's Eve Beauty Look!
Decoding The 5 Most Popular Cosmetic Treatments Everyone Is Talking About
Our Top Picks Of Op Shop Essentials You Need In Your Wardrobe
📸 via Mecca Maxima