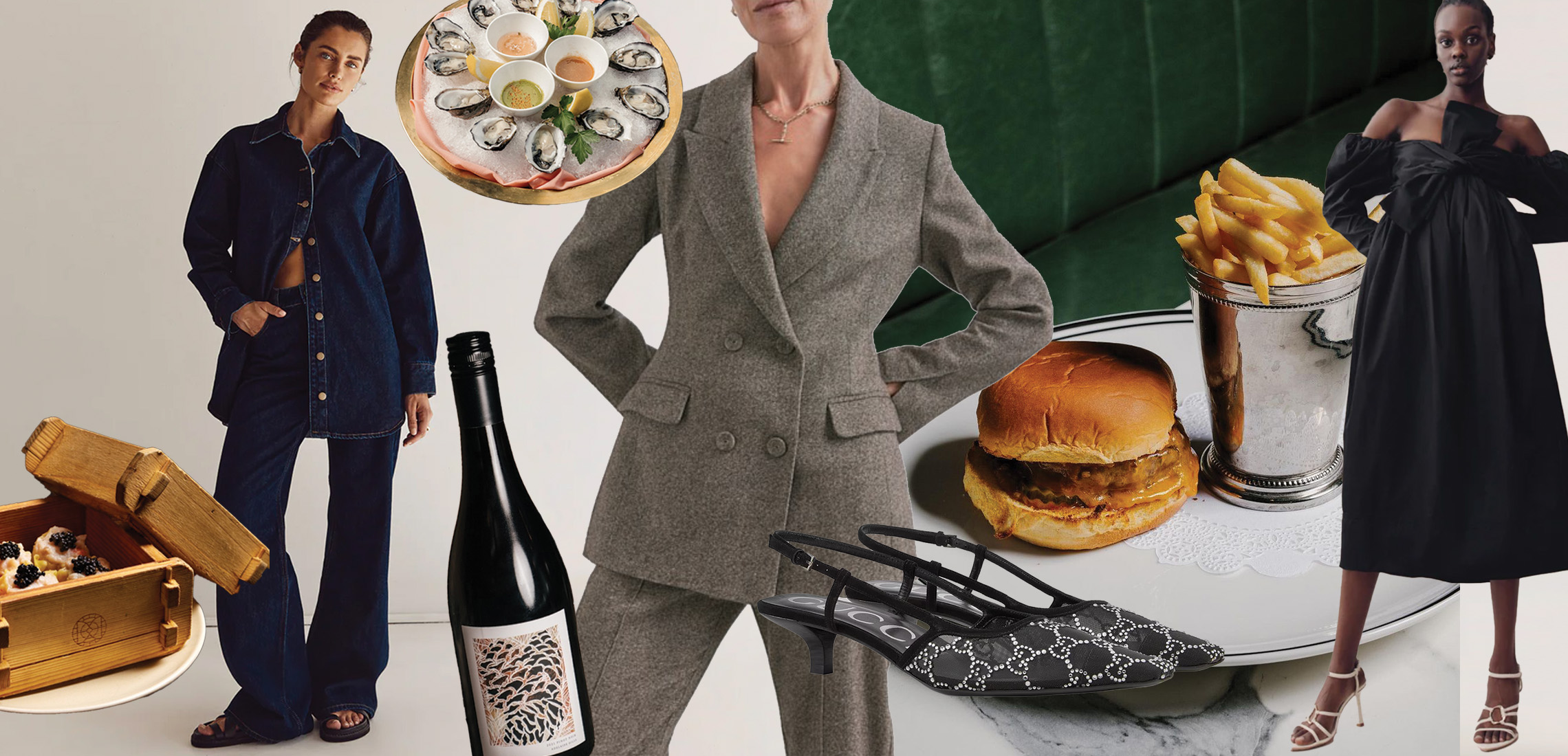 5 Ways To Hit The Town In Your Winter Wardrobe This Month
Girl about town
By Astrid Taemets | 5th June 2023

It's a truth universally acknowledged that food and fashion go hand in hand, and for the month of June, your wardrobe is set to get a workout as you dine your way across Dine BNE City's epic foodie program of more than 110 exclusive offers and events across 77 restaurants and bars in The City. 

From riverside restaurants to moody, vampy-lit bars, and banquets with your besties, here's how to dress the part from The City's best stores when wining and dining in town…

Live like those in the Med with a Greek feast at OPA, where the views are good, the grub is great, and the fashion is formidable. Those looking to sit and enjoy a riverside sojourn here will do well to keep their outfit casual chic, should the urge to enjoy a longer stint in The City arise. While it ain't summer here, a double denim set will see you through a sunny lunch and into the early evening, but pair it with some metallic heels to transport you to Santorini. Slick your hair into a low bun with a deep side part, and keep your makeup minimal. 

Why wait for the weekend to treat yourself to an exceptional dining experience? Donna Chang's Petit Banquet brings the best of Sichuan flavours and authentic Cantonese cuisine to your table from Monday to Thursdays and Sundays this June. Make it an affair to remember with a look you can wear to the office and onto dinner with just a few tweaks. Switch out the brogues for a daring pointed heel, and matching blazer and pants combo (hold the blouse) that'll have you feeling like a power player in the boardroom and at the banquet. As for your beauty edit, tuck your hair in under your blazer, brush up those brows, and add a fine feline flick with your eyeliner.

Fact: wines and cheese are a guilt-free winter indulgence, so cosy up at City Winter for the Cheese & Wine Pairing offering, where three glasses of Gerler are poured and waiting. A treat for two at $75, this occasion calls for an oversized coat, boots, and long-sleeved dress. Keep your locks long and flowing, and add blend in a touch of rouge on your lips with your fingers and cheeks for a flushed finish. 

Clear your plans on 7 June for a night of feasting and fashion in The City. Walter's x E'cco Collaborative Dinner will see you galivanting with the sartorial set of The City, as the legendary Phillip Johnson and Walter's executive chef Gerft Pretorius team up for a winter-inspired feast. Don't hold back here – this is your time to shine. Bring the fun with a high pony and a swipe of metallic silver across your eyelids.

Fire up the group chat with your party people, the night is just beginning! On 16 June, you're invited to join the good times at Gather Bistro for 3 hours of espresso martinis, spritzers, nibbles, live DJ sets, and more. A night like this calls for a lil' fun, so dress the part with lurex and leather, and sweep your hair back into a wet-look style to top it off.

Ready to paint the town in your finest? Book your seat at the Dine BNE City table here with all their delicious deals, and shop your new look in The City.